Sky's Geraint Thomas has rejected claims that this year's Tour is more crash-ridden than any other he has raced in – and given he has had three falls himself in the last three stages, it can be said he is speaking from closer personal experience than he would like.
Two favourites – Alberto Contador and Chris Froome – have abandoned because of injuries incurred in crashes, while Mark Cavendish, the Tour's most successful ever sprinter, has been out since day one after rupturing his shoulder ligaments in a fall in Harrogate. After Andy Schleck quit with an injured knee on stage four, the Tour now has no former winner among the 180 riders still in action.
But for Thomas, the actual total of pile-ups in this year's Tour – estimated at around 50 so far – is regrettably not unusual.
"Every year we're like: 'God, there's been so many crashes', but it's the same every year," the multiple Olympic gold medallist said on the Tour's rest day. "I'm sure if we went back and had a look last year we'd see it was the same. The difference is that they've been more high-profile."
Thomas himself has had a bee sting to contend with – "but I'm getting better now" – while his latest spill came on Monday. "I haven't hurt myself, luckily. A lot of it is down to bad luck," he said. "On Monday I should have given myself some more space, but you're going over the penultimate climb [in the front group] and there's only 20 guys left and you're like buzzing after that. My injuries are just a few little grazes, they're fine, I've dealt with a lot worse."
Thomas's scars and scabs, though, remain clearly visible on his legs.
Since Froome crashed out, the 28-year-old from Cardiff is one of Sky's substitute team leader Richie Porte's key support riders, with the Tasmanian currently lying second overall, two minutes and 23 seconds down on race leader Vincenzo Nibali.
"He's really stepped up," Thomas said of Porte. "We've every confidence he can hold that position. He's suddenly got even more aggressive if that's possible for him, and he's just like 'Come on, let's do it'."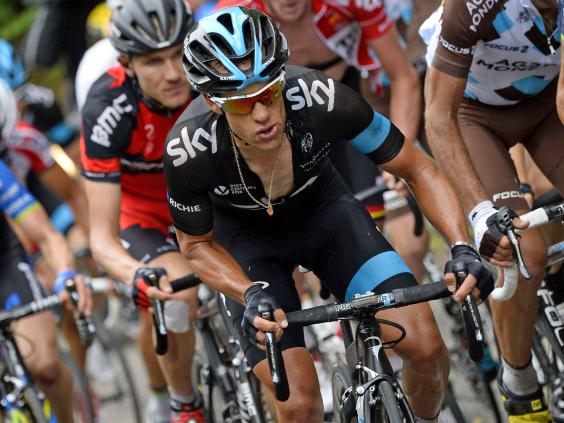 Asked how Porte's fighting spirit manifested itself, Thomas joked: "Without swearing, I don't think I can. Over the last few days, when everyone's fighting over the top of the mountains, he lets people know he's there, gives them a bit of aggro.
"It's not like he's saying he's going to kill someone's kids or something, it's just like that real gutsy Tassie in him. He really fights... which is all you want. If you're riding yourself into the ground, you want to know the guy behind you will do the same."
Meanwhile, Britain's other remaining rider, the Orica-GreenEdge first-year pro, Simon Yates continues to fight on in his first Tour de France, despite recovering from an untimely cold.
"This is as far as I've ever raced back to back and I'll just go for it day by day from here," Yates said. "But I couldn't tell you what the stages look like from now on, though."
Yates has not crashed seriously so far – "I've had touchdowns, and on stage one I hit the floor on my face, but I've not been affected by anything legs wise" is how he puts it – and neither, for that matter, has Nibali.
Video: Marcel Kittel on Contador leaving the Tour de France
As for the latest top name to head home, Contador was examined at a Madrid hospital after his 70kmh crash on Monday left him with a broken tibia and a deep cut in his right knee.
"The good news is that I have no tendon or ligament injured and the break is in the best possible place," said Contador, who will not require surgery. "At least I'll have to stop two weeks and, until the wounds heal, the leg had to be immobilised.Doctors have told me it will be almost impossible to be in the Tour of Spain, but we'll see how the leg evolves."
The depth of Contador's disappointment at his untimely exit from the Tour came clear when the Madrileno was asked if he would still be interested in the race's outcome.
"I was going to say: 'Now I'll have to watch the bullfight from the seats'," he replied, "but, in fact, I don't think that'll be the case. I don't think I'll be able to bring myself to watch this year's Tour on TV."
When the Tour's racing resumes, the hilly 187.5 kilometre stage from Besançon to Oyonnax today is unlikely to see any major attacks on Nibali, who Contador said "is in an excellent position [to win]". Two weeks though, remain until Paris – and this Tour is so far anything but predictable.
Reuse content