With less than two weeks to go to the Tour de France, ask Britain's Chris Froome about his rivals and the 2013 winner invariably answers that Alberto Contador is the man to beat. Ask Contador, and the 2007 and 2009 Tour champion will single out Froome.
Ask Britain's Sean Yates, who has been a sports director for both – and who will again be with Contador's team, Tinkoff-Saxo, on the Tour de France this year – and he diplomatically predicts "a really close race between the two", before adding some significant caveats.
"Chris wouldn't be the first rider to win the Tour once and never do it again," Yates, himself a Tour de France leader in 1994 and stage winner in 1989 before retiring and then turning to directing, commented earlier this year. "The levels [of performance] Chris was at in 2013 were so incredibly high, he may not be able to get there again. But even five per cent less he'd still be in the ballpark to win."
Yates also knows exactly how formidable a rival Froome, who recently showed strong Tour form with a win in the Critérium du Dauphiné, will be facing, starting on 4 July. Yates's relationship as a director for Contador dates back to 2007. One of his earliest memories of Contador's strength as a racer came when the then 24-year-old successfully defended his overall lead in the Tour's last time-trial against far more seasoned rivals such as the Australian Cadel Evans.
"We were doing the final reconnaissance of the time trial with Alberto and thinking how young he was to be leading the Tour," Yates says. "But he controlled it and fended off guys with a lot more experience. That was the first indication for me that he was so determined, so focused and so able to withstand that pressure. People thought taking the white jersey [as winner of the Tour's Best Young Rider classification] was his real target and he ended up winning it outright."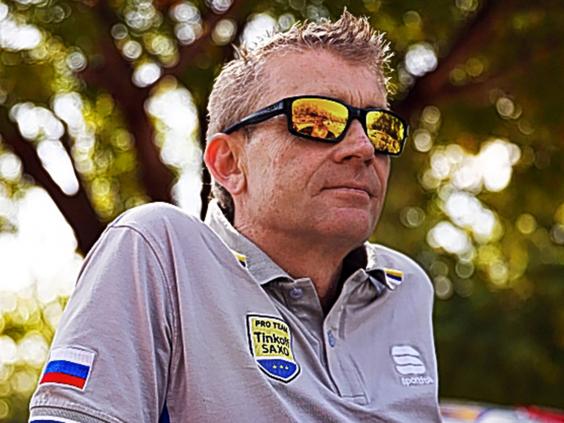 Since that Tour, Contador has racked up another six Grand Tours, most recently the Giro d'Italia, cycling's second biggest stage race, in May. If the Madrileno wins this year's Tour, it will make him the first rider to do a Giro-Tour double in 17 years, and just the eighth in history.
"Having got that Giro victory, the pressure's on Alberto in one way, but it's more on the others, too – it's now up to them to get a Grand Tour win as well," Yates argues. It could also be argued that Froome – whom Yates directed at the Tour in 2012 during his three-year spell at Sky, when Sir Bradley Wiggins and Froome finished first and second overall – will be feeling the heat in particular.
"Froome will be under a lot of pressure this year, after his up-and-down year in 2014," Yates says. "On paper, Alberto's got as good a chance as any, and that's why we're setting the bar so high with Alberto going for the Giro d'Italia and the Tour."
Yates likens the demands of the Giro-Tour double to when Wiggins went for Olympic time-trial gold after winning the Tour in 2012, in that the hardest part for Wiggins lay in the psychological demands, to stay focused after one huge success and then go on to another.
"A lot of the time in a Grand Tour, although it's tough, they're not going full throttle like in the Classics. So the real question is not so much how to deal with it physically, it's how to deal with it in your head."
And, as Yates points out, it's common knowledge that Contador "is very strong mentally. He's a fighter, and that's why he's won so many Grand Tours. Obviously as the years go by he's not going to produce so many of those [top] performances, but it's swings and roundabouts, because a champion is always a champion and he naturally wants to perform well."
For Yates, Froome and Contador will be the stand-out contenders for the Tour. Riders such as the Colombian Nairo Quintana, rated as one of the top four Tour favourites, are  described by Yates as a "good weapon to have in your team, but Alberto and Froome are on a different level".
The fact that the Kenyan-born Briton and the Spaniard were forced to abandon after crashes in last year's Tour will make their rivalry even more intense.
Yesterday Contador confirmed his form with a lone win on the most mountainous stage of the Route du Sud, race, dropping Quintana to take both the stage and the overall lead.
Only seven riders have done the double of Giro d'Italia and Tour de France in a calendar year – a total of 12 times:
3 Eddy Merckx (Belgium)
1970, 1972, 1974
2 Fausto Coppi (Italy)
1949, 1952
Bernard Hinault (France)
1982, 1985
Miguel Indurain (Spain)
1992, 1993
1 Jacques Anquetil (France)
1964
Stephen Roche (Ireland) 1987
Marco Pantani (Italy) 1998
Reuse content