Chris Froome has moved into a class of his own by becoming the first Briton to win the Tour de France for a second time.
Two years after he repeated former Sky team-mate Bradley Wiggins' breakthrough 2012 victory, the Kenyan-born Briton rode down the Champs-Elysées to claim cycling's most famous prize once again.
Wet weather in Paris for the last, largely ceremonial stage meant the organisers stopped the clock for the overall contenders on the first of the 10 laps of the French capital's most famous street, meaning Froome would win outright as long as he crossed the final finish line.
This he duly did – roughly a minute after the stage had been won by Germany's Andre Greipel – in the centre of a long line of grinning Team Sky riders, arms around each others' shoulders and clad in special, redesigned kit with yellow armbands.
Tour de France 2015 - in pictures
Tour de France 2015 - in pictures
1/13 Tour de France 2015

Chris Froome celebrates sealing his second Tour de France title

Getty Images

2/13 Tour de France 2015

Chris Froome crosses the line on the penultimate stage of the 2015 Tour de France

Getty Images

3/13 Tour de France 2015

Chris Froome crosses the line on the penultimate stage of the 2015 Tour de France

Getty Images

4/13 Tour de France 2015

Froome rides Stage 19 of the Tour de France

JEFF PACHOUD/AFP/Getty Images

5/13 Tour de France 2015

A rider attempts to make his way round Dutch Corner during the 2013 Tour de France

Getty

6/13 Tour de France 2015

Chris Froome, wearing the leader's yellow jersey, climbs Croix de Fer pass during the 19th stage of the Tour de France

AP

7/13 Tour de France 2015

Team Sky's Chris Froome suffered a difficult day in the Tour de France yesterday but still takes a healthy lead into today's critical ascent of Alpe d'Huez

AP

8/13 Tour de France 2015

Romain Bardet of France celebrates as he crosses the finish line to win the seventeenth stage of the Tour de France cycling race over 161 kilometers (100 miles) with start in Digne-les-Bains and finish in Pra Loup, France

9/13 Tour de France 2015

Tejay van Garderen grimaces before pulling out of the Tour as a result of illness

EPA

10/13 Tour de France 2015

Chris Froome, wearing the leader's yellow jersey, is followed by Vincenzo Nibali during the 17th stage of the Tour de France from Digne-les-Bains to Pra Loup in the Alps

Reuters

11/13 Tour de France 2015

Chris Froome cycles ahead of Colombia's Nairo Quintana during Stage 19 of the Tour de France 2015

JEFF PACHOUD/AFP/Getty Images

12/13 Tour de France 2015

Froome is all smiles after retaining the yellow jersey - and his lead of over three minutes - on Wednesday

Reuters

13/13 Tour de France 2015

Chris Froome signs autographs at Team Sky's hotel during the Tour de France rest day

Getty Images
Froome, at the age of 30, is now determined to set the bar even higher in cycling's flagship event in the years to come. "Winning it once was unbelievable," said Froome, who crashed out in the 2014 race. "To come back to repeat that and to confirm that last victory, to show that I'm no less hungry than before, hopefully it also shows my mindset, that I'm not in this for the short term.
"I'm not just trying to get something out of the sport and then disappear. Even if for the next however many years, I'm only able to finish fifth or sixth or whatever, I'm just so grateful that I've been able to come back and to be able to win another Tour."
The first double champion since Alberto Contador won his second Tour in 2009, Froome also captured the 2015 King of the Mountains title, making him just the second Briton to do so after Scotland's Robert Millar in 1984.
Yet if Froome's victory on La Pierre-Saint-Martin on stage 10 – his sole win in this year's race – helped set the Briton up as the top climber of the race, Froome admitted that on another ascent, the Alpe d'Huez on Saturday, it could all have gone horribly wrong.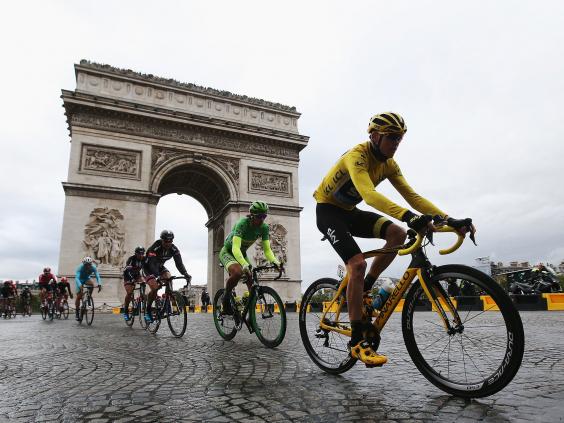 Froome had already lost 30 seconds to Nairo Quintana, who finished second overall, on the previous day's summit finish, to La Toussuire. But then on the very last climb of the Tour, when the Colombian charged away nine kilometres from the line, the Briton was on the point of cracking.
"There were definitely some moments that day when it was touch and go, especially once Quintana and [his team-mate Alejandro] Valverde had opened up that little gap," Froome said. "It was quite a pivotal moment. If I had tried to jump across on my own and they had accelerated and I was in no man's land, that could've been the Tour gone."
Suffering so badly, Froome said that the support of team-mates Woet Poels and – above all – Richie Porte, guiding him up the climb, had been crucial. "If I'd been left on my own when Quintana left, who knows how much time I'd have lost? He [Porte] saved the day for me, quite literally," – and with that the Tour.
Despite his reputation for never panicking, Team Sky principal Sir Dave Brailsford had said Froome's suffering on the Alpe d'Huez had been so nerve-racking he could not watch it on TV, even though he knew it was unlikely Froome would lose the Tour.
"My head kept going," Brailsford said. "The logical part of my brain was going, 'Figure it out, how much is he going to have to lose per kilometre [to lose the Tour]?' But then I couldn't watch."
Froome's difficulties were the result of a chest infection, partly provoked by what he called "the toughest Tour in recent years". Other riders, among them Mark Cavendish, agreed with him. "Cav rolled up to me one morning and said, 'This is fucking nuts, I've never done a Tour this hard', and he had a point," Froome said.
The Team Sky rider added that a dearth of "transition stages" in this year's Tour, days when the sprinters would take control, and the overall classification riders could ease back, meant "every day it's been full on".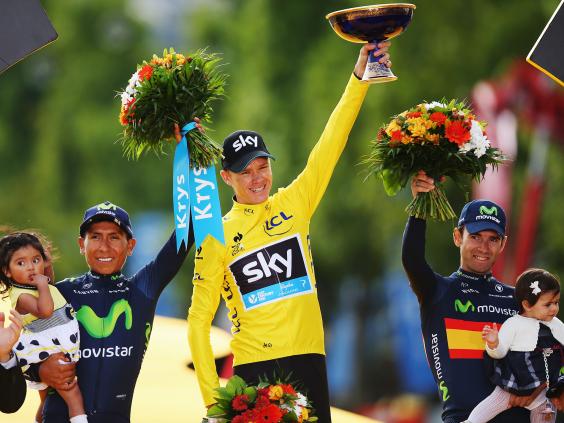 Reflecting on the difficulty of remaining focused in such circumstances, Froome said: "There are all kinds of things going through your mind which tell you to 'hold on, this isn't worth it, it's not physically possible'. Then you have the counter-argument – 'come on, you've got this far already, you can do it a bit longer'.
"It's forever this argument you have with yourself: how much deeper you can go, how much suffering you can take." And in this year's Tour, answering that has been crucial.
Froome's second Tour win had seemed to be a question of counting down the days after he demolished the field at La Pierre-Saint-Martin. But having caught that chest infection in the past week – as did Porte, recovering in the nick of time to guide Froome up the Alpe d'Huez –Froome then had to face an increasingly strong Quintana.
"It was quite a serious [infection] but he [Chris] coped with it admirably," said Brailsford. "He's battled on, not complained about it once, stayed positive. It's as much a mental battle he's won as a physical one, [and] mentally he's a very, very robust individual."
Holding the yellow jersey for 16 days out of a possible 21 is one proof of Froome's tenacity. But another has been how Froome has refused to crack in the face of the physical and verbal abuse he has suffered, along with other Sky riders.
"Being in the lead, I almost felt responsible for the flak. But hopefully I set the example to them, too, showing I was just getting on with it, doing what I had to do," Froome said.
"Through all of this we've got to remember this is sport. We're doing this because we love it, and especially with the group of guys we've had, I feel as if we have all been able to be ourselves, all the way through."
While Froome and his team-mates were able to ease back on yesterday's stage, the final win went to Germany's Greipel, his fourth bunch sprint victory of the Tour, with Britain's Cavendish in sixth. For Froome, a second outright victory was already safely in the bag.
Reuse content