Barring a last-minute disaster, Chris Froome will today race on to the Champs-Elysées as the winner of the Tour de France for a second time after the Team Sky rider fended off a spectacular last-ditch assault on his lead by Nairo Quintana yesterday on this iconic mountainside.
When Quintana – already on the attack at La Toussuire on Friday – powered away nine kilometres from the finish of the mythical climb, Froome faltered but did not crack completely, haemorrhaging time slowly but steadily to a total of one minute and 20 seconds by the line.
Yet despite the sizable time loss, the Briton retained a solid 72 second advantage over the Colombian overall, and reached the summit of Alpe d'Huez in fifth place behind stage winner Thibaut Pinot and with his overall victory secure.
Second in the 2012 Tour, first in 2013, Froome is about to seal Britain's third win in four years in cycling's flagship event, an exceptional achievement for himself and for Team Sky.
He has also captured the King of the Mountains classification, a rare 'double' only previously achieved by Tour winners Eddy Merckx, Carlos Sastre and Federico Bahamontes – and which will make him the first Briton to wear the polka dot jersey on the podium in Paris since Robert Millar in 1984.
Tour de France 2015 - in pictures
Tour de France 2015 - in pictures
1/13 Tour de France 2015

Chris Froome celebrates sealing his second Tour de France title

Getty Images

2/13 Tour de France 2015

Chris Froome crosses the line on the penultimate stage of the 2015 Tour de France

Getty Images

3/13 Tour de France 2015

Chris Froome crosses the line on the penultimate stage of the 2015 Tour de France

Getty Images

4/13 Tour de France 2015

Froome rides Stage 19 of the Tour de France

JEFF PACHOUD/AFP/Getty Images

5/13 Tour de France 2015

A rider attempts to make his way round Dutch Corner during the 2013 Tour de France

Getty

6/13 Tour de France 2015

Chris Froome, wearing the leader's yellow jersey, climbs Croix de Fer pass during the 19th stage of the Tour de France

AP

7/13 Tour de France 2015

Team Sky's Chris Froome suffered a difficult day in the Tour de France yesterday but still takes a healthy lead into today's critical ascent of Alpe d'Huez

AP

8/13 Tour de France 2015

Romain Bardet of France celebrates as he crosses the finish line to win the seventeenth stage of the Tour de France cycling race over 161 kilometers (100 miles) with start in Digne-les-Bains and finish in Pra Loup, France

9/13 Tour de France 2015

Tejay van Garderen grimaces before pulling out of the Tour as a result of illness

EPA

10/13 Tour de France 2015

Chris Froome, wearing the leader's yellow jersey, is followed by Vincenzo Nibali during the 17th stage of the Tour de France from Digne-les-Bains to Pra Loup in the Alps

Reuters

11/13 Tour de France 2015

Chris Froome cycles ahead of Colombia's Nairo Quintana during Stage 19 of the Tour de France 2015

JEFF PACHOUD/AFP/Getty Images

12/13 Tour de France 2015

Froome is all smiles after retaining the yellow jersey - and his lead of over three minutes - on Wednesday

Reuters

13/13 Tour de France 2015

Chris Froome signs autographs at Team Sky's hotel during the Tour de France rest day

Getty Images
Quintana once again will finish second overall – just as he did in 2013, when he took 66 seconds off Froome on Alpe d'Huez – and he had to settle for second on the climb behind Pinot. But the way that the Movistar rider briefly raised his right fist in triumph as he crossed the line indicates running Froome so much closer represents a major step forward for the 25-year- old and augurs well for the Colombian's chances in 2016.
Yesterday the first warning that Froome could be in for a difficult day came when Quintana and his team-mate Alejandro Valverde, third overall, launched an all-out attack on the Croix de Fer, the second last climb. However, bizarrely enough, having isolated Froome on the ascent the two then failed to maintain their tactical advantage.
Instead, on the winding descent, Quintana and Valverde eased back, allowing no less than four Sky domestiques – Richie Porte, Geraint Thomas, Wout Poels and Nico Roche – to regain contact.
This proved crucial on the Alpe d'Huez, where Poels and Porte provided key support for Froome after Quintana attacked a third of the way up the climb. While Quintana was able to be guided up the climb by Valverde and then more importantly by team-mate Winner Anacona, Froome had the Dutchman and Australian to back him as the time-gap on Quintana inched open.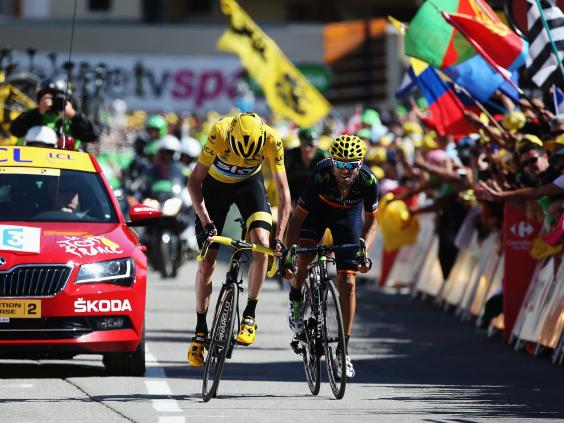 When Porte finally threw in the towel, Froome was still in difficulty – but crucially, still far from cracking, and with only two kilometres left to race, it was too late for Quintana to gain any more time.
Despite the close-run finale, Froome and Sky have rarely been under threat in the Tour, with his victory being forged as early as the second day. On a crash-ridden, rain-soaked stage, the Briton gained nearly 90 seconds on defending champion Vincenzo Nibali and Quintana – time that was to prove vital for Froome's final victory.
Froome's shots across the bows of his rivals came unceasingly in the first week: a powerful uphill sprint and brief spell in yellow in the Mur de Huy, superb racing across the cobbles of northern France on stage four, leading the pack on the ascent of the Mur de Bretagne on stage eight and a brilliant team time trial effort that came within a fraction of netting Sky their first Tour win in that speciality.
That Froome was in yellow even before the Pyrenees had begun was a simple reflection of how strongly the tide was already flowing in his favour. And at La Pierre-Saint-Martin, six kilometres from the summit, one surging acceleration confirmed Froome was about to blow the race apart.
Some of his key rivals, like Nibali and Contador, had already cracked even before the Briton's searing attack. But if Quintana was able to hold on to his back wheel briefly with a second acceleration, Froome had gone for good, with only the mountain itself left to beat.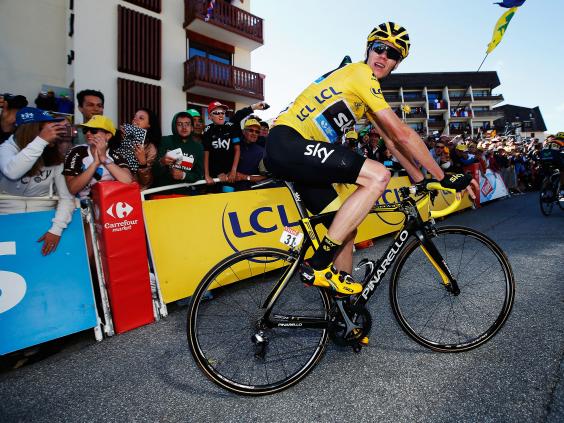 Spinning his pedals furiously, his head bent over the bars, Froome's advantage by the summit was 56 seconds on his closest pursuer which, underlining Sky's superiority, was Richie Porte. In one fell stroke, Froome's overall lead had stretched from 12 seconds on Tejay van Garderen to 2min 52sec. The Tour, after that, was his to lose. There have been glitches since then, most notably at La Toussuire, when Froome lost 30 seconds, and yesterday was even more spectacular. But if there were some last-minute upsets, there is no denying that Froome has been superior through the entire race.
Among the negatives was the doping speculation, the urine flung in his face and the spitting, with another incident on the Alpe d'Huez yesterday. But it has done nothing to weaken Froome's resolve: quite the opposite.
Victory confirms that his build-up for the Tour was right. Since June, Froome has been in rapidly-rising form. His victory in the Critérium du Dauphiné with back-to-back wins on the last weekend confirmed that he was well in line. Unlike one arch-rival, Contador, whose gamble of fighting for the Giro d'Italia and Tour de France failed to pay off, Froome's focusing his entire season around the flagship event has worked.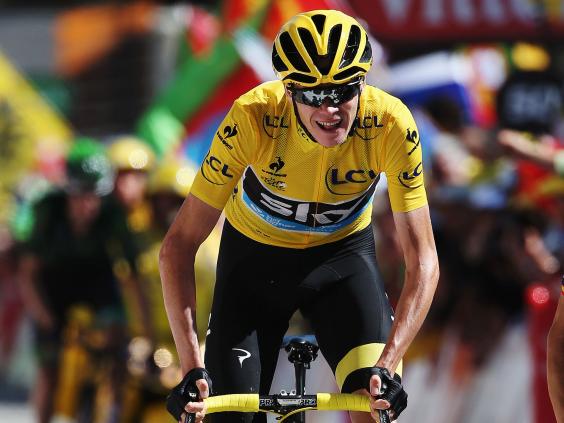 With the overall classification now set in stone, today's largely ceremonial final stage on the Champs-Elysées represents a chance for Mark Cavendish to double his 2015 Tour tally following his first week victory in Fougères. Cavendish holds the record for Paris wins – four from 2009-2012 – and although bereft of his key wingman Mark Renshaw because of illness, he will be gunning to round off the Tour with the 27th stage win of his career. For Froome, though, it is time to ease back and savour the applause.
Reuse content