Chris Froome's strong grip on the Tour de France further tightened on the first day of racing in the Alps as illness and crashes took their toll among his rivals, while the Briton then repeated Team Sky's offer to provide all his power data to independent bodies for analysis if other teams follow suit.
Froome's proposal comes hard on the heels of Sky taking a groundbreaking step on Tuesday by releasing several of his key data files from his best mountain performance to date in this Tour. However, the race leader also said he believed that publishing data might never satisfy some of his harshest critics.
"Sky has made it perfectly clear that they're happy to surrender all the power data to the right independent bodies," Froome said. "If Wada [the World Anti-Doping Agency], for example, or the UCI wanted to collect that information, then the team would be very happy to give to them on the basis that all other teams did the same."
Faced with speculation that has swirled around his performances this year, Froome argued: "I was quite sure when we released the file it wouldn't be enough.
"There are a lot of people out there who have already made up their minds and, no matter what information we release or make public, that's not going to change their opinions."
Meanwhile, another area of doubt arose when Greg LeMond, the three-times Tour winner, said that he was convinced that some riders were using motors in their bikes. Repeated tests by the UCI have found no evidence of this, but LeMond said cycling's governing body was not doing enough.
If Froome recognises that he faces an uphill and ultimately fruitless task in answering some critics, his hold on the Tour lead was strengthened as American challenger Tejay van Garderen, third overall at the start of the stage, abandoned because of illness, while Alberto Contador crashed on a dangerous descent and lost more than two minutes. The stage win over two major Alpine climbs, the Allos and Pra-Loup, went to Simon Geschke, taking Germany's fifth victory this year, as Froome concentrated on keeping his main rivals under control.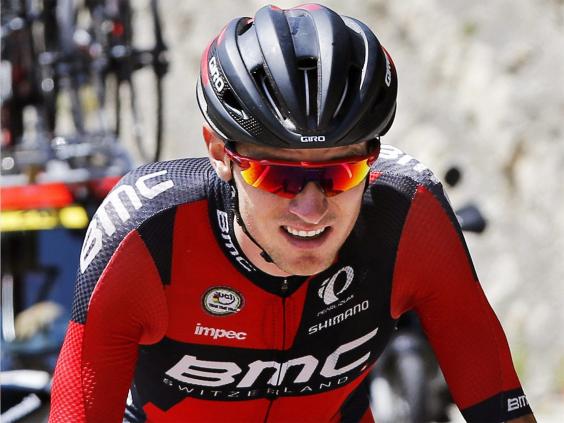 The abandonment by Van Garderen, twice fifth in the Tour and described by Froome as his most dangerous challenger prior to the Pyrenees, came early on. Unable to stay in contact even on the smallest of climbs and with his head lowered, his BMC Racing manager waved him to a halt.
Froome responded to several attacks on the first-category Col de Allos and tenaciously followed a move by last year's champion, Vincenzo Nibali, when the Italian charged away over the summit and on to the notoriously dangerous 16km descent.
Froome came through the long, twisting drop round narrow valley roads unscathed, but Contador, the Tour of Italy winner, was not so fortunate, skidding to a halt and crashing on a sharp left-hand bend.
Although relatively uninjured – a rip in his shorts the worst visible damage, although he also hurt his elbow – Contador found his difficulties were further compounded by having to use a team-mate's bike after his back wheel was blocked, and then changing bikes again. He is now 6min 40sec back overall and all hope of victory is gone.
Geraint Thomas moved up to fourth despite losing contact over the top of the Allos and ceding nearly a minute on the other favourites. Froome, 20th on the line, concentrated on closing down attacks by the Movistar Nairo Quintana, second  overall, and Alejandro Valverde, who has moved up to third.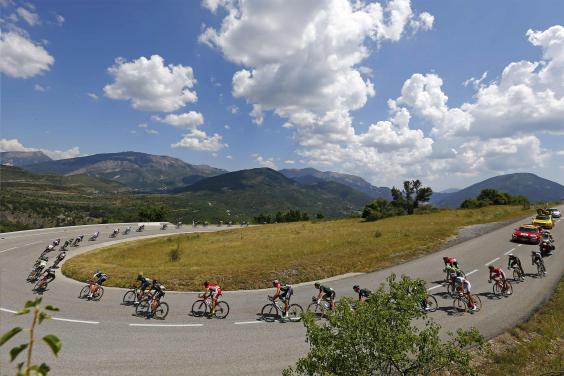 "Nairo and Valverde are the two we have to watch from now on," said Froome, who rode a conservative race, apparently under team orders. "They're the two guys closest to me overall and I've got to respond accordingly.
"I was getting close to my limit at times today, it was a very hard stage, you could see that with some of the general classification guys attacking in the first 50 or 60 kilometres of the race.
"I definitely feel as if a few riders have got that all-or-nothing mentality. They're just going to put everything on the line and take any opportunities."
Quintana responded that although he had failed to dislodge Froome, he will continue to attack. Second in the 2013 Tour, the Colombian said he would be targeting victory on Saturday on Alpe d'Huez, where he caused Froome to suffer two years ago.
The world champion Michal Kwiatkowski was another illustrious name to abandon on a day when the heat – again in the mid-thirties on the road – took its toll. In all, six riders dropped out.
On the plus side for Sky, Thomas came through his latest mountain test with flying colours. Froome said: "It's fantastic to have him so close and it would be a dream to have him on the podium, but having the yellow jersey is our main purpose."
Reuse content