British cyclist Chris Froome has been spat on by a spectator as he climbed towards La Toussuire during Stage 19 of the Tour de France.
Television pictures from the race show fans crowding the road around the riders, a common sight during the annual cycling race.
One part of the video shows a roadside spectator clearly spitting on Froome, as he cycled up a gruelling incline, chasing Colombian cyclist Nairo Quintana.
The majority of the spectators were cheering Froome on, and he continued his climb - although he lost 30 seconds to Quintana during the ascent and reportedly was understandably angry at the finish line due to the spectator's behaviour.
So DISGUSTING! A hater SPITS at @chrisfroome -Sad for @letour and cycling in general! @TeamSky #TDF15 #RespectTheRace pic.twitter.com/8iPQTNUizS

— TV 2 SPORT (@TV2SPORTdk) July 24, 2015
Froome has recently been pursued by doping allegations - relating to 'conventional' methods like blood doping and performance-enhancing drugs, but also to 'mechanical doping', the practice of using small motors hidden in racers' bicycles to boost their power.
Froome strenuously denies all allegations of doping, and Team Sky took the step of releasing some of his power data, the figures showing his performance, in an effort to debunk the claims.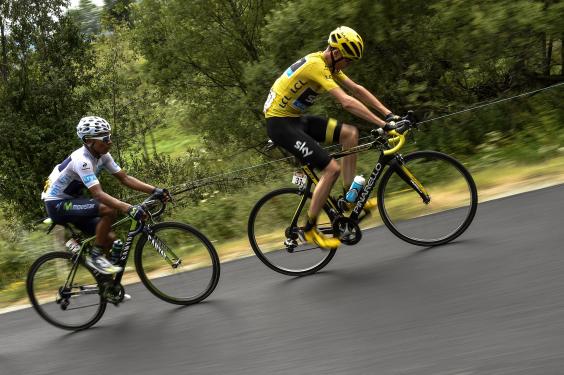 The spitting incident is one of a few unsavoury attacks that Froome and his teammates have been subjected to during the Tour.
Froome said a spectator threw a cup of urine on him last week during Stage 14, and Team Sky rider Richie Porte was punched by a spectator during a mountain stage early last week.
Porte and another British cyclist, Luke Rowe, have also both been spat on during this year's Tour.
Despite his loss of time to Quintana, Froome will carry a lead of two minutes 38 seconds over him as the pair move into the next stage of the race.
Reuse content