The Cuillin Ridge on the Isle of Skye isn't for faint-hearted. In fact, the local mountain rescue team warns that the 992-metre high outcrop should be "taken seriously" and isn't the place to come if you want to "cut your teeth" in Scottish mountains.
That didn't stop stunt BMX and mountain bike rider Danny MacAskill tearing up to the top on two wheels for his latest film though.
The seven-minute film, simply called The Ridge, sees MacAskill take a death-defying ride along the notorious knife-edge ridge with a camera strapped to his helmet and a film crew in helicopter pursuit.
At the start of the clip he says, "I've always wondered if it would be possible for me to ride my mountain bike up there", before setting off at a blistering pace, bunny hopping across boulder fields and finally climbing the last stretch with his bike on his back. The deadly descent that follows is almost too nerve-inducing to watch.
Watch the video below...
Danny is originally from the Isle of Skye and this is the first time he's returned with a mountain bike, but he first shot to fame (or at least alternative culture fame) in 2008 after he moved to Glasgow to work in a bike shot. A friend published a video online of him performing his seemingly impossible stunts and a sponsorship deal with Red Bull followed. Since then he's starred in a TV advert for Volkswagen and even started in a music video for the band Doves.
Last year he released Imaginate, a seven-minute short which was two years in the making and has already clocked up more than 24m hits. Unlike his previous films, it was shot inside with life-size toys, including a massive Rubik's cube, a vast model train set, a real tank and a Red Bull F1 car.
MacAskill is a modest guy though. He recently told the Independent: "Never in million years did I believe I would be pulling stunts for a living. Since I was a little boy I've had bike heroes and loved to ride but it's not that I use it to express myself. It's just that riding is what makes me tick. My brain is tuned to create obstacles and I get a kick out of solving them on my bike."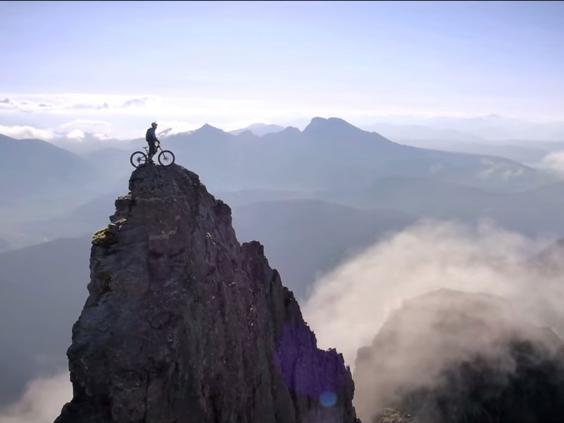 "Ever since I was a kid growing up on Skye I have always dreamt about riding a bike up on the Cuillin ridge. The project took a lot of planning and was probably one of the most physically demanding films I have ever worked on. It was definitely a labour of love though as I wanted to show off the island for how it is and make everyone who lives there proud to be from this amazing part of the world."
Filmmaker Stu Thomson, who shot the clip, said: "It was certainly one of the most demanding locations we've ever filmed, but a rewarding one at the same time. Danny and I are very proud of being from Scotland so it was great to be able to show off the amazing landscape along with Danny's incredible riding."
Reuse content