Arsenal manager Arsene Wenger accepts his side's "suicidal" defending has left them with a mountain to climb to avoid elimination from the Champions League following a 3-1 home defeat by Monaco in their last-16 first leg tie.
There was no happy reunion with the Principality club which Wenger guided to the Ligue 1 title in 1988 as the Gunners failed to fire and were punished as Olivier Giroud had a night to forget, missing several good chances.
A 25-yard deflected effort from Geoffrey Kondogbia put Monaco ahead on 38 minutes, and after Giroud had spurned another two great chances to get his side level, former Tottenham striker Dimitar Berbatov crashed in a second on the break.
Substitute Alex Oxlade-Chamberlain, returning from a groin injury, grabbed Arsenal a lifeline in stoppage-time, but as the Gunners went in search of an equaliser, they were dealt a hammer blow in the break again as Yannick Carrasco slotted past David Ospina, and the boos rang out around the Emirates Stadium at full-time.
Arsenal 1 Monaco 3 player ratings
Arsenal 1 Monaco 3 player ratings
1/20 David Ospina - 6/10

Diffiicult to overly criticise him for Monaco's opener. Kondogbia's shot took a wicked deflection that left him with no chance. Pulled off a good save to prevent Berbatov scoring a third.

GETTY IMAGES

2/20 Hector Bellerin - 5

Not his best game in an Arsenal shirt. When he did go forward he lost possession and Martial, who he was meant to be marking, too often beat the right-back to the byline. Good run and cross

GETTY IMAGES

3/20 Laurent Koscielny - 6

Didn't have to do much to register a better performance than Mertesacker. He was effectively Arsenal's rock when the German defender wandered into positions he wasn't quick enough to return from.

GETTY IMAGES

4/20 Kieran Gibbs - 6

Arsenal's most dangerous player in the opening minutes of the match. Toure, at right-back for Monaco, found it very difficult to keep up with the rapid left-back.

GETTY IMAGES

5/20 Francis Coquelin - 6

Alongside Cazorla in the two deep midfield roles again. He was a little exposed when the Spaniard decided to charge forward but the French midfielder never looked troubled. Substituted for Oxlade-Chamberlain in second as Arsenal chased the game.

GETTY IMAGES

6/20 Santi Cazorla - 6

Took advantage of space in the middle to surge forward from his role of deep-lying playmaker. Stifled in the second half as the opposition read what he was going to do effectively.

GETTY IMAGES

7/20 Mesut Ozil - 5

Too slow to progress play. The German midfielder was booed by the Arsenal on a night where he really should have done much more to unlock the Monaco defence.

GETTY IMAGES

8/20 Danny Welbeck - 6

Very sharp in the first half but failed to carry out his defensive duties well enough. Indeed it was Welbeck who gave the ball away that led to Monaco's opener. Caught out a few times in the second half.

GETTY IMAGES

9/20 Olivier Giroud - 4

Missed a very, very easy chance from close range in the second half. Posed relatively little threat to the Monaco defence. He was subbed for Walcott on 59 minutes.

GETTY IMAGES

10/20 Best off the bencj: Alex Oxlade Chamberlain - 7

Immediate impact when he came on for Coquelin with 20 minutes to go. It was his late strike that gave his given his side a glimmer of hope going into the second leg.

Getty Images

11/20 Danijel Subasic - 7

Outstanding performance from the goalkeeper. His quick thinking helped his side stay in the lead on a number of occasions. Very quick to close down Walcott in second half. Distribution very good too.

12/20 Almamy Toure - 6

In the first half he found himself overrun by Gibbs but was given some respite in the second half as Arsenal attacked Monaco's left side.

13/20 Wallace - 6

A very assured performance. He frustrated Giroud while also organising his defence with precision.

14/20 Aymen Abdennour - 6

Allowed the Arsenal attack to bypass him too often. He seemed to panic when the French striker got anywhere near the Monaco penalty area.

15/20 Elderson - 6

Playing at left-back, the Brazilian found himself out of position on so many occasions. For most of the night he was either dallying with the ball too far into the Arsenal half or chasing the heels of Welbeck.

16/20 Nabil Dirar - 6

Not as effective as Martial on the left but seemed confident when in control of the ball and always looked forward for the out ball.

17/20 Joao Moutinho - 7

One of Monaco's brighter players. He regularly dropped deep in midfield to start attacking moves. Assisted Kondogbia for Monaco's opener.

18/20 Anthony Martial - 7

Utilised his pace effectively on the left side of the Monaco attack. He took advantage of Mertesacker's bad positioning to assist Berbatov for his side's second goal.

19/20 Dimitar Berbatov - 7

Booed by the Arsenal fans because of his former connection with Spurs, but he was to have the last laugh when he smashed past Ospina in the Arsenal goal to send Monaco 2-0 up

20/20 Yannick Ferreira-Carrasco - 7

What an impact he made when he replaced Berbatov with 15 minutes remaining. His pace, coupled with quick thinking, gave Gibbs hell at left-back. Ferreira-Carrasco added Monaco's third in stoppage time.
"We were not at the level defensively and we were a bit unlucky as well because the first goal is deflected. On the second and the third goal we were suicidal," said Wenger.
"It looks like we have lost our nerve and our rationality on the pitch. The heart took over the head and at that level it doesn't work.
"Our weakness was more down to mentality. We rushed our game, we knew coming back at half-time it was important not to concede a second goal and we were too impatient."
Wenger added: "Mentally we were not ready or sharp enough to get into this game. We paid for it.
"Monaco are a team who are strong physically with a good physical density and we missed the chances. If you look at the number of chances we missed, at that level you cannot afford that.
"We used our hearts more than our brains.
"The players wanted to do well and come back when it was 2-1. They wanted to come back to 2-2 and forgot their elementary cautiousness."
Wenger had warned Arsenal against complacency ahead of a tie he insisted was still very much "50/50", despite his side's good form in the Barclays Premier League.
"I hope not (that there was complacency)," he said.
"(But) it looks like that when you don't have that kind of sharpness.
"Football is not down to paper, football is down to performance and on the night Monaco produced a performance and we didn't.
Arsenal must now score three goals at the Stade Louis II in Monte Carlo next month, against a team which before this tie had conceded just twice in some 17 matches.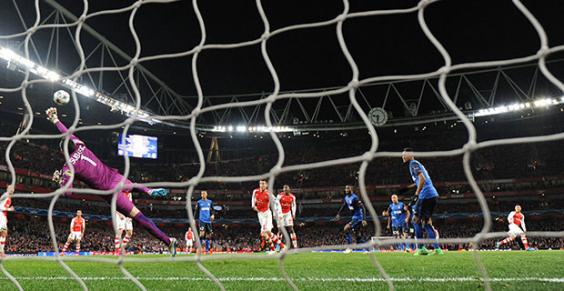 Wenger said: "We have a smaller chance, but no matter how big the chance is we will go for it.
"We need to recover from this disappointment and prepare for the next game (against Everton on Sunday)."
Monaco coach Leonardo Jardim felt his side were rewarded for sticking to their gameplan.
"No one really thought that this result would have been possible, but we achieved it," he said.
"However, Arsenal are a great side and we are only halfway through this knockout tie."
PA
Reuse content