There will be those who will have thought "pots and kettle" when Charlie Nicholas said, before this tie, that it was time for Mesut Özil to deliver in a big game. But Nicholas was right, and he should know.
Before he forged a second career as a regular on Sky's Soccer Saturday Nicholas was a footballer, a pretty good one too. When he left Celtic for Arsenal in 1983 the hype and expectation were just as big as greeted Özil's switch from Real Madrid to north London last season.
Nicholas cost only £650,000, Özil £42.5m, but that is football inflation for you. Nicholas had turned down both Liverpool and Manchester United to sign for Arsenal and was spoken of as "the best young player to be produced in the British Isles since George Best".
Arsenal 1 Monaco 3 player ratings
Arsenal 1 Monaco 3 player ratings
1/20 David Ospina - 6/10

Diffiicult to overly criticise him for Monaco's opener. Kondogbia's shot took a wicked deflection that left him with no chance. Pulled off a good save to prevent Berbatov scoring a third.

GETTY IMAGES

2/20 Hector Bellerin - 5

Not his best game in an Arsenal shirt. When he did go forward he lost possession and Martial, who he was meant to be marking, too often beat the right-back to the byline. Good run and cross

GETTY IMAGES

3/20 Laurent Koscielny - 6

Didn't have to do much to register a better performance than Mertesacker. He was effectively Arsenal's rock when the German defender wandered into positions he wasn't quick enough to return from.

GETTY IMAGES

4/20 Kieran Gibbs - 6

Arsenal's most dangerous player in the opening minutes of the match. Toure, at right-back for Monaco, found it very difficult to keep up with the rapid left-back.

GETTY IMAGES

5/20 Francis Coquelin - 6

Alongside Cazorla in the two deep midfield roles again. He was a little exposed when the Spaniard decided to charge forward but the French midfielder never looked troubled. Substituted for Oxlade-Chamberlain in second as Arsenal chased the game.

GETTY IMAGES

6/20 Santi Cazorla - 6

Took advantage of space in the middle to surge forward from his role of deep-lying playmaker. Stifled in the second half as the opposition read what he was going to do effectively.

GETTY IMAGES

7/20 Mesut Ozil - 5

Too slow to progress play. The German midfielder was booed by the Arsenal on a night where he really should have done much more to unlock the Monaco defence.

GETTY IMAGES

8/20 Danny Welbeck - 6

Very sharp in the first half but failed to carry out his defensive duties well enough. Indeed it was Welbeck who gave the ball away that led to Monaco's opener. Caught out a few times in the second half.

GETTY IMAGES

9/20 Olivier Giroud - 4

Missed a very, very easy chance from close range in the second half. Posed relatively little threat to the Monaco defence. He was subbed for Walcott on 59 minutes.

GETTY IMAGES

10/20 Best off the bencj: Alex Oxlade Chamberlain - 7

Immediate impact when he came on for Coquelin with 20 minutes to go. It was his late strike that gave his given his side a glimmer of hope going into the second leg.

Getty Images

11/20 Danijel Subasic - 7

Outstanding performance from the goalkeeper. His quick thinking helped his side stay in the lead on a number of occasions. Very quick to close down Walcott in second half. Distribution very good too.

12/20 Almamy Toure - 6

In the first half he found himself overrun by Gibbs but was given some respite in the second half as Arsenal attacked Monaco's left side.

13/20 Wallace - 6

A very assured performance. He frustrated Giroud while also organising his defence with precision.

14/20 Aymen Abdennour - 6

Allowed the Arsenal attack to bypass him too often. He seemed to panic when the French striker got anywhere near the Monaco penalty area.

15/20 Elderson - 6

Playing at left-back, the Brazilian found himself out of position on so many occasions. For most of the night he was either dallying with the ball too far into the Arsenal half or chasing the heels of Welbeck.

16/20 Nabil Dirar - 6

Not as effective as Martial on the left but seemed confident when in control of the ball and always looked forward for the out ball.

17/20 Joao Moutinho - 7

One of Monaco's brighter players. He regularly dropped deep in midfield to start attacking moves. Assisted Kondogbia for Monaco's opener.

18/20 Anthony Martial - 7

Utilised his pace effectively on the left side of the Monaco attack. He took advantage of Mertesacker's bad positioning to assist Berbatov for his side's second goal.

19/20 Dimitar Berbatov - 7

Booed by the Arsenal fans because of his former connection with Spurs, but he was to have the last laugh when he smashed past Ospina in the Arsenal goal to send Monaco 2-0 up

20/20 Yannick Ferreira-Carrasco - 7

What an impact he made when he replaced Berbatov with 15 minutes remaining. His pace, coupled with quick thinking, gave Gibbs hell at left-back. Ferreira-Carrasco added Monaco's third in stoppage time.
No one has ever lived up to that claim and Nicholas was no exception. Indeed, bedevilled by inconsistency and distracted by London's nightlife, he was closer to the new Peter Marinello than the new Best. After fewer than five seasons at Highbury he was back in Scotland, at Aberdeen, his lifestyle at odds with George Graham's puritan outlook.
Nicholas did, though, deliver in big games. He did well against Tottenham, including a Boxing Day double at White Hart Lane. He also scored both goals in the 1987 League Cup final victory over Liverpool which earned Arsenal their first trophy in eight years and launched Graham's highly successful reign.
Özil, however, has not. He was substituted in last year's FA Cup final, albeit in extra time, and in what was personally his biggest Arsenal game to date, last year's round of 16 tie at home to Bayern Munich, a missed penalty seemed to hit him so badly he took weeks to recover.
Injuries have not helped – tap "Özil" into Google and "Özil injury" is the search engine's first suggestion. This season he began late, after the World Cup, then suffered a knee injury which kept him out for more than three months. Last night was only his 12th appearance of the season.
Since returning at Villa Park he has shown some good touches, including two goals, but last night he was awful. Not that he was alone. After four seasons in which they had been paired with – and lost to – Barcelona, Milan and Bayern Munich (twice) in the last 16 Arsenal had got lucky with Monaco, or so it seemed, especially as the team which won group D, Borussia Dortmund, were handed a tricky tie with Juventus. However, being favourites did not sit well with the Gunners.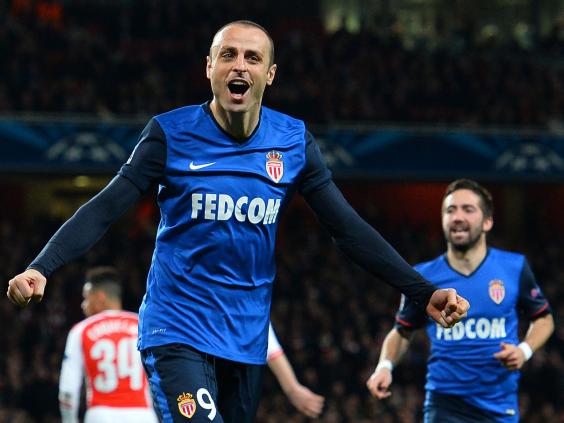 Perhaps lured into a false sense of superiority by a bright opening in which Danny Welbeck twice threatened, they seemed to believe the tie would fall into their laps and the intensity dropped. Even during that misleading start it was Kieran Gibbs, Santi Cazorla, Alexis Sanchez, even Francis Coquelin who created the chances, not Özil. He was in his favoured No 10 role, and found good space between the lines but he conceded possession cheaply.
Creative players often lose the ball as they are playing high-risk, high-reward passes, but Özil gave the ball away playing moderate-risk passes. Anonymous in the opening period his first chance to open up Monaco's defence came in the 22nd minute when he received the ball in space with Arsenal breaking. The pass to release Sanchez was a simple one for a player of Özil's quality but it was underhit and Almamy Touré intercepted. Five minutes later he took a short pass from Gibbs into the box, turned into two defenders and was dispossessed.
His body language was already questionable, with his arms being raised in frustration when he did not receive a pass. Even an encouraging pat on the back from Cazorla did not lift his mood, with more arm-waving as another attack broke down. Having then given the ball to Wallace when trying to filter a pass through on the edge of the box, he finally set up Sanchez only for the Chilean to shoot just over.
At this stage there was no need to panic. But then Monaco scored, not once, but twice. Arsenal were suddenly inhabiting a nightmare. What can be said in Özil's favour is that he never hid. He kept taking up good positions and demanding the ball. Maybe that was why Arsène Wenger kept faith with him as he thrice shuffled his pack from the bench.
But players can take on too much responsibility. Özil began dribbling at Monaco's bank of defenders and, unsurprisingly since that is not his strength, he always had the ball stolen. Ultimately he again disappeared from view.
Is it unfair to single out Özil? He did not set his fee, a record for a German footballer as well as for Arsenal, and it may have been inflated by Arsenal's desperate need to make a marquee signing, but a £42.5m player is supposed to bend matches to his will, to shape and seize them. Maybe Özil is not that kind of player, notwithstanding his twin demolitions of England's senior and Under-21 teams in and Bloemfontein and Malmo five and six summers ago. Arsenal, though, needed that kind of player last night. And they will need that kind of player in Monte Carlo on 17 March. With other midfielders returning to fitness, will Wenger keep the faith?
Reuse content