Like all English football prodigies, Jack Wilshere is subject to greater scrutiny on what he fails to do well rather than the qualities he has in abundance. Goalscoring has never been one of his major strengths which will have made his two last night all the more welcome.
The 21-year-old does not have to be a midfield goalscorer like Frank Lampard or Paul Scholes to be a great player. In fact, after he scored against West Bromwich Albion this season, Arsene Wenger was moved to remark that he did not believe Wilshere would ever be a significant scorer of goals – and he did not intend it as a criticism – but the player himself sees it differently.
Tonight, Wenger joked that he would be happy to be proven wrong by Wilshere if it turned out that the Englishman flourished into a goalscorer in the same way as Aaron Ramsey has already this season. "Jack is starting to think, whatever Ramsey can do, I can do too," Wenger said.
The eighth and ninth goals in Wilshere's Arsenal career were significant because, while all around him his team-mates were trying to pass the ball into the Marseille goal, it was Wilshere who was able to put the decisive touch on events. Indeed, Mesut Ozil even missed a first half penalty along the way.
Nine goals in 116 appearances is a slow start to Wilshere's Arsenal career but with ample room for improvement. Certainly, other midfielders in the past have managed the transformation at Arsenal, most notably Cesc Fabregas.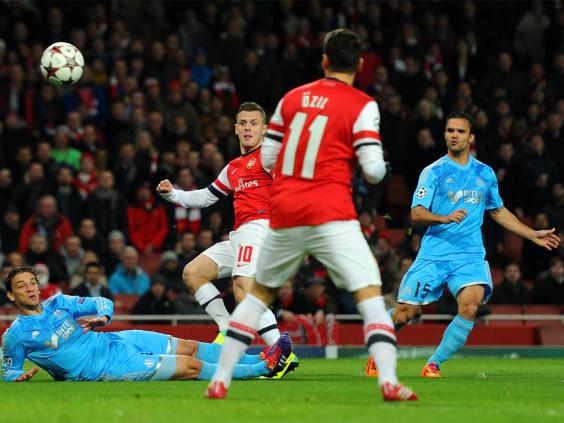 Arsenal are all but through to the knock-out stages of the Champions League having been far too strong for a weakened Marseille side who conceded within the first minute. Only a heavy defeat in Naples on 11 December would endanger their progress and they only need a point against Rafa Benitez's team to win what is arguably the toughest group of this year's competition. This is the newly-assured Arsenal capable of picking off the opposition they are expected to beat.
Nevertheless, Wenger said that it was "unbelievable" that his team has amassed 12 points and were still not sure of a place in the second round. "But that's the reality and it is the first time I have seen it in 150 Champions League games." He added he will have to play a full-strength team in two weeks' time.
The Arsenal manager seemed more irritated by Mathieu Flamini's decision to trim the sleeves of his long-sleeved shirt in defiance of a club tradition that the captain's choice dictates the sleeve-length of the players. "I don't like that," Wenger said. "He [Flamini] will not do it again."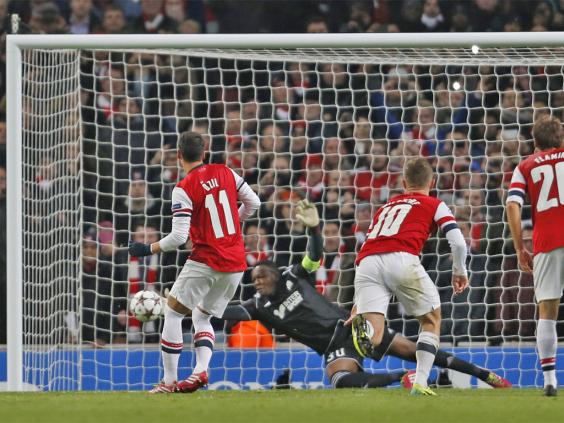 The Marseille coach Elie Baup made six changes to his team which struggled badly before the break. Arsenal, without Kieran Gibbs, taken ill before the match, were in control from the start and might have won much more heavily were it not for the efforts of the Marseille goalkeeper Steve Mandanda. Stabilised by two substitutions, they played better in the second half.
It was impossible to argue with Arsenal's dominance, in the first half in particular, although one might quibble with the manner in which they toyed with Marseille, the proverbial mouse under the claws of a very capricious cat.
Wilshere's goal after 27 seconds really should have been the prelude to a full-blooded destruction of Group F's whipping boys, hitherto beaten in all four previous games of the round. The team placed fourth in Ligue 1 looked well out of their depth in those early stages with Arsenal encamped in their half and no obvious way back into the game for their opposition.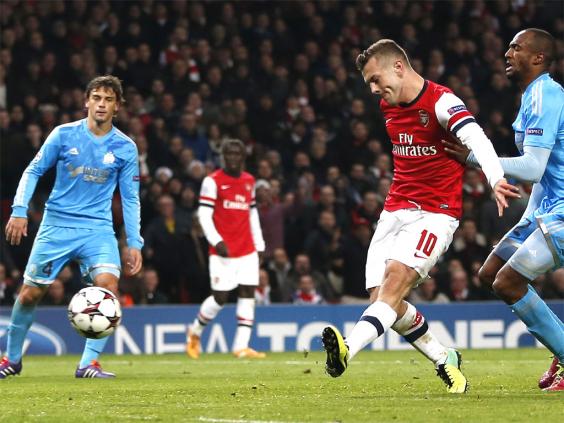 Yet, Arsenal have not completely shaken off the chance-squandering bad habits of the last eight years or so. In fact, they are a very long way from doing so. The possession count was extraordinary, the chances very decent but somehow Marseille, backed into a corner, gloves up, managed to survive to half-time only one goal behind. Arsenal could just not kill them off.
Wilshere's third goal of the season was a beauty, starting down in the right back position where Bacary Sagna was sent down the wing and played in the Englishman ahead of him. Wilshere drove at goal, doubled back onto his left foot and placed a very nice curling shot beyond Mandanda into the top corner of the Marseille goal.
Of course, he should never have been allowed the space to do it and it was indicative of the away side's naivety that it was not the only time they allowed him to double back onto his left foot in such a dangerous area.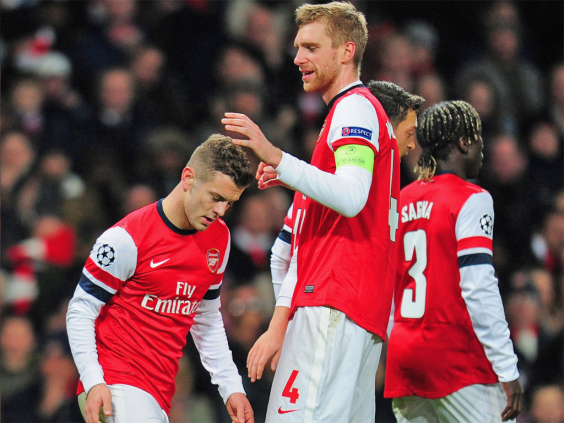 Minutes later, Wilshere made another chance for Aaron Ramsey when he cut the ball back from the left and Mandanda, his side's best player, managed to get down to block the shot from close range. There was a strong hint that Mesut Ozil was not at his best when he shinned a nicely-timed chip over the defence from Ramsey that, properly controlled, would have put him in on goal.
The 36th minute penalty awarded by the Spanish referee Antonio Mateu Lopez was a mistake. Ramsey was fouled by Nicolas N'Koulou as he turned but was outside the area when contact was made and fell in. Ozil's penalty was the kind that look sweetly insouciant if they go in – and bloody dreadful if they don't. His one–step hit was not nearly well-placed enough to go past Mandanda who saved.
Eventually, somewhat reluctantly, Baup made some changes for Marseille. He sent on the France international Mathieu Valbuena and Florian Thauvin, the 20-year-old midfielder who joined the club in the summer and of whom great things are expected. Perhaps one day he will join the great French tradition at the Emirates – this was a crash course in the standards expected.
Mandanda kept his team within touching distance for the last time on 55 minutes when he saved a shot from Ozil but eventually the away team could hold out no longer. There was a familiar triangulation of passes: Ramsey through the back four to Ozil, who cut the ball back for Wilshere in the centre to score his second goal of the game.
That was the game over as a contest although Thauvin did force a couple of good saves out of Wojciech Szczesny, the first of which required Nacho Monreal, in for the absent Gibbs, to rush back and hook the ball off the goalline. There can be no excuses for substitute Santi Cazorla's wild smash over the bar in the closing stages with the goal at his mercy.
Theo Walcott, another substitute, also struck one wide of the post with the outside of his foot in the closing stages. Six wins out of their last nine games is a very decent record for Wenger's team, and their safe passage through the Champions League sets them up nicely for the tests that December will bring in the Premier League.
Arsenal (4-2-3-1): Szczesny; Sagna, Mertesacker, Koscielny, Monreal; Ramsey, Flamini; Wilshere, Ozil, Rosicky; Giroud.
Subs: Rosicky/Cazorla 74; Walcott/Wilshere 74; Ozil/Arteta 80
Marseille (4-2-3-1): Mandanda; Abdallah, N'Koulou, Mendes, Morel; Lemina, Romao; Ayew, Imbula, Khalifa; Gignac.
Subs: Ayew/Valbuena 57; Imbula/Thauvin 57; Lemina/Cheyrou 80
Booked: N'Koulou, Morel
Attendance: 59,912
Man of the match: Wilshere
Rating: 6