Arsenal progressed in the Champions League after Alexis Sanchez fired his first goal as a Gunner, the Chilean scoring the only goal of the tie against Besiktas.
But what did we learn about Arsenal after their win over Slaven Bilic's side?
1 Arsenal's switch to 4-3-3 looks to be permanent
When Arsène Wenger started this season, in the Community Shield against Manchester City, with a 4-3-3 system, it felt like a temporary measure to give games to both Aaron Ramsey and Jack Wilshere, one that would not survive the return of Mesut Özil.
Yet last night was the fifth time this year that Wenger has used 4-3-3 and it seems very much here to stay, surviving both the absence of Ramsey and the presence of Özil. It makes sense, providing Arsenal with an extra body in the middle, which they missed last year in some of the big games, at the cost of moving Özil from his No 10 role out wide. That is not much of a price at all, though, with much of the German's best work being done in wide areas rather than simply behind a striker.
Even Santi Cazorla, not a natural scrapper, worked hard in the middle, providing the balance that Tomas Rosicky usually brings to games like these. This system may not be going anywhere.
2 Even at refined Emirates it became a bit of a scrap
If European football has refined itself into a different sport, abandoning all contact for a form of technical chess, it was certainly not obvious last night. The first leg, last week at Istanbul's Olympic Stadium was a battle, but that was on a horrible pitch in front of a fervent crowd. This, of course, was at the Emirates, with its bowling-green grass and its corporate comforts and yet even then it was the type of aggressive, combustible game which is usually restricted to English domestic football.
None of Wilshere, Mathieu Flamini or Mathieu Debuchy are entirely averse to a scrap and they gave as good as they got against a Besiktas side with their own tough characters as well: Ramon Motta, Pedro Franco and Veli Kavlak. The problem, though, was the same as in the first leg: just as Ramsey was booked twice in Istanbul, Debuchy was twice, the second a very unnecessary trip, making Arsenal's job much harder.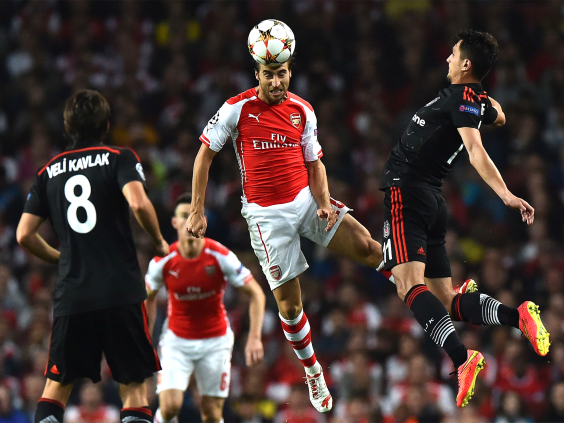 3 Sanchez lays down a marker for Arsenal
Wenger asked, at his pre-match press conference, for Alexis Sanchez not to be "convicted" on one poor performance at Goodison Park and it was easy to see why. This was Sanchez's best performance yet in an Arsenal shirt, leaving nothing on the pitch in a powerful, selfless, dangerous display. He is still not quite on the same wave-length as his team-mates, for obvious and understandable reasons, but his contribution was very significant.
Not only did Sanchez score the winning goal, important enough in itself, but he continued to work in the second half, running the channels, holding the ball up and trying to delay Besiktas as Arsenal hung on. He made one great chance for Cazorla, which was blocked by Franco, and nearly scored a second from Calum Chambers' low cross. With time, he could become an excellent No 9, and save the club some money as well.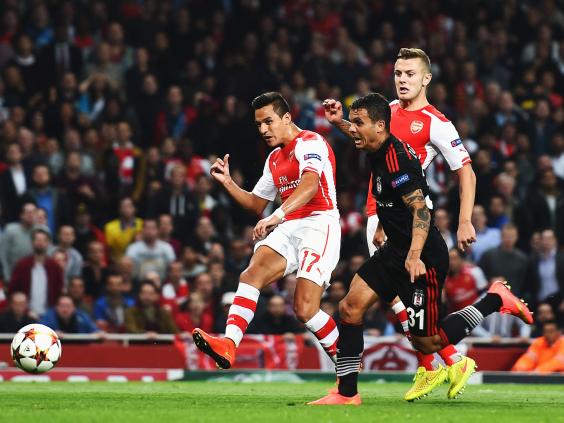 4 Mixed night for Wilshere leaves questions open
There was no answer to one of the most pressing questions in English football right now: is Wilshere a midfield of the highest class, or is he just a 22-year-old still waiting to find his voice as a footballer? This was mixed performance, good laced with bad, which ultimately won Arsenal the match but still left you wondering if this is going to be the season when Wilshere delivers on his promise.
Wilshere was in the action from the very start, showing the return of that burst of pace that so excited Arsenal fans. He skipped past tackles and shot just wide after 10 minutes, and his wriggle into the box, exchanging passes with Özil, set up Sanchez's winner and nearly made another for Cazorla. And yet there were still enough clumsy tackles and imprecise passes to give pause for thought.
5 Will draining encounter bring another thrashing?
The last time Arsenal qualified for the Champions League group stage in such difficult circumstances was in 2011, when they took a slim 1-0 lead to Udinese, saved a penalty and eventually won 2-1 in the draining heat. The consequence was that, four days later, they went to Old Trafford with nothing left in the tank and lost 8-2. If Arsenal are worried about a repeat this time, they can afford to relax slightly. This weekend they play at Leicester City.