Arsenal got their Champions League campaign back firmly on track on Wednesday night as Danny Welbeck scored a hat-trick to inspire the Gunners to a much needed 4-1 victory over Galatasaray.
In scoring a first hat-trick of his young career, Welbeck became just the third Arsenal player to register three goal in a single Champions League match, and he joins a club legend in doing so – as well as a player who would lead you to believe he is a club legend.
Arsenal's record goalscorer Thierry Henry was the first man to score three goals for the club since the Champions League was revamped in 1992. The Frenchman scored all three goals in the 3-1 victory over Roma in November 2002, and it took another eight years until a fellow-Gunner matched his feat.
The man was none other than Nicklas Bendtner, the newly nicknamed 'Wolf of Wolfsburg' after he joined the German club in the summer. The Danish striker notched three goals to help Arsenal overturn a 2-1 first-leg deficit to Porto as they recorded a 5-0 victory at home to reach the quarter-finals.
The best Danny Welbeck memes
The best Danny Welbeck memes
1/8 Sir Bobby Welbeck

Danny Welbeck replaces Sir Bobby Moore during celebrations after England's 1966 World Cup success

Twitter/@MikeSanz19

2/8 Messi's inspiration

Lionel Messi lifts his shirt to reveal a picture of Welbeck

Twitter

3/8 Arsene Banter

Arsene Wenger relaxes after completing a £16m move for Welbeck in the summer

Twitter

4/8 Where you going Danny?

Robin van Persie and Wayne Rooney reflect on a season without European football

Twitter

5/8 How many Welbeck's?

Bart Simpson writes his latest Welbeck lines, Welbeck the Redeemer watches over Rio de Janeiro, Messi reveals Welback inspiration and Welbeck the Pope

Twitter/@SirAlexStand

6/8 10 Sterling's equals one Welbeck

Welbeck replaces the face of the Queen on the £10 note

Twitter/@AlwynPayne

7/8 The Professor at work

Arsene Wenger is praised once again for bringing Welbeck to the Emirates

Twitter/@FootballFunnies

8/8 The Royal Welbeck

Welbeck accompanies the Duchess of Cambridge at the Royal Wedding as he replaces Prince William

Twitter/@MazzGooner
Welbeck's remarkable showing in front of goal saw him score three goals from four shot on target, and despite his reputation for being inconsistent in front of goal, the England international has notched six goals in six matches.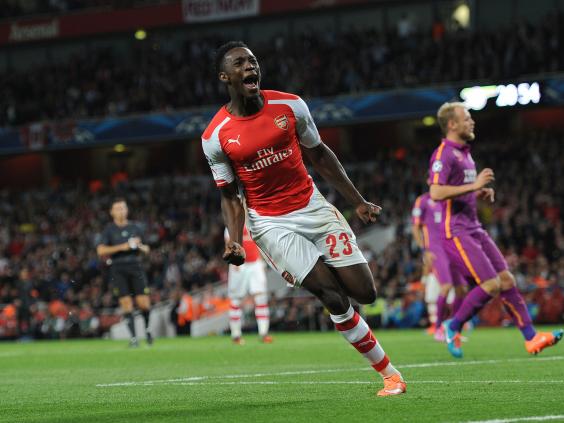 The big question now is whether Welbeck will follow the path of Henry, or Bendtner. Henry left the club in 2007 as he moved to Barcelona before joining MLS side New York Red Bulls. He returned to the Gunners on a short-term loan spell in January in 2012,where he scored his 228th and final goal for the North London club in 376 appearances.
Alternatively, Bendtner left Arsenal after his contract expired this year and endured a period of time where no-one appeared to be interested in his services. Wolfsburg finally decided to move for the free agent, who failed to fulfil his potential at the Emirates having come through their youth ranks.
He departed having notched 47 goals in 168 appearances – only half of which came in the Premier league – and he will not be too fondly remembered at the Emirates given his high wage and low return during his 10 year stay at the club.
Reuse content