Alone for a few seconds before his team-mates converged on him, Danny Welbeck stood in front of what they call the North Bank at the Emirates and drank in the joyfulness of his first hat-trick in professional football. You only needed to look at his face for a taste of how good it felt.
This was Welbeck's time: not his first goals for his new club but the first occasion when it has been all about him, and on a Champions League night too when Old Trafford lies shuttered and empty. His former club Manchester United might have Wayne Rooney, Robin Van Persie and Radamel Falcao but none of them will be scoring Champions League goals until next September at the earliest.
It was an evening which told Welbeck that he could be the striker that Arsenal hope he will be. Granted, the level of the opposition was low, and Galatasaray were in chaos for the first hour before Wojciech Szczesny blundered into Burak Yilmaz, got himself sent off and gave the visitors some semblance of parity for the final half an hour of the game.  Even so, this was a special night for Welbeck.
Arsenal 4 Galatasaray 1 - player ratings
Arsenal 4 Galatasaray 1 - player ratings
1/11 Wojciech Szczesny

Rush of blood to the head got himself needlessly sent off, and put his team under pressure for the final half-hour. 4

Getty Images

2/11 Calum Chambers

Joined up with the Arsenal attacks well, and had no problems defensively. 6

Getty Images

3/11 Kieran Gibbs

A constant outlet going forward with his pace and direct running – crucial for Arsenal's threadbare defence that he stays fit. 6

4/11 Per Mertesacker

Composed on the ball, and made a few important interceptions. 6

Getty Images

5/11 Laurent Koscielny

Had very little to do, but denied Burak Yılmaz space in which to operate. 6

Getty Images

6/11 Mathieu Flamini

Got about his work quietly and efficiently, without having to do anything spectacular.

Getty Images

7/11 Alex Oxlade-Chamberlain

Another very impressive display from the winger, full of direct running and incisive passing. Assist for Welbeck's third goal was the highlight. Rested for the final 20 minutes. 7

Getty Images

8/11 Santi Cazorla

Never stopped running and so unlucky not to score when delicate chip was cleared off the line in the final minute.. 6

Getty Images

9/11 Mesut Ozil

Flitted in and out of the game – showed some nice touches, and lovely through ball for Sanchez's goal, but hustled out of it too easily on a couple of occasions. 6

Getty Images

10/11 Alexis Sanchez

Provided a perfectly weighted pass for Welbeck's first and took his goal with aplomb. Sacrificed for Ospina when Szczesny was sent off. 8

Getty Images

11/11 Danny Welbeck

Finished all three of his goals clinically and showed for the ball in tight areas time and again. Superb. 9

Getty Images
Not even a moment of Szczesny madness could spoil the evening for Arsenal. Welbeck's goals were, in the simplest terms, a run and lunge, a one-on-one and a dink. Of all of them it was the second that will stand out for him. In the past it has been those occasions when his pace has got him clear with just a goalkeeper to beat that Welbeck's mastery of the art of finishing has let him down. Not this time.
There was a goal for Alexis Sanchez too, the third of Arsenal's four and later the Chile international had to be called to the bench to allow the Colombian reserve goalkeeper David Ospina to face Burat Yilmaz's penalty after Szczesny's red card. He did not save that one, but Ospina looked more than capable later on in the game.
Resplendent in an away kit that looked like the colour scheme for a room in Phil Spector's Los Angeles mansion, Galatasaray turned out to be little more than a purple haze for Arsenal, befuddled and divided before half-time.
Led by the former Italy coach Cesare Prandelli, you might have expected a more coherent performance from the leading Turkish team in the competition but their tactical naivety was staggering at times. Prandelli looked to have abandoned his three man defence by half-time and by then they were already in ruins anyway.
There was far too much room for Arsenal's penalty-box magicians to weave their way through from the 'D' of the area and cause damage in the away team's box. Mesut Ozil in particular was free to drift in and out, finding the spaces between defenders and looking to establish shooting opportunities for his team mates. In the first five minutes, Welbeck accelerated down the left wing and reached the byline before Galatasaray dealt with the threat.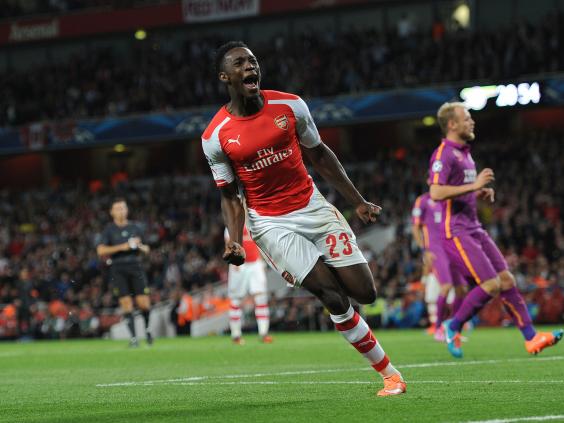 His first goal on 22 minutes was a marvellous back-to-front move that started with Laurent Koscielny in his own half and moved on via Kieran Gibbs to Sanchez on the left side. He cut in on his right foot, went past Aurelien Chedjou and slotted a nifty ball round the corner for Welbeck to run onto and finish. Not for the last time, he left Felipe Melo, the Brazilian defender, trailing behind him.
Melo had a disastrous first half and should have been sent off for a two-footed lunge at Sanchez that defied belief for its recklessness and stupidity. Before that he was well-beaten again by Welbeck before the half-hour for the second goal. Koscielny won an easy header from a goal-kick, Chedjou headed it wildly back towards his own goal and Welbeck out-muscled Melo to get the run in on goal.
This was a fine finish from the Englishman who headed the ball sharply down into his path, took it in his stride, looked goalkeeper Fernando Muslera in the eyes and put a shot past him. These are the kind of goals Welbeck has not scored enough of in his young career. He executed this one perfectly.
Welbeck might have had his hat-trick on 33 minutes when Ozil stunned the ball astutely into his team-mate's path but the young striker could not get the loft and curve on his shot. Five minutes before the break, Arsenal struck again. It came from a Per Mertesacker interception in defence and a ball upfield to Alex Oxlade-Chamberlain who had been a constant threat with his running.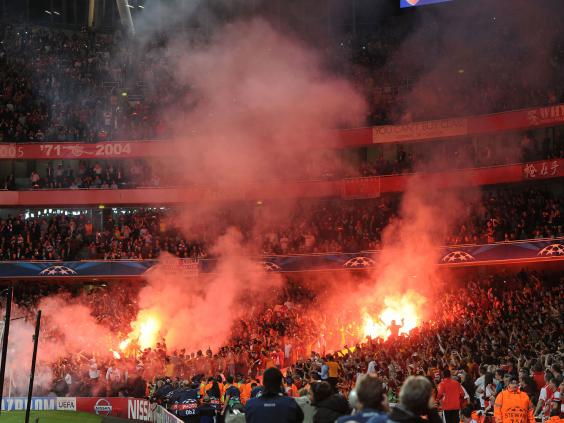 This time, Oxlade-Chamberlain gave the ball short to Ozil who found Sanchez on the left side. He cut in on his right foot and beat Muslera into the far corner of his goal. Before then the Galatasaray fans had already forced a stoppage in play while the smoke flares they had thrown on the pitch were hauled off and extinguished. It was, however, going to take more than that to stop Arsenal.
Arsenal's fourth goal, six minutes after half-time was their best of the match. They started the move on their left side, where Welbeck was initially involved before a diagonal run took him into the Galatasaray area where he finished matters off. The ball was worked intricately to Oxlade-Chamberlain who slipped the ball through the opposition defence and Welbeck gently lifted it over Muslera for his third.
Having looked furious at half-time in the tunnel, Prandelli will have feared the worst but complete humiliation was prevented by Szczesny's dramatic penalty area rush to get the ball from Yilmaz's feet. He missed by some considerable margin, brought the striker down and could have no complaints about the red card. The only quibble for Arsenal was that Melo should have been sent off in the first half.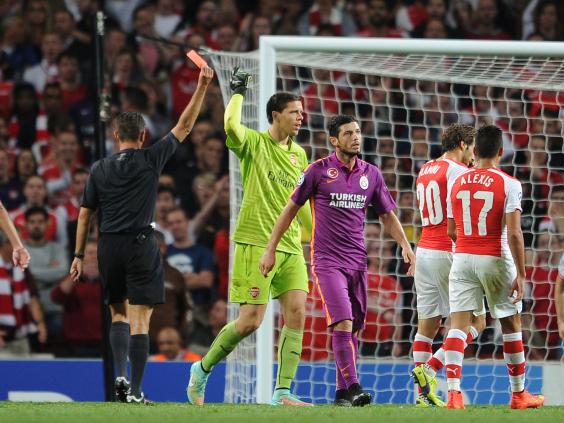 In his place Ospina made a number of good saves as Galatasaray pressed in the final stages. The watching Roy Hodgson was given a glimpse of Jack Wilshere who came on late. He and Tomas Rosicky, another substitute, helped to shore up Arsenal as best they could. The excellent Santi Cazorla has a shot kicked out the goalmouth late by Semih Kaya. This was one Szczesny-related problem crisis that Arsenal could deal with. Welbeck had taken care of that.
Arsenal (4-2-3-1): Szczesny; Chambers, Mertesacker, Koscielny, Gibbs; Flamini, Cazorla; Oxlade-Chamberlain, Ozil, Sanchez; Welbeck.
Subs: Ospina/Sanchez 63, Rosicky/Oxlade-Chamberlain 67, Wilshere/Ozil
Galatasaray (3-5-2): Muslera; Semih Kaya, Felipe Melo, Chedjou; San, Kurtulus, Sneijder, Dzemaili, Telles; Yilmaz, Pandev.
Subs: Altintop/Kurtulus ht, Bulut/San 67, Bruma/Pandev 67
Booked: Arsenal Flamini Galatasaray Melo, Dzemaili
Sent off: Szczesny
Man of the match: Welbeck
Match Rating: 6
Referee: G Rocchi
Reuse content