The reaction of Per Mertesacker to the question of how far Arsenal were from their first Champions League title just about summed it up, as the last unsmiling players left the Stade Louis II on Tuesday night. "Far," replied Mertesacker, "when you get knocked out you are far away."
Next season will be the 10th anniversary of Arsenal's run to the only European Cup final in their history and the nine seasons that have followed since they lost to Barcelona in Paris have not been kind to them. They have exited at the round of 16 on six occasions, made the quarter-finals twice and the semi-finals once, in 2009, when they were beaten home and away by Manchester United.
In that intervening period, they have, of course, moved into a new stadium which necessitated them selling their best players up to 2012 when Robin van Persie departed, the last survivor of that 2006 squad save from the returning Mathieu Flamini. The trouble is that if you look for signs of an upturn in the last two seasons, following the acquisitions of Mesut Özil and Alexis Sanchez, it is hard to spot – especially in this elimination to an average Monaco team.
Tuesday's 2-0 victory in Monaco was exciting while it lasted but the final whistle felt hollow for Arsenal. "Monaco were very much underestimated but they deserved [their win on away goals] by playing well in the first leg," Mertesacker said. "We had one bad game and that was enough to get knocked out. We were missing some good fortune [in the second leg] but we didn't deserve it because we played so poorly in the first leg.
"It's difficult after such a performance [in Monaco] to look back and think we missed in the first game that mental level you need to compete at the highest level. That was missing. You could see how good we are as a team and how well organised we can be. We need to consider that every single day in training and in games. That's why we are so far away."
Mentality. Organisation. Were those what Arsène Wenger was considering as he marched straight across the pitch and down the tunnel at full-time? If so, he can surely have concluded that Arsenal never seem to prevail when it comes to the fine margins that make a big difference in European games.
Monaco 0 Arsenal 2 player ratings
Monaco 0 Arsenal 2 player ratings
1/24 MONACO Danijel Subasic

Looked suspect as Arsenal started to pepper his goal. Giroud made sure he got in the keeper's face a number of times to distract him. Did enough in the end. 7/10

2/24 Fabinho

A quite poor display from the Brazilian. He struggled to contain Welbeck in the first half and Walcott in the second. 6

3/24 Wallace

He was left to deal with Ozil and he did that job with relative ease. 6

4/24 Aymen Abdennour

An assured performance up against Giroud. Strong and positioned himself well 7

5/24 Layvin Kurzawa

Similar to the first leg, he never stopped charging forward. He was quick enough to track back and defend too. Didn't close down Ramsey for Arsenal's second goal. 6

6/24 Nabil Dirar

On the counter-attack he was very dangerous for Monaco but should have taken advantages of his chances better than he did. 6

7/24 Jeremy Toulalan

Back from injury and Monaco's captain organised his midfield well. He won the majority of his battles with Cazorla. 7

8/24 Geoffrey Kondogbia

He was strong and intelligent but after he was booked early in the second half he lacked intensity. 6

9/24 Anthony Martial

Subbed after 58 minutes and didn't play anywhere near as good as he did in the first leg. 5

10/24 Joao Moutinho

The creative midfielder showed again why Tottenham should have taken a chance when they were interested. 7

11/24 Dimitar Berbatov

Held the ball up well and tried to get a shot off whenever possible. Replaced by Silva on 68 minutes. 6

12/24 From the bench: Yannick Ferreira Carrasco

Showed a lot of energy when he came on. 7

Getty Images

13/24 ARSENAL: David Ospina

Colombian had precious little to do as the vast majority of the match took place in Monaco's half. His poor display in first leg ultimately proved costly. 6/10

14/24 Hector Bellerin

Spaniard has impressed in recent weeks and put in a steady performance. Accomplished in defence and got forward to provide crosses from flank. 8

15/24 Per Mertesacker

Has not enjoyed his best season but marshalled backline well - not that that kept him overly busy. Slow to push up as Driar was harshly given offside. 6

16/24 Laurent Koscielny

Volleyed against bar when called offside and offered imposing threat at set-pieces. Made vital last ditch challenge on Ferreira-Carrasco. 7

17/24 Nacho Monreal

Offers more defensively than Gibbs and did not lack for effort as Monaco reorganised. His cross ultimately led to Ramsey's goal but he tired near the end. 7

18/24 Francis Coquelin

Fortunate to escape booking after sliding in on Moutinho. Broke up attacks with ease to initiate Arsenal attacks. Sacrificed for Ramsey. 7

19/24 Santi Cazorla

Volleyed effort blocked by Wallace but unable to greatly influence from deeper role. Rarely ceded possession and but to no overall result. 6

20/24 Alexis Sanchez

Has shown signs of returning to form and shone in touches. Harshly booked for going to ground in area. Spent a lot of time on the ground. 6

21/24 Mesut Ozil

Did not impress with final ball and swapped shirts at half-time. Freshly attired, forced Subasic to tip free-kick over bar. Shot wide when well placed. 7

22/24 Danny Welbeck

Struggled with touch early on but fine ball for opener. Almost added an instant second and forraged to good effect. Replaced by Walcott. 7

23/24 Olivier Giroud

Strong challenge on Abdennour. Headed over bar and struggled with decision making before thrashing rebound for first. Missed late chances. 7

24/24 From the bench: Aaron Ramsey

Came on for Coquelin halfway through second half as Arsenal chased their second - something the Welshman duly provided within 15 minutes. 7

Getty Images
When Arsenal reached the Champions League final in 2006 they had the quality of the Thierry Henry-Cesc Fabregas axis to rely on. But just as remarkable was their 12-match unbeaten run to the final and the fact that over six knockout ties against Real Madrid, Juventus and Villarreal up to facing Barcelona they did not concede a single goal.
It was not as if Arsenal were blessed with an outstanding group of defenders either, with Philippe Senderos playing five of those six knockout games until the injured Sol Campbell returned for the second leg of the semi-final against Villarreal. Emmanuel Eboué was an ever-present. Neither of those, even in their 2006 vintage, would be starters in the current side and yet, for all the rise in individual quality that Wenger has presided over, the team performances have not come.
There should be a good Champions League side in this squad of Arsenal players which, on talented individuals alone, is at least the equal of that 2006 group, even if it lacks the exceptional star that was Henry nine years ago. But Wenger has not been able to craft one.
Of course, other teams have improved since 2006, especially Real Madrid, but watching the grumpy figures in Arsenal tracksuits file out of the Stade Louis II it was impossible not to wonder how a squad that includes Sanchez, Özil, Santi Cazorla, Aaron Ramsey, Danny Welbeck and Theo Walcott should fall so short. Not to mention the injured contingent of Alex Oxlade-Chamberlain, Jack Wilshere and Mikel Arteta.
Arsenal should be on the upward curve by now, recovering from those difficult post-Paris years when financing the Emirates put the squeeze on them. Yet the last big final of that era, the Champions League defeat to Barcelona, was achieved by a team which Wenger seemed to make more than a sum of its parts. This season, it has been more notable again that Arsenal, especially in the first leg against Monaco, have underperformed.
Ramsey, at 24 and in his seventh season at the club, can be commended for being one of only two Arsenal players who would talk to the press after the game. Yet even he thinks they are still serving an apprenticeship.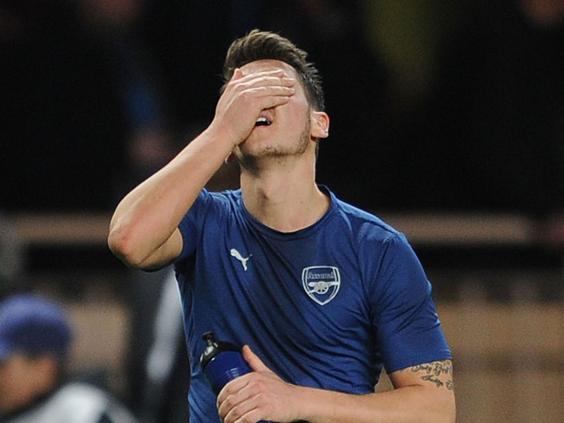 "The last few years we've come really close to getting through to the quarter-finals," he said. "It's another 3-3. I think we're really close to having a really good go in this competition. We've come up against the likes of Bayern Munich and we've gone there and won, we've drawn with them on aggregate. We're more than capable of beating anyone on our day and now it's a case of being a bit more wise over two games. That's what's cost us again this year."
Wenger has a squad good enough to challenge in the quarter-finals at least. Realistically, under his contract he has just two more attempts at this competition and he should have got closer this year.
Reuse content