He was, said his mentor, Pep Guardiola, the best player who has ever kicked a football, better even than Pele. Lionel Messi is heading to his third European Cup final and he seems more in command of his powers now even than when he destroyed Manchester United at Wembley four years ago.
The two legs of the semi-final against Bayern Munich showed both facets of his game. In the 3-0 victory at the Nou Camp that decided the tie, he was the executioner. In the Allianz Arena on Tuesday night, he was the orchestrator, beginning the moves that led to Neymar's two goals that snuffed out any faint talk of the "Miracle of Munich".
Barcelona are through to another European Cup final. It seems so obvious, so natural. One more step on a glittering pathway for football's Harlem Globetrotters. Except that this season it has been one strewn with plenty of rocks. Like the two other members of Barcelona's "Trident", Messi returned to Catalonia after a painful World Cup.
For Luis Suarez, there had been the scandal of the bite on Giorgio Chellini, the ban from all football and his exit from Liverpool. At first, Suarez struggled to make an impact in the Nou Camp, then he became adept at the art of the assist. In Munich, he set up two more almost unmissable chances for Neymar.
Bayern Munich vs Barcelona player ratings
Bayern Munich vs Barcelona player ratings
1/22 Neuer 5

Far from his impregnable best, the big German was left stranded for Barca's first goal and beaten at his near post for the second.

2/22 Rafinha 5

Was ineffective at both ends of the pitch tonight. The full-back was typically tidy in possession but couldn't get anywhere near the dangerous Neymar.

3/22 Boateng 5

Finished the first leg on his back side and didn't cover himself in glory tonight either. An absolute shadow of his stunning World Cup winning form.

4/22 Benatia 5

His header gave Bayern hope early on but equally killed off their chances with some shocking defending. Failed to assert any control on the Barca front three.

5/22 Bernat 7

Tried to get forward at every opportunity but his attacking exploits left Bayern light at the back when Barca broke away. One of Bayern's better performers.

6/22 Lahm 6

A night to forget for the Germany captain. Largely ineffective in his new central midfield role, Lahm only came into the game when he retreated to wide positions.

7/22 Thiago 7

Looked very busy against his old club and was probably the pick of Bayern's midfield ranks. Tenacious pressing interrupted the probing of Busquets and Iniesta.

8/22 Alonso 6

As always impeccable in possession but failed to create many chances from his deep midfield role. The Spaniard gave next to no support to his defence who were repeatedly overrun

9/22 Schweinsteiger 6

The World Cup winner was tireless in his work ethic but couldn't stamp his authority on the game. The midfielder was a merely a gateway to Barca's counter attacking moves.

10/22 Muller 7

The prolific forward was always a threat and his industrious pressing didn't go unnoticed. Linked up well with Lewandowski on countless occasions.

11/22 Lewandowski 7

The Polish striker looked a class apart once again and restore some pride to the Bayern ranks going forward. Excellent footwork and finish for the second goal.

12/22 Ter Stegen 9

The Barca keeper pulled off countless world class saves to deny the Bayern revival. Outshone his fellow countryman Neuer with ease.

13/22 Dani Alves 7

Gave Barca added width when Messi came inside and was always faultless in possession. Sensational chipped pass to Suarez for the first goal.

14/22 Pique 6

Typically assured at the back even if he struggled to deal with the impressive Lewandowski at times. Kept order at the back Bayern pressed heavily.

15/22 Mascherano 6

Once again showed his quality as a centre back even if he lost out on the physical battles with Lewandowski and Muller. Efficient sweeper.

16/22 Alba 6

Not the best night for the lightning fast left back. Got forward well as always but couldn't deal with the movement and physical presence of Muller.

17/22 Rakitic 6

Showed his ability on the ball finding Messi and Suarez on countless occasions in the first half. His influence dipped after the break though.

18/22 Busquets 7

Classic performance from the Spaniard. Strong, clever and precise, Busquets took the sting out of the game well in the second half. Won his decisive battle with Thiago in the midfield.

19/22 Iniesta 7

Controlled Barca's tempo in the first half unleashing Neymar and co to a devastating effect. Still has an incredible impact at this level.

20/22 Messi 7

Although he played something of an understudy role this time around, Magical Messi was still a class act behind Suarez and Neymar.

21/22 Suarez 8

Despite his early departure, Suarez played his part in ultimately killing the tie off before the break. Put both goals on a plate for Neymar.

22/22 Neymar 8

The Brazilian clinical brace ensured that he took the starring role tonight. He has now scored 8 goals in his last seven games. Deadly.
By the time Barcelona came to Manchester City in February, Suarez was once more the forward that everyone on Merseyside, who now had to make do with Mario Balotelli, knew him to be.
Neymar had finished the World Cup flat on his back, with reports of his spinal injury treated on Brazilian television like the Kennedy assassination. He missed Brazil's 7-1 humiliation by Germany and watched Mario Götze win the World Cup, the role he no doubt felt should have been his. Götze, incidentally, was allocated just five minutes of Tuesday's semi-final.
Meanwhile, it was announced yesterday that Spain's National Court has accepted the state prosecutor's request to open a fraud trial examining Neymar's transfer from Santos. It is alleged that Barcelona's then president, Sandro Rossell, deliberately underdeclared the official fee of £41m (more than three quarters of which went to Neymar's parents) in a scheme to avoid paying tax.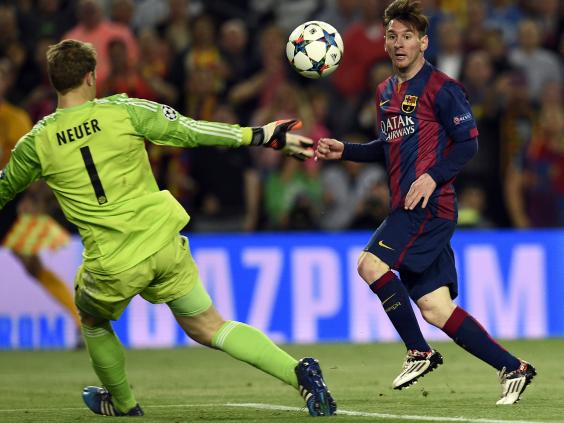 Tax, or rather the non-payment of it, has been something that has stalked Messi. His World Cup had been a difficult one. His long struggle to convince doubters that the only thing that is Argentine about him is his accent finished in the World Cup final in the Maracana, where he achieved almost nothing.
The sight of Messi in the dock over the complicated way that payments for image rights were shunted into offshore tax havens may still go ahead, although some on the left in Argentina doubt it.
The socialist politician, Alberto Garzon, remarked: "In this country, if your name is Messi, you pay what is necessary, you negotiate with the exchequer, you don't go to prison. That is not justice; it is unworthy of the name."
In January, when his relationship with Barça's manager, Luis Enrique, appeared frayed, Messi found himself at the Ballon D'Or awards in Zurich, where he made the throwaway, highly political remark that he did not know where he would be playing next season. Everyone knows where Messi will be come August – where he has been since he was a 13-year-old. Sir Alex Ferguson grudgingly said that while Cristiano Ronaldo could play for any team on earth, Messi could only shine at Barcelona.
It may be true but what has been astonishing is how brilliantly he has played since Zurich. And when Messi shines for Barcelona, Guardiola is right. There is nobody better.
Reuse content