The former Manchester United players Roy Keane and Ray Wilkins have hit out at Manchester United's Ashley Young, accusing him of "conning" the referee by winning yet another dubious penalty for his club, with Wilkins declaring that his actions had been "pathetic."
To astonishment in San Sebastian's Anoeta Stadium, Young was awarded a 69th penalty for a tug on his arm and Wilkins said that the practice - which has seen already seen Young censured by David Moyes this season and Sir Alex Ferguson in the last campaign - was "as bad for me as all these over the top tackles we're getting at the moment because that is a conning of the referee." Wilkins said: "I just wish Ashley would cut this out because he's a good player but he's getting a bad name."'
The Sociedad manager Jagoba Arrasate said Young "kind of folds" under the second half challenge by Markel Bergera, who was booked, and Moyes appeared to feel the award of the penalty was a wrong decision, too.
"I thought there were some strange decisions all night and that was another of them," he said. But Moyes rejected the idea that the winger now had a reputation. "I don't know about his reputation, but the referee is there and he gave it," the United manager said. "I have seen it and the boy certainly tugs him. The ref was two yards from him. The game was there to take, to get into a strong position or even get clear in the group & we should have taken three points"
Keane said: "If you are a Manchester United player and you see a player getting tugged back you want him to go down. Ashley Young has obviously gone down too much over the last few months. He's been heavily criticised in England, but of course we're playing in a foreign country and it's almost more acceptable. But I think he's conned the referee there."
The failure to capitalise on Bayer Leverkusen's sterile draw in Donetsk means that United now face a tense night in Germany on the banks of the Rhine later this month, ideally needing a win ultimately to progress as group winners. But one more win will all-but see them qualify for the group of 16. They will go to Germany without Marouane Fellani, dismissed here for a second yellow card after a rash tackle on David Zurutuza in the game's closing stages.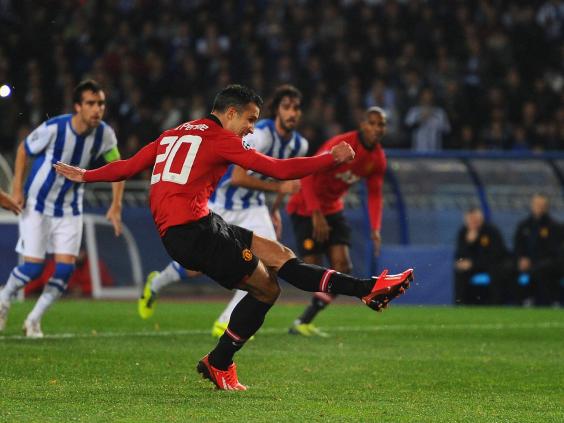 Moyes was clearly disappointed. "I see it as a missed opportunity to take three points. We had some good chances, especially in the second half and I felt we were worthy of getting all three. We are still in a strong position [in the group.] If we'd won tonight it would have given us a really strong chance of winning the group. We are still top, but I do feel like we've missed a chance tonight."
Of a nightmare second half miss from Javier Hernandez, Moyes said: "The miss was an opportunity. It bobbled up a little bit to be fair to him. He gets in these positions and that's normally where he gets his goals from."
Follow all of tonight's Champions League action by CLICKING HERE
Reuse content