Goalkeeper Jan Oblak made a series of great saves as Atletico Madrid held Bayer Leverkusen to a 0-0 draw on Wednesday and advanced to the quarterfinals of the Champions League for the fourth straight season.
Oblak came up big every time Leverkusen got close to his goal, proving crucial for Atletico as it protected its 4-2 first-leg victory in the Round of 16.
Oblak made three spectacular consecutive saves midway through the second half to end Leverkusen's hopes of overturning the defeat in Germany.
"Sometimes you make three saves, and sometimes they score a goal with the first attempt," Oblak said. "It is difficult to explain. I saw the ball and went for it. I reacted quickly and everything went well for me."
Leverkusen goalkeeper Bernd Leno also played well to keep Atletico from capitalizing on its chances at the Vicente Calderon Stadium.
Leverkusen was trying to reach the quarterfinals for the first time since it lost to Real Madrid in the 2002 final. The German club was eliminated by Atletico at this same stage in a penalty shootout two seasons ago, when Oblak also thrived with an important penalty save.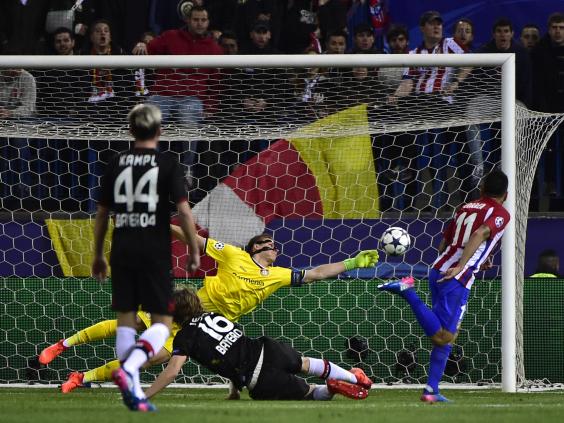 The goalkeeper made amazing back-to-back saves on Wednesday after a mistake by Atletico defender Jose Gimenez led to a dangerous breakaway for Leverkusen in the 68th minute.
Oblak first stopped Julian Brandt's attempt in a one-on-one, then immediately threw himself in front of the goal to keep Kevin Volland from scoring from the rebound, and again outstretched his arms to block Volland's other attempt from close range.
The German club still had another chance in the same move, but the shot by Javier "Chicharito" Hernandez missed wide of the far post as Oblak watched.
Oblak later made two other key stops to keep out dangerous shots by Leon Bailey and Kevin Kampl.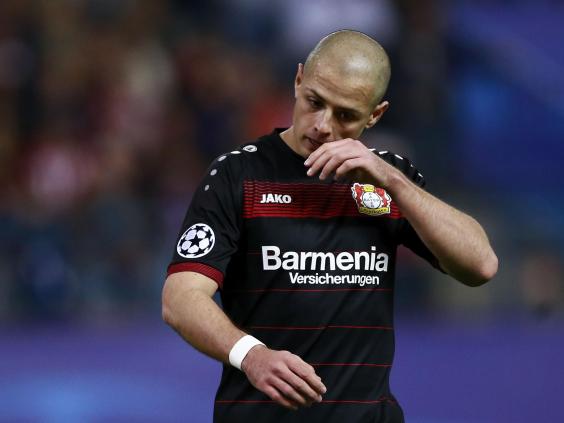 "Congratulations to Atletico and Oblak. He made a lot of great saves," Leverkusen coach Tayfun Korkut said. "We couldn't get into our dynamic. The side played well, we created chances, had some good ones, a quadruple one, but still we could not score."
Leno had prevented Atletico from scoring with a superb fingertip save after a close-range shot by Angel Correa in the 38th, and again with a great stop to a low shot by Koke two minutes later.
"Luck wasn't on our side. Oblak had to make three really good saves," Leno said. "It was still a really good performance from us, and definitely a step in the right direction. We proved that we're capable of matching teams like Atletico if we play to our potential. We can be proud of our performance this evening."
Leverkusen was playing only its second match under Korkut, who was appointed last week after the club fired previous coach Roger Schmidt amid its worst Bundesliga season in 14 years.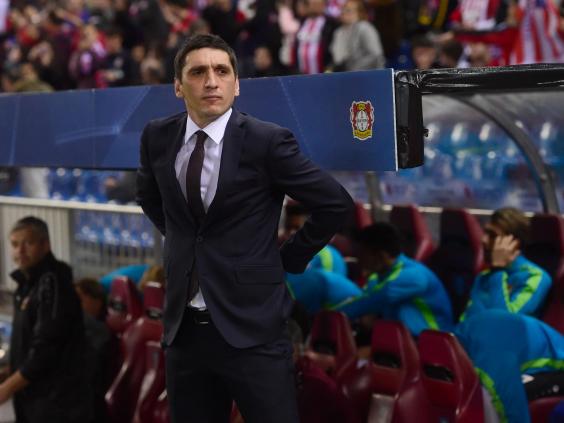 Atletico is trying to return to the final after losing to Real Madrid last season. Diego Simeone's team also lost to the city rival in the Champions League final in 2014.
Atletico has only two losses in its last 34 home matches in European competitions.
In the night's other second-leg match, Monaco beat Manchester City 3-1 at home to advance on the away goals rule after their contest finished 6-6 on aggregate.
Atletico and Monaco will be joined in Friday's draw for the quarterfinals by holders Real Madrid, Barcelona, Juventus, Bayern Munich, Borussia Dortmund and Leicester.
Reuse content