Madrid welcomes its annual carnival celebrations this weekend but the biggest party in the Spanish capital will not be on the scheduled list of events.
As marquees are thrown up around the city and fancy dress shops struggle to cope with the demand for outfits, one scene has long been set down by the Manzanares river. 
Almost 55,000 madrileños will descend on the Vicente Calderon for a fourth helping of 'El Derbi' this season. Most will be decked in Atleti red and white with a small portion tucked high up in the corner of the north stand in the all white of Real Madrid. A carnival atmosphere is a given and the victors are likely to throw the best party on what's already a big weekend of celebration in the city.
For years the match may have lit up Madrid but for the most part it acted only as a sub-plot to the two-way tussle between Los Blancos and Barcelona at the top of La Liga. A welcome local derby match in a league that has long been dominated by 'El Clasico'. Something a bit different. Even then the interest had diluted somewhat thanks to Madrid's dominance over Atleti - the story was more about when and how Los Rojiblancos could end a losing streak against their neighbours that lasted 14 years and 25 matches. They finally managed it last season, and boy did they do it in style. A 2-1 extra-time victory in the Copa del Rey final, held at the Bernabeu against Jose Mourinho's men.
Atleti finished nine points behind their more illustrious neighbours last term, and 24 behind La Liga champions Barca, but that cup final triumph restored belief in a club that has been rejuvenated under former player Diego 'Cholo' Simeone. They followed it up with a 1-0 win over Madrid at the Bernabeu in September, Diego Costa scoring the winner eleven minutes in. London buses and all that. Now the Madrid derby is much more than a sub-plot in the title race - it could well be a title decider. As far as La Liga goes, Sunday's match is set to be the biggest derby in almost three decades.
It will be the fourth time the sides have met already this season and their respective successes in the Champions League - Atleti beat AC Milan 1-0 at the San Siro in their last-16 first-leg match, while Madrid thrashed Schalke 6-1 in Germany on Wednesday - means it may not be the last. The title race in Spain this season is such that each derby match has brought with it its own story. The first, back in September, the end of long wait for a league win for Los Rojiblancos, the Copa del Rey semi-final double-header a rare need for Real to inflict some revenge of their own and restore what they believe to be their rightful place in the hierarchy after back-to-back derby losses and the sight of Simeone's side hitting the league's summit.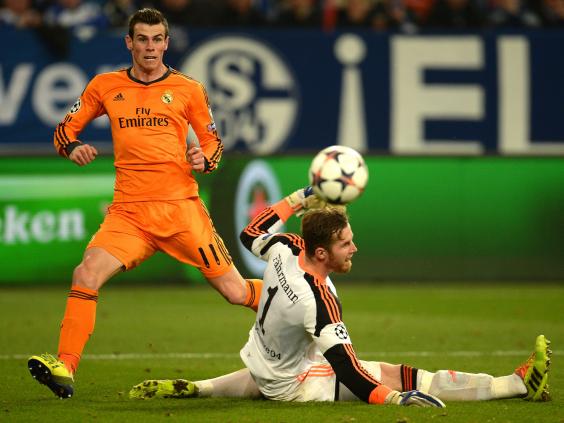 This weekend's match will see revenge side with the hosts. Atleti, for the most part, have been superb this season and their 3-0 cup loss at the Bernabeu brought them crashing back down to earth with a bang. It was the first time they had conceded three goals in any competition this season. It also started a run of four defeats in six matches, culminating in a shock 3-0 defeat at Osasuna last weekend, after Atleti had lost just once all season before that cup defeat. Even with their cup defence seemingly over Los Colchoneros had the chance to at least restore some pride in the second leg at the Calderon but couldn't even manage that. Simeone will no doubt remind them of that before they walk out into a packed and hostile atmosphere on Sunday afternoon.
For Carlo Ancelotti's men the match provides a platform to showcase their title-winning credentials. Madrid have lost just twice all season and both of those defeats have been at the hands of rivals Atleti and Barcelona. Madrid's cup derby win may have been emphatic but Sunday gives them a chance to prove themselves in the big league games. A chance to keep their 'noisy neighbours' firmly in-check.
It also gives Ronaldo and company the chance to maintain top spot after moving there for the first time since May 2012 last weekend. Somewhat surprising, although not wholly unexpected defeats for Barca and Atleti last weekend, coupled with Madrid's 3-0 victory over Elche on home soil, saw Los Blancos taste life at the top for the first time since winning the title under Jose Mourinho almost two years ago. It's a position they've worked hard to achieve, overturning a five-point deficit against their rivals following the winter break to move three points clear, and it's one they won't want to give up easily.
All three of Spain's title hopefuls have occupied top-spot this season, throwing open one of the most interesting title races in years. The usual duopoly of Barca and Madrid have been joined by Atletico as genuine contenders and there has been little between the sides. The Catalans have led the way for the most part but their slip-ups since the turn of the year, dropping ten points from a possible 24, had allowed the red and white club from the capital to enjoy some rare time at the top - their first taste since winning the competition in 1996. The pressure on Simeone's men has told, however, with shock losses against Almeria and Osasuna leaving the door open for Los Blancos.
The advantage is with Madrid, a side unbeaten in 27 matches in all competitions and with arguably the strongest weapons in its artillery, but, as with Atleti, that advantage could so easily be taken away in one fell swoop this weekend. Victory for Atleti in 'El Derbi', coupled with an expected win for Barcelona against Almeria at the Camp Nou on Sunday night, would leave all three tied on 63 points at the top, with Barca leading the way on goal difference and, as things stand, on head-to-head records which come into play at the end of the season.
Los Blancos may be the form side going into the match but they head to the Calderon just four days after making the trip to Germany to thrash Schalke in their last-16 first-leg clash. The 6-1 demolition, helped by two goals apiece from Madrid's 'BBC' of Gareth Bale, Karim Benzema and Cristiano Ronaldo, will only do Madrid's confidence the world of good but both Atleti and Barca suffered from post-European successes last weekend. Victories over Milan and City respectively were impressive but seemingly took their toll on the squads in La Liga last weekend. Whether or not Madrid will suffer the same fate is yet to be seen, but Ancelotti withdrew Bale, Xabi Alonso and Angel Di Maria early in Gelsenkirchen to no doubt save their energy levels for Sunday.
It's apt that the fourth Madrid derby of the season will be played during carnival celebrations in the Spanish capital, with the party no doubt continuing for those not lucky enough to get a ticket for the Calderon but with one eye firmly on a nearby television set. Expect noise, expect fireworks, expect atmosphere - not just off the pitch, but on it too. 'El Derbi' may not quite ever overtake 'El Clasico' in importance but it's as close as it has been for decades and this weekend's clash may well prove crucial as to who will be enjoying a Liga carnival of their own come the end of the season.
Reuse content