It took Atletico Madrid 81 seconds to show they're ready to mount a stubborn defence of their title despite being written-off by many, including manager Diego Simeone, before the Spanish season has even started.
Mario Mandzukic's goal on his competitive debut at the Vicente Calderon was enough to give Diego Simeone's side the first trophy of the domestic campaign and offer an ounce of revenge against neighbours Real, who defeated Los Colchoneros in the most dramatic of fashions in the Champions League final in Lisbon just three months before.
The Spanish Super Cup success, which ended 2-1 in Atleti's favour after Raul Garcia grabbed a late leveller in a 1-1 draw at the Santiago Bernabeu on Tuesday night, was not only Altetico's first since 1985 and a first victory against Madrid on home soil since 1999, it also provided a good indication of what to expect from Simeone's troops this season - more of the same following their historic La Liga-winning campaign.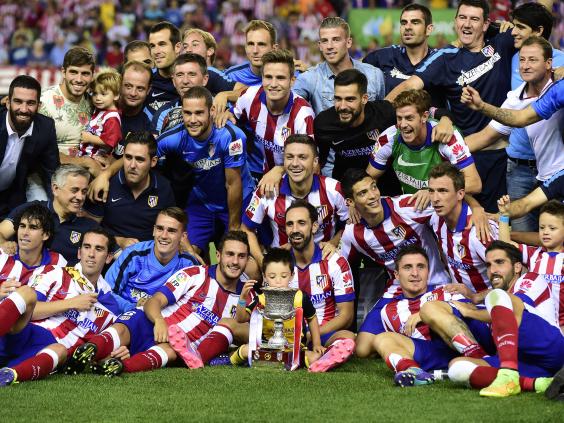 The Argentine was quick to play down his side's chances of defending their crown before the two-legged Super Cup but those comments only acted to reduce the expectations of his squad and ease the pressure. "I don't like lying to people," he said in an interview with La Gazetta dello Sport. "One thing is clear: we cannot compete with Real and Barcelona. Our rivals are Sevilla, Valencia, Athletic Bilbao, and the target is third place. This is a new team." He added: "Atletico are the champions, but the players are not the same. We are in a different league to Barca and Real."
If anyone was in any doubt that those comments were early-season mind games, the performance of Atleti against the big bucks of Los Blancos over two-legs quickly dispelled them. This may have been a trophy way down on the lists of both clubs this season, but it was a trophy the side from the Bernabeu was desperate for. President Florentino Perez wanted all six trophies Madrid are battling for this season and defeat on Friday night issued an early blow to their campaign. Rest assured, this was not a friendly and this was not a match either side took lightly.
While Perez may have signed the cheques for the stars of the World Cup in Germany's Toni Kroos, Golden Boot winner James Rodriguez and Costa Rica shot-stopper Keylor Navas, and Barcelona captured Luis Suarez from Liverpool, Simeone and Atleti went about their business not exactly under the radar, but in a calm and efficient manner. The arrivals of Mandzukic from Bayern Munich and Antoine Griezmann offer star quality but the signings of players such as full-back Guilherme Siqueira, Miguel Angel Moya and Cristian Ansaldi look shrewd.
Alteti's in-house business has been superb too, in managing to keep central defensive pairing Diego Godin and Miranda, as well as midfield star Koke despite interest from Barcelona. The re-signing of the experienced Tiago was another good bit of business and youngster Saul could play a key role this season after gaining more experience on-loan with Rayo Vallecano last season and attracting the interest of Manchester United.
Despite the fears of a huge squad break-up and dismantling of a squad that won the league and reached the final of the Champions League, Simeone has arguably forged a squad that is stronger than last season and one that is more than capable of causing the usual duopoly of Barca and Madrid plenty more problems. Atleti may not be the favourites, but that will suit them again.
Some may suggest the surprise factor will hamper the side from beside the Manzanares this season but that factor disappeared long ago. While Atleti shone in the season before clinching the title, too, Real boss Ancelotti and Barca manager Luis Enrique know fully what to expect from their rivals - but can do little about it. That's Atleti's greatest weapon of all.
"Atlético won't change their style and will play as they did at the Bernabéu because they have the advantage given the positive result," Ancelotti said before Friday's second leg. "To win at the Calderón we must play with intensity and more velocity than in the first leg". He added: "We are used to playing against Atlético and they're used to us."
That intensity and velocity was reserved for the hosts, not the visitors, who were without Cristiano Ronaldo. Atleti produced a superb opening 15 minutes that left Real with little in the way of reply. While they suffered the loss od Diego Costa to Chelsea over the summer, the arrival of Croatian international Mandzukic looks to have suitably plugged the gap going off his first two competitive performances of the campaign.
In keeping the bulk of their defence and midfield Atleti are still going to be extremely strong at the back. They were last season, and they managed to shut out Madrid's attack for the first time in 22 matches at the Calderon on Friday night. That has been complemented by more in the way of attack, however, with Griezmann offering a different outlet. Los Colchoneros also still have the injured Arda Turan to come back into the fray.
It is their manager that keeps the Atleti show ticking, however. Although 'Cholo' may face a ban of up to eight matches for his petulant dismissal on Friday night, Simeone is the glue that makes Los Colchoneros stick. Even after being sent off for his strong protests against the referee and his fourth official for failing to swiftly allow Juanfran back on following an injury, Simeone barked instructions from behind the dugout alongside the fans. The Atleti boss will surely be in with a shot at receiving te awards for best manager in Europe and the World as things stand.
Atleti kick-off their league campaign at city rivals Rayo Vallecano on Monday night but they'll kick-off with an expectation of pushing Barca and Real all the way again, even if their manager doesn't say so. Their squad may not be as deep as their title rivals but a healthy squad-permitting, Atleti will be a force to be reckoned with again this season.
Reuse content