Displaying all the self-confidence of a coach who has already won the Champions League three times, Real Madrid's Carlo Ancelotti glided through his pre-match media duties, dwelling on the memory of beating tonight's opponents Atletico Madrid in the final last season and making light of the fact that Atletico have won four of the subsequent six games between the two sides.
Bombarded with questions referring to those six Madrid derbies – two in La Liga, two in the Super Cup and two in the Copa del Rey – and the fact that Real have not won a single one of them, Ancelotti reminded everyone that in the Champions League a team can go through without winning either one of the two legs.
That threw the room completely and had some asking for confirmation that Real would actually be playing to win the quarter-final first leg at the Vicente Calderon. "We will play to win but we can go through with two draws," said the Italian coach.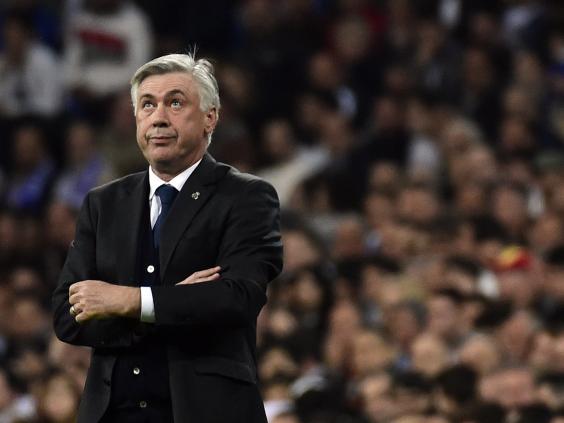 He also had his inquisitors twisting one way and then the other over the possibility of Gareth Bale starting the game. "If Bale is not 100 per cent fit he will not play because we have everyone available," Ancelotti said of the Welsh striker, who sat out Saturday's 3-0 win over Eibar. After a pause that left the idea that local favourite Isco could start hanging in the air, he added: "But he [Bale] is 100 per cent."
Ancelotti also gave a public vote of confidence in Bale, despite grumbles about his form from some Real fans. "He was fantastic last season and he's been very good so far in this one," he said. "He came good in the final months, scoring in the Champions League and Copa del Rey finals, so let's see how he performs now in the run-in."
Turning to Atletico, Ancelotti said he admired the way Diego Simeone's sides "fight from the first whistle to the last" and only once showed any sign of doubt when asked what it was like to face his opposite number. He admitted it was an honour but "also a problem".
If the home side are to win, their threat from set-pieces is likely to be crucial, but Ancelotti responded, "Don't forget we won the Champions League with a set-piece last season," in reference to Sergio Ramos's header from a corner that levelled the scores in injury time and allowed Real to win 4-1 in extra-time.
Simeone will bring back Mario Mandzukic up front in place of Fernando Torres and hope a numerical advantage in midfield and a more aggressive attitude can win out as it has done so far this season.
Ancelotti, meanwhile, stressed that the "attitude problem" Real displayed when they lost 4-0 at the Calderon in La Liga in February will not be in evidence here. "We are not obsessed with Atletico Madrid," he said. "Our objective is not so much to beat them, more to win this club's 11th European Cup."
If Real do win the competition, they will become the first side to retain the Champions League and Ancelotti will also be the first coach to win the trophy four times.
If any more evidence was needed that he sees everything falling into place just at the right time, Ancelotti was asked what he thought about Barcelona dropping two points against Seville on Saturday. "I didn't see the game," he said. "I was at the cinema."
Atletico Madrid (probable): Oblak; Juanfran, Miranda, Godin, Gamez; Arda, Gabi, Mario Suarez, Koke; Mandzukic, Griezmann.
Real Madrid (probable): Casillas; Carvajal, Ramos, Pepe, Marcelo; James, Kroos, Modric; Bale, Benzema, Ronaldo.
Reuse content