Two of the Premier League's most recent stars were in the spotlight in the aftermath of Barcelona's crucial 2-1 Clasico victory over Real Madrid on Sunday night – for very different reasons.
Former Liverpool forward Luis Suarez, last season's PFA Player of the Season, took the plaudits in the Spanish press after his sublime finish, his 15 goal of the season and seventh in as many matches, decided the 170 league meeting between the Spanish giants and sent Barcelona four points clear at La Liga's summit.
Gareth Bale, who won the same PFA accolade in 2012-13 before swapping Tottenham Hotspur for Real Madrid in a world-record transfer fee, did not get such acclaim in a match where he struggled to provide an impact despite a confidence-boosting two-goal haul in his previous outing against Levante.
"Beyond his disallowed goal he did nothing," said Spanish sports daily Marca. "In the second half he was invisible."
Barcelona 2 Real Madrid 1 player ratings
Barcelona 2 Real Madrid 1 player ratings
1/24 BARCELONA: Claudio Bravo

Pulled off a couple of fine saves to keep Barcelona level in the first half, and another from a deflected Benzema shot late on. Solid in general. 7/10

Getty Images

2/24 Dani Alves

Defended brilliantly against Ronaldo for the most part and provided Luis Suarez with a beautiful long pass for the second goal – he'll be tough to replace if he leaves. 7

Getty Images

3/24 Gerard Pique

Produced an absolutely perfect tackle in the first-half to deny Bale and never looked under pressure or in any danger. 8

Getty Images

4/24 Jeremy Mathieu

Not many would have had the Frenchman down as the first goal scorer but he took his goal excellently. Defended stoutly and good in possession. 8

Getty Images

5/24 Jordi Alba

A Duracell bunny down the left hand side, he runs up and down the flank like a man possessed. Brilliant in defence and attack he has a claim to be the best left-back in the world. 8

Getty Images

6/24 Javier Mascherano

A very clever performance by a very clever player, the enforcer did exactly what was needed of him – foul Real Madrid players when they looked dangerous and give the ball to better players when in possession. 8

Getty Images

7/24 Andres Iniesta

When Real Madrid were on top Iniesta was bypassed by the men in white as Isco, Kroos and Modric exerted control. But as soon as Barcelona took over, he was at the fulcrum, never letting Los Blancos back in. 7

Getty Images

8/24 Ivan Rakitic

For large spells of the game Rakitic was outplayed by his opposite number Luka Modric, but he was always a willing worker. 6

Getty Images

9/24 Luis Suarez

Brilliant performance from a man in great form. Never gave Ramos and Pepe a second's rest and took his goal expertly, with an expert first touch and serene finish. 8

Getty Images

10/24 Neymar

A complete mixed bag from the Brazilian who was excellent in every part of the game except his finishing. Should have had at least two goals but was wild when presented with some very good chances. 6

Getty Images

11/24 Lionel Messi

There were parts of the game where Messi appeared a passenger. But as soon as Barca took the lead he sensed blood and took control as creator-in-chief and but for some wayward finishing from team-mates would've had more than just one assist. 8

Getty Images

12/24 From the bench: Sergio Busquets

Came on for Rakitic to give the home side an extra layer of protection – Real Madrid didn't create a chance after he entered the game. 7

Getty Images

13/24 REAL MADRID: Iker Casillas

Stories of his decline are overblown, he is still an excellent shot-stopper and denied both Alba and Messi in great fashion. Real's best player in the second-half. 7

Getty Images

14/24 Dani Carvajal

Run ragged by Neymar, the Spanish defender has a long way to go to be considered among the elite. 5

Getty Images

15/24 Sergio Ramos

Defended poorly for the Mathieu goal (it was his man) and he and Pepe lost Suarez for the second goal. Considered a world class defender but while he looks smart on the ball and has the athletic tools he makes a lot of high profile errors. 5

Getty Images

16/24 Pepe

Couldn't cope with Suarez before being taken off for Raphael Varane, even though he didn't appear to be suffering an injury. 5

Getty Images

17/24 Marcelo

Like Alba on the opposite side he is a constant menace down the wing and was easily more of an attacking threat than Gareth Bale. A solid performance on the front and back foot. 7

Getty Images

18/24 Luka Modric

Controlled the game for a long period but lost control for good after Barcelona went in front. Ran out of legs in the final stages. 6

Getty Images

19/24 Toni Kroos

Largely the same story as with Modric, although not quite as influential given he has to sit a little bit deeper. Always good on the ball but couldn't do enough after his team fell behind. 6

20/24 Isco

When Real were on top he was arguably the best player on the pitch but was completely taken out of the game in the final half hour, barely getting on the ball. 6

Getty Images

21/24 Cristiano Ronaldo

Had a 20-minute spell either side of half-time when he was the dominant player on the pitch but struggled outside of that time frame. Took his goal well but should also have scored in the opening stages when he hit the bar with a volley. Couldn't get in the game when his team needed him at the end. 5

Getty Images

22/24 Gareth Bale

Offered very little. At all. No wonder the Real fans aren't happy with their world record signing. He seems scared to make a mistake (lest he incur the wrath of Ronaldo) so doesn't attempt to take people on when he has a chance. He had one sight at goal and dragged it badly wide. Utterly anonymous in the final half an hour. 3

Getty Images

23/24 Karim Benzema

The least heralded player of the BBC was easily the best of the three. Always the hardest working he set up Ronaldo well with a cross that he should have scored before providing a beautiful flicked assist for the goal. Also went close late on with a long-range effort. 7

Getty Images

24/24 From the bench: Raphael Varane

A strange substitution that had little bearing on the result. Pepe must have been injured. 5

Andrew Surma/Demotix/Corbis
"Another big night where Bale goes missing," Marca continued. "His offensive contribution practically stopped after the disallowed goal." The Welshman scored big goals for Madrid last season, notably in the Champions League final and the Copa del Rey final, where he scored one of the goals of the season against Barcelona. Marca noted that he has struggled at big stadiums in La Liga, however, with Bale unable to find the net at stadiums such as the Camp Nou, Athletic Bilbao's San Mames, Atletico Madrid's Vicente Calderon, Sevilla's Sanchez Pizjuan and Valencia's Mestalla.
Marca called Bale "The Castaway", labelling him the worst player on the pitch. "He began the match hinting that he could help out and ended up going missing, being disoriented and without an impact on the game. The right side of the Madrid team ended up being a notable deficit."
The 25-year-old scored the lowest in the paper's player ratings with 4.5 out of ten, but it was at least more than the rating, or non-rating, AS gave him. Bale was the only player not be awarded a score from the match, with the front page of AS saying that "Bale failed again". It added: "He began by helping at the back defensively but that soon diluted and he disappeared. In the second half he went unnoticed."
In contrast, Suarez was picked out as the star man. "In the end, the plaudits go to Luis Suarez and his goal which decided this Clasico," said Marca. "Suarez celebrated his goal with the veins in his neck standing out, because in the shot across Casillas, there was a lot more than just a goal to make it 2-1. It was a cry of freedom after months of many wagging their tongue, doubting the player's real worth." Marca added: "Out of the six attackers involved, one came out clear winner: Luis Suarez."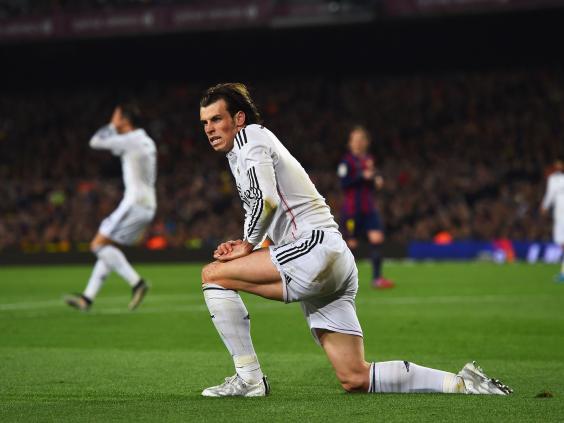 Barcelona-based sports daily Mundo Deportivo also piled the praise on Barcelona's "other trident" of goalkeeper Claudio Bravo and defenders Jeremy Mathieu, who scored the opener with his first Liga goal for the club, and Gerard Pique, who was monumental at the heart of the home defence.
The newspaper nicknamed former Manchester United defender Pique as "Piquenbauer". It said that "a game with much intrigue delivered unexpected heroes" and added that "a colossal Bravo kept goal with his gloves, a majestic Pique provided an antidote to the poison of a great Real Madrid and Mathieu scored the goal to put Barca on the road to victory."
Mundo Deportivo also highlighted the goal of Suarez as being one that could eventually see Barcelona win the league and its two-page match report led with the headline that Luis Enrique's men won "with character and with punch". Santi Nolla, the newspaper's director, said was it a "deserved victory".
The front page of Sport was dedicated to Suarez's goal celebration and declared "a blow to Madrid". The Barcelona-based newspaper acknowledged that the Catalans had to overcome a "very intense Madrid" to secure three points they believe put Barcelona halfway to the title.
"Madrid played a great game at the Camp Nou," said Albert Masnou. "But even so it is Barcelona who edged a little closer to winning the title." He added that "the saves of Bravo and the performance of the centre-backs saved Barcelona when Madrid had victory in their hands."
Reuse content