Luis Suarez hailed his second-half winner against Real Madrid as "the most important goal" of his Barcelona career.
With 55 minutes on the clock and the scoreline locked at 1-1 after Cristiano Ronaldo had cancelled out Jeremy Mathieu's opener, the Uruguayan trapped a long punt forward by Dani Alves and then arrowed the ball past Iker Casillas to restore Barca's lead at the Nou Camp.
Luis Enrique's side went on to dominate the remainder of the game and won 2-1, thus building a four-point advantage at the top of the Primera Division table.
The strike was Suarez's 14th in all competitions for Barcelona since he made his £75million move from Liverpool last summer.
Barcelona 2 Real Madrid 1 player ratings
Barcelona 2 Real Madrid 1 player ratings
1/24 BARCELONA: Claudio Bravo

Pulled off a couple of fine saves to keep Barcelona level in the first half, and another from a deflected Benzema shot late on. Solid in general. 7/10

Getty Images

2/24 Dani Alves

Defended brilliantly against Ronaldo for the most part and provided Luis Suarez with a beautiful long pass for the second goal – he'll be tough to replace if he leaves. 7

Getty Images

3/24 Gerard Pique

Produced an absolutely perfect tackle in the first-half to deny Bale and never looked under pressure or in any danger. 8

Getty Images

4/24 Jeremy Mathieu

Not many would have had the Frenchman down as the first goal scorer but he took his goal excellently. Defended stoutly and good in possession. 8

Getty Images

5/24 Jordi Alba

A Duracell bunny down the left hand side, he runs up and down the flank like a man possessed. Brilliant in defence and attack he has a claim to be the best left-back in the world. 8

Getty Images

6/24 Javier Mascherano

A very clever performance by a very clever player, the enforcer did exactly what was needed of him – foul Real Madrid players when they looked dangerous and give the ball to better players when in possession. 8

Getty Images

7/24 Andres Iniesta

When Real Madrid were on top Iniesta was bypassed by the men in white as Isco, Kroos and Modric exerted control. But as soon as Barcelona took over, he was at the fulcrum, never letting Los Blancos back in. 7

Getty Images

8/24 Ivan Rakitic

For large spells of the game Rakitic was outplayed by his opposite number Luka Modric, but he was always a willing worker. 6

Getty Images

9/24 Luis Suarez

Brilliant performance from a man in great form. Never gave Ramos and Pepe a second's rest and took his goal expertly, with an expert first touch and serene finish. 8

Getty Images

10/24 Neymar

A complete mixed bag from the Brazilian who was excellent in every part of the game except his finishing. Should have had at least two goals but was wild when presented with some very good chances. 6

Getty Images

11/24 Lionel Messi

There were parts of the game where Messi appeared a passenger. But as soon as Barca took the lead he sensed blood and took control as creator-in-chief and but for some wayward finishing from team-mates would've had more than just one assist. 8

Getty Images

12/24 From the bench: Sergio Busquets

Came on for Rakitic to give the home side an extra layer of protection – Real Madrid didn't create a chance after he entered the game. 7

Getty Images

13/24 REAL MADRID: Iker Casillas

Stories of his decline are overblown, he is still an excellent shot-stopper and denied both Alba and Messi in great fashion. Real's best player in the second-half. 7

Getty Images

14/24 Dani Carvajal

Run ragged by Neymar, the Spanish defender has a long way to go to be considered among the elite. 5

Getty Images

15/24 Sergio Ramos

Defended poorly for the Mathieu goal (it was his man) and he and Pepe lost Suarez for the second goal. Considered a world class defender but while he looks smart on the ball and has the athletic tools he makes a lot of high profile errors. 5

Getty Images

16/24 Pepe

Couldn't cope with Suarez before being taken off for Raphael Varane, even though he didn't appear to be suffering an injury. 5

Getty Images

17/24 Marcelo

Like Alba on the opposite side he is a constant menace down the wing and was easily more of an attacking threat than Gareth Bale. A solid performance on the front and back foot. 7

Getty Images

18/24 Luka Modric

Controlled the game for a long period but lost control for good after Barcelona went in front. Ran out of legs in the final stages. 6

Getty Images

19/24 Toni Kroos

Largely the same story as with Modric, although not quite as influential given he has to sit a little bit deeper. Always good on the ball but couldn't do enough after his team fell behind. 6

20/24 Isco

When Real were on top he was arguably the best player on the pitch but was completely taken out of the game in the final half hour, barely getting on the ball. 6

Getty Images

21/24 Cristiano Ronaldo

Had a 20-minute spell either side of half-time when he was the dominant player on the pitch but struggled outside of that time frame. Took his goal well but should also have scored in the opening stages when he hit the bar with a volley. Couldn't get in the game when his team needed him at the end. 5

Getty Images

22/24 Gareth Bale

Offered very little. At all. No wonder the Real fans aren't happy with their world record signing. He seems scared to make a mistake (lest he incur the wrath of Ronaldo) so doesn't attempt to take people on when he has a chance. He had one sight at goal and dragged it badly wide. Utterly anonymous in the final half an hour. 3

Getty Images

23/24 Karim Benzema

The least heralded player of the BBC was easily the best of the three. Always the hardest working he set up Ronaldo well with a cross that he should have scored before providing a beautiful flicked assist for the goal. Also went close late on with a long-range effort. 7

Getty Images

24/24 From the bench: Raphael Varane

A strange substitution that had little bearing on the result. Pepe must have been injured. 5

Andrew Surma/Demotix/Corbis
And the 28-year-old had no doubt this was his most crucial goal for his new club, ranking it above the two he netted against Manchester City in the Champions League last month.
"This is the most important goal I've scored for Barca and it has an extra significance because of the rival we were playing against," Suarez told Barcelona's official television Channel.
"I just tried to take advantage of the space between defenders and be as fast as I could so I didn't give the centre-backs any time to recover. Luckily it went in.
"The dressing room is very happy, we knew this was a really important game if we wanted to stay top of the league and increase our advantage."
Barca coach Luis Enrique sang the striker's praises after the game, calling the goal "an action that only few players are capable of".
"We are very happy that he is a being decisive player for us and we are very happy with his attitude and what he brings to this team," he said.
"He brings a lot to the team he is not just a classic centre forward, he also links up with his team-mates. He's a player that marvellously compliments the squad we have, and that's why we signed him."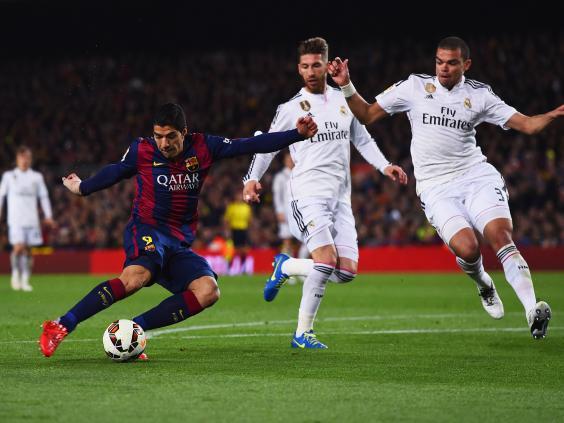 Madrid now have 10 weeks to catch up with Barcelona, who have won 19 of their 21 matches in 2015.
Madrid coach Carlo Ancelotti lamented the fact his side failed to keep a "cool head" after the break, following their strong performance in the opening 45 minutes.
"We were playing very well until their second goal and from then on the game was very difficult for us," said the Italian in his post-match press conference.
"Before that we were doing well, we pressed well and were solid at the back. We lacked a cool head to turn the game around, we kept playing long balls and trying to execute difficult passages of play."
This is Ancelotti's third defeat in four league games against Barcelona and, if his side cannot bridge the four-point gap with the Catalans, he will have failed to win the Spanish league title in his first two seasons with Madrid.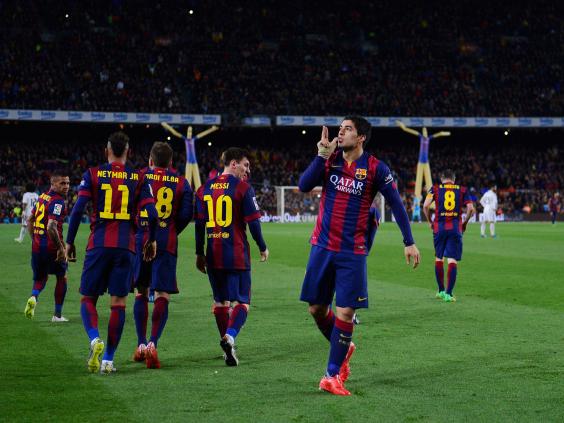 However, the man who delivered Los Blancos their long awaited 10th European Cup last season dismissed the suggestion his side would now focus their attention on the Champions League, with a quarter-final tie against neighbours Atletico Madrid coming up next month.
He said: "The league is not over, they have the same points advantage that we had before but anything could happen.
"We're not going to give a priority to either competition, the priority for us is the league and the Champions League."
PA
Reuse content