Arsenal started brightly without taking advantage
Barcelona do not give many chances but the time to punish them is in the first 15 minutes of games. They do not start intensely, as they often do not need to in La Liga. In the first leg at the Emirates they did not get going for a while, and Arsenal failed to take advantage early on. It was the same last night, with Barcelona strikingly casual for the first quarter of an hour. Arsenal were more intense than them, pressed them into mistakes and created some meaningful chances on goal. If they were to get anything out of the game – and it was always extremely unlikely – they needed to score early on. Then it might have been a different game.
Elneny brings much-needed purpose to midfield
The story of Arsenal's problems this season has been the collapse of their midfield. The most important moment was Santi Cazorla rupturing knee ligaments at Norwich in November, trying to play on, then needing surgery. Mohamed Elneny is not as good as Cazorla, but he does at least bring a sense of purpose and direction to a midfield which has lost both. He brought much-needed energy last night and a goal threat to the edge of the box. After  testing Marc-André ter  Stegen a few times, the Egyptian scored with a clever curled shot from just outside the box early in the second half. With Aaron Ramsey out with another muscle injury, Elneny's drive will be crucial.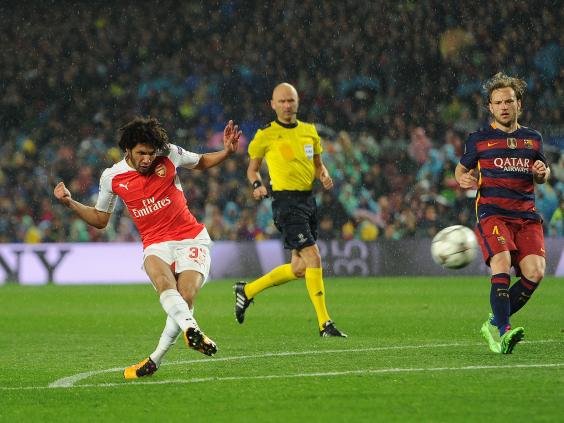 Suarez volley was a reminder of his excellence
This was not learned wholly last night but Luis Suarez is a brilliant footballer who has the imagination and the skill to find clever new ways to make the difference in games. Arsenal were playing well at 1-1 and were two goals away from what would have been an implausible away-goals win. But then Dani Alves chipped a delicate cross over from the right-hand side and Suarez ended the contest. Leaping backwards into the air, he contorted his body in such a way that he could volley the ball with his right shin into the far opposite corner of the net. He has scored many wonderful and important goals and yet this was nowhere near the best.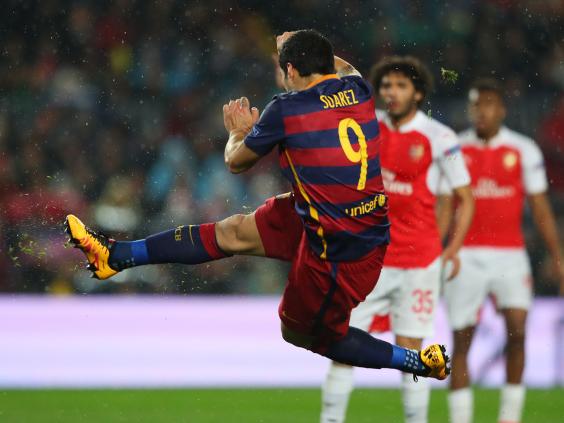 Barcelona 3 Arsenal 1 player ratings
Barcelona 3 Arsenal 1 player ratings
1/22 Barcelona: Ter Stegen 6 out of 10

For 80 minutes Ter Stegen had little to do despite Arsenal's goal. But then he made an impressive double save from Sanchez and Giroud denied the visitors the equaliser they deserved.

2/22 Alves 6 out of 10

A sumptuous cross for Suarez's goal capped yet another quietly excellent game for Alves, who dealt well with the impressive Iwobi and Ozil.

3/22 Mascherano 6 out of 10

At times seemed to struggle with the direct running in behind of Arsenal's attack but made a potentially decisive block on Welbeck with the visitors chasing their second.

4/22 Mathieu 5 out of 10

Could have been punished on more than one occasion for some sloppy defending. A more incisive attack than Arsenal's would have made him pay.

2016 Getty Images

5/22 Alba 7 out of 10

An under-rated star of this Barcelona side, he helped the hosts apply real pressure down the left flank, bombing forward and providing a series of superlative passes for Neymar and company.

2016 Getty Images

6/22 Rakitic 7 out of 10

Once more Rakitic was quietly impressive, winning the ball back with a string of interceptions and tackles to add to his sumptuous passing.

2016 Getty Images

7/22 Busquets 6 out of 10

Not at his very best in defence, too often bypassed by Arsenal's midfield runners, he still controlled Barcelona's tempo in the attack, providing outballs for attackers and recycling possession.

2016 The Arsenal Football Club Plc

8/22 Iniesta 7 out of 10

When Arsenal equalised Iniesta took control of the Barcelona side, calming nerves in the Barcelona side by dictating possession. It was typical of a mature display from the captain.

2016 Getty Images

9/22 Messi 7 out of 10

For all the efforts of his team-mates to lay a goal on a plate for him, Messi struggled against his Copa America foe Ospina until a fabulous late chip.

10/22 Suarez 8 out of 10

Varied his position intelligently to drag Arsenal's backline out of position, playing more of a creative role than that of a No.9. It worked, with Sanchez providing Neymar's assist before his own moment of magic.

2016 Getty Images

11/22 Neymar 8 out of 10

A clinical finish to nab the opener was no less than had been expected of Neymar, who was a joy to watch throughout the match, providing a string of fabulous passes for team-mates.

12/22 Arsenal: Ospina 7 out of 10

Did his fair share in ensuring Arsenal stayed in the tie with a fantastic save from Messi moments before an opener he could do nothing about. Continued to make key saves throughout.

13/22 Bellerin 6 out of 10

As is so often the case in big European nights Bellerin struggled mightily early on but came roaring back under pressure, refusing to be bowed by Neymar and continually springing forward.

2016 Getty Images

14/22 Gabriel 7 out of 10

A really impressive display from one of Arsenal's worst players in recent weeks, he threw himself in when required but also showed the composure and authority that he has been lacking of late.

15/22 Koscielny 5 out of 10

Culpable for the goal that effectively ended the tie, losing the ball bringing it out of defence. It was a cardinal error and it left his team-mates high and dry after an impressive start.

2016 Getty Images

16/22 Monreal 5 out of 10

With Alba outstanding at the other side Monreal's indifferent delivery and lack of pace were only shone in a more unfavourable light in a very poor game for the full-back.

2016 Getty Images

17/22 Elneny 7 out of 10

Another encouraging display for the midfielder, capped by a stylish first goal in an Arsenal shirt. Strong enough in the tackle he certainly looks decent backup for when Santi Cazorla returns.

2016 The Arsenal Football Club Plc

18/22 Flamini 5 out of 10

Spent 45 minutes proving social media right with a performance of exceptional indifference, with his only major contribution being a needless yellow card.

19/22 Sanchez 6 out of 10

Raised his game up to his usual standards after his recent woes but remains too rusty in front of goal. He impressed as a provider though, laying on Elneny's goal.

2016 The Arsenal Football Club Plc

20/22 Ozil 6 out of 10

Was left bemoaning the profligacy of his team-mates in a first half where he provided the chances for Arsenal to bust the tie back open.

2016 The Arsenal Football Club Plc

21/22 Iwobi 6 out of 10

Was not overawed by the occasion with all eyes on him and his cutting infield gave Alves plenty to worry about. How Wenger would have wished he didn't trip himself up in the area when through on goal though.

22/22 Welbeck 5 out of 10

At times Welbeck looks like he's playing on ice and is far too nervy with the ball at his feet. It cost Arsenal dearly, he should have scored one of the two chances he had when one-on-one with Mascherano.

2016 Getty Images
Barcelona's world-class stars are a cut above
With better technical execution in the final third Arsenal could have made this a more difficult evening for Barcelona. The hosts lacked the presence of Gerard Pique at centre-back, and even with Javier Mascherano throwing himself around, there were still openings for Arsenal. But Mesut Özil and Alexis Sanchez, the two closest players Arsenal have to world class, could not seize control of the situation and make the difference. The gap between them and Barcelona's world stars was clear enough as they took their chances to kill the game. All Barcelona's front three scored, Neymar with a cool finish, Suarez's acrobatic volley and then Lionel Messi's clever chip with the outside of his left boot, reminiscent of last year's semi-final, which put the result beyond doubt.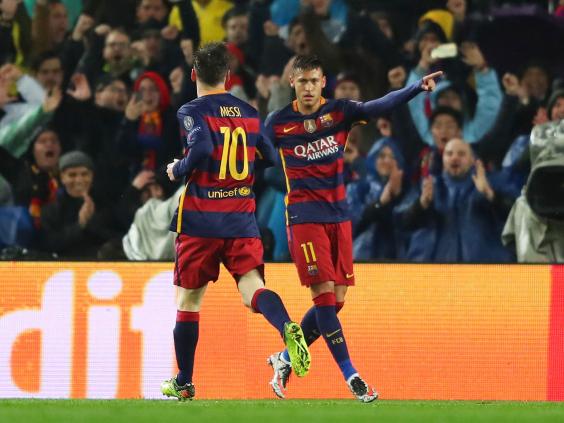 History beckons for Luis Enrique's side
Barcelona are trying to become the first team to retain the European Cup since the Milan of Van Basten, Gullit and Rijkaard, to name but three, in 1990, against Benfica, and even though they were not at their fluent best last night, they still emerged from the evening with a healthier chance of making history. They beat Arsenal, on the night and on aggregate, without playing anywhere near their best, and with a clear sense that they have a few extra levels they can reach if and when they need to. Even more helpful were the struggles of Bayern Munich, the next-best team in Europe for the past few years, who had to fight back from conceding two early goals against Juventus. Max Allegri's side, PSG and Atletico Madrid are the likeliest teams to challenge Luis Enrique's all-conquering side, and it is hard to see any of them causing an upset.
Reuse content