The sublime, the ridiculous, and the historic.
There is no other way to describe this remarkable match, that may well be one of the greatest ever seen in the Champions League, and certainly saw the greatest ever comeback in the Champions League.
Barcelona somehow recovered from a 4-0 first-leg deficit to pull off a divine 6-1 victory over Paris Saint-Germain and go through to the quarter-finals. No side had ever come from four down in the first leg before; no-one can ever have witnessed a match like this before.
To top it off, the winning goal came in stoppage time, from homegrown Sergi Roberto.
It can't be forgotten that it also saw one of the greatest collapses the game has ever seen, such was how PSG's regular moments of chaos contrasted with some of the supreme quality on display, and there will be a lot of controversy about much Barcelona looked to influence the referee.
That will bring justifiable criticism but, on a night like this, it only added to the deep richness of the drama.
Barcelona vs PSG player ratings
Barcelona vs PSG player ratings
1/22 Marc-Andre ter Stegen - 6 out of 10

Was rarely tested on an evening when all the action was taking further place up the pitch. Did his job when called upon.

Getty

2/22 Gerard Piqué - 7

Defiant and resilient throughout, displaying composure at the back and technical ability on the ball too.

Getty Images

3/22 Javier Mascherano - 7

Gave his all. Showed his intent from the start, putting in a series of important challenges and blocks.

AFP/Getty Images

4/22 Samuel Umtiti - 7

Dominant in the air and dominated in his battles with Cavani.

Getty Images

5/22 Rafinha - 6

Dangerous in drifting in from the flank and excellent in finding the right space but some of his deliveries were off the mark. Nonetheless, proved to be a nuisance for much of the night.

Getty

6/22 Sergio Busquets - 6

It was a scrappy and frantic night for the Spaniard. His challenges were mistimed and his passes misjudged but his energy was still invaluable in Barcelona's pressing game.

Getty Images

7/22 Ivan Rakitic - 7

A bundle of enegery throughout. His challenges were vital in breaking up PSG's forward game but almost cost Barcelona the game in allowing Kurzawa to set up Cavani for his away goal.

Getty Images

8/22 Andres Iniesta - 7

Pulled the strings for much of the, playing passes left, right and centre, and wasn't afriad to try his luck from outside the box. Dwindled in influence as the game wore on.

AFP/Getty Images

9/22 Lionel Messi - 7

Here, there, everywhere. It was another trademark performance from the Argentine but on this occasion he wasn't the man who Barcelona turned to.

AFP/Getty Images

10/22 Luis Suárez - 7

Showcased the best of his poaching abilities to snatch Barcelona's first goal and proved to be a menace for the entire 95 minutes.

AFP/Getty Images

11/22 Neymar - 9

Absolutely sensational. Was instrinsic to Barcelona's late fightback, scoring their first fourth and fifth goal before setting up Sergi Roberto's winner with an exquisite assist.

Getty

12/22 Kevin Trapp - 5

Poor decision-making handed Barca their first and failed to effectively deal with Iniesta's back-pass for the second.

AFP/Getty Images

13/22 Thomas Meunier - 4

His ill-timed foul on Neymar handed Barca their first penalty and third goal. Let down by sloppy mistakes.

AFP/Getty Images

14/22 Marquinhos - 4

Should have done much better for Barcelona's second, failing to assert himself against Iniesta inside his own box. It was night to forget in all for him.

AFP/Getty Images

15/22 Thiago Silva - 6

As ever, Silva was PSG's warrior. But although he rarely shirked a challenge even he was suspectible to lapses in concentration tonight and poor decision-making.

Getty Images

16/22 Layvin Kurzawa - 4

His disastrous attempt at a goal-line clearance handed Barcelona their second and he clearly struggled against Rafinha's pace and trickery. Impressive assist for Cavani's goal but, in all, the occasion appeared to get to him.

AFP/Getty Images

17/22 Adrien Rabiot - 5

Failed to deal with Barcelona's high-intense approach and incessant press.

AFP/Getty Images

18/22 Marco Verratti - 6

Started well but grew increasingly timid and quiet as the game wore on. Conceded a number of unnecessary challenges.

AFP/Getty Images

19/22 Blaise Matuidi - 4

Little of note to say. Looked overwhelmed at times.

Getty Images

20/22 Lucas Moura - 5

Kept himself busy in the first half but was repeatedly targeted by Barcelona's enforcers and struggled to shine as a result.

AFP/Getty Images

21/22 Edinson Cavani - 6

Did what was asked of him in expertly clinching PSG's vital away goal. Should have converted an early second-half chance though. Let down by his team-mates.

Getty Images

22/22 Julian Draxler - 5

Another player who failed to live up to the big occasion.

AFP/Getty Images
Barca started the game unrecognisable from the first leg. It also meant this was a '4-0' unrecognisable from any other too, and certainly wasn't a dead rubber.
It was instead an utterly compelling and intensely involving challenge, layered by the wonder of whether the greatest ever team could do the impossible, and pull off what might be their greatest ever feat.
And it was fully charged after just three minutes, as Luis Suarez showed supreme athleticism to somehow head the ball over Kevin Trapp. If the finish displayed the Uruguayan's usual opportunism, however, the entire passage of play showed case the unusual panic of the PSG defence.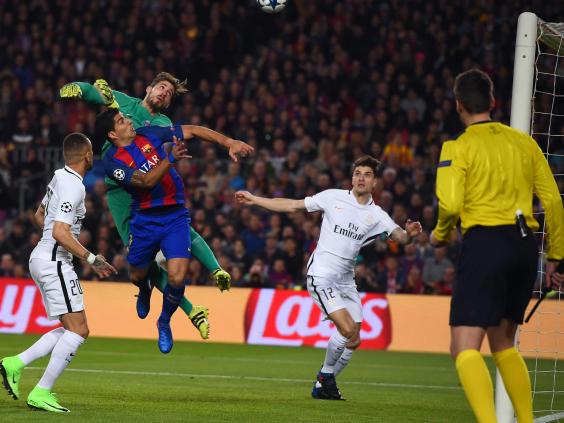 For them to suffer such chaos so early, and with the first proper attack of the game, did not bode well. Trapp had initially attempted to come for what should have been a comfortable catch, only to show the hesitation of someone just not confident in what they were doing, permitting Suarez to steal in.
A huge difference in application was already evident at that point. While Barca had that notable high intensity in everything they were doing, that deeper focus, PSG were so uncertain.
The story of Barcelona's incredible comeback against PSG
The story of Barcelona's incredible comeback against PSG
1/13

Barcelona's night got off to the best possible start with Luis Suarez scoring in the 3rd minute.

Getty

2/13

Excellent improvisation from Andres Iniesta caused Layvin Kurzawa to convert the ball into his own net.

Getty

3/13

After the half-time interval, Lionel Messi put his name on the scoresheet from the penalty spot.

Getty

4/13

However, when Edinson Cavani grabbed a vital away goal for the visitors, Barca's hopes looked lost.

Getty

5/13

Cavani could not hide his emotion after scoring the goal which, at that point, had looked to have ended Barcelona's hopes of qualifying.

Getty

6/13

Three minutes from time, Neymar struck back with a splendid free-kick which beat Kevin Trapp at his near post.

Getty

7/13

Into stoppage time, and after Marquinhos' foul, Neymar converted Barcelona's second penalty of the night.

Getty

8/13

In the final minute of added on time, Neymar's lofted pass found Sergi Roberto in the box.

Getty

9/13

The 25-year-old lifted the ball over Trapp and into the far corner to complete the Champions League's greatest-ever comeback.

Getty

10/13

Sergi Roberto was duly mobbed by his teammates, as scenes of pandemonium spread around the Nou Camp.

Getty

11/13

Unai Emery, meanwhile, could not look.

Getty

12/13

As our chief football writer Miguel Delaney wrote, the night was one of the sublime, the ridiculous, and the historic.

Getty

13/13

Barcelona progress into the quarter-finals, along with Bayern Munich, Real Madrid and Borussia Dortmund.

Getty
So, as Neymar grabbed the ball and Barca looked to grab a big opportunity, it was no surprise that Unai Emery attempted to instil some certainty in his team by basically locking up. There were long spells in the first half when the French champions seemed to have nine players in a line across their box, with only Edinson Cavani further forward.
Releasing him on the counter against a Barca backline often no further than 30 yards from the PSG area themselves did look like it could be a source of danger for Emery's side - such as when it seemed Javier Mascherano handled the ball in his own area - but the problem was that at that point they couldn't seem to string three passes together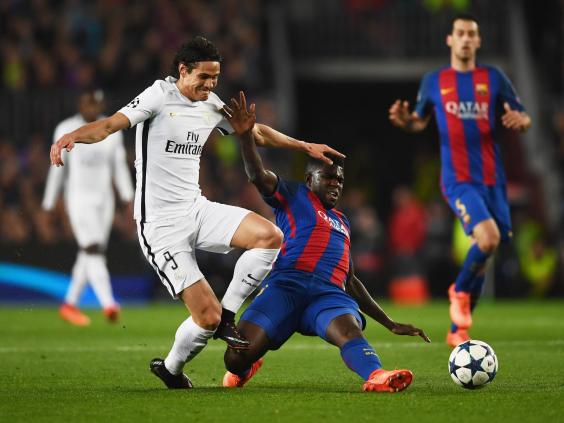 Barca were doing much more than that, and getting closer and closer, with momentum growing and growing. Leo Messi put one free-kick just over, with Neymar then powering a long-range strike just inches wide. It would have been a goal befitting the occasion, the event.
What happened just before half-time was not, though. While Andres Iniesta showed typically deft footwork to suddenly break, there was mere chaos from a defender as supposedly accomplished as Thiago Silva, and a move that somehow ended with Layvin Kurzawa hooking the ball into his own net.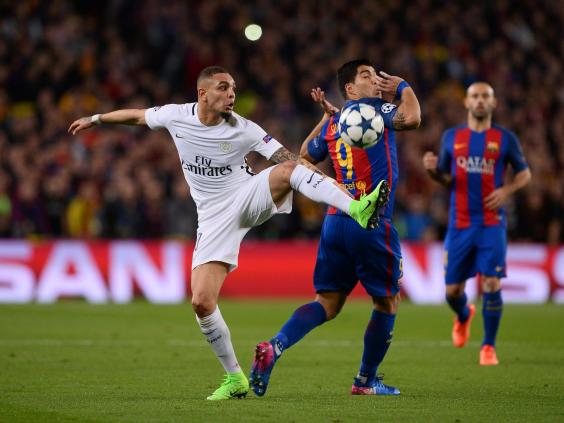 The impossible had suddenly become a much more manageable achievement, as PSG could barely manage to keep themselves together.
That was what the game was about now: how PSG were going to react mentally, whether they could cope with the mounting pressure.
And, having displayed such psychological frailty in the first half, it seemed so pointed and such an obvious mind game that Emery's side came out late for the second half and kept Barca waiting.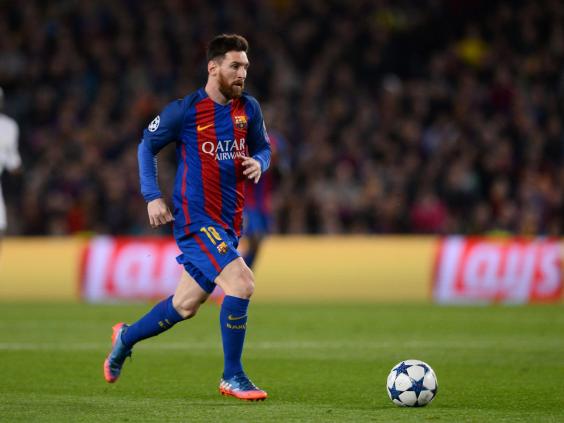 That, however, just meant that the home side came at them with even more force. Within five minutes of the restart, Barca had already been camped right up at the PSG goal, and Neymar eventually went down under a challenge from Thomas Meunier for a penalty.
Messi stepped up, and the Camp Nou rose up. The ball was hammered into the top corner, the finish devastating, the stadium now deafening.
The impossible now looked on. PSG were making nervous mistakes everywhere, and there always seemed to be a Barca player over.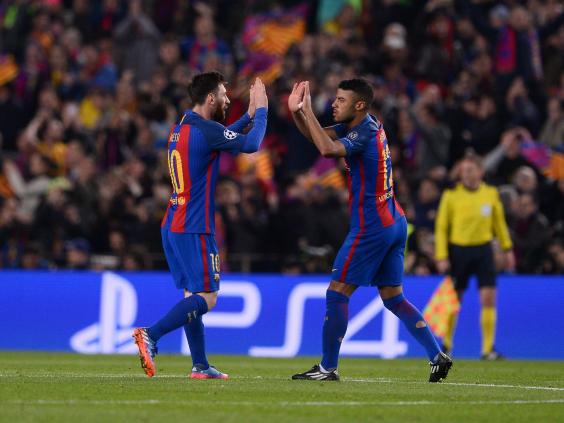 It was just then, however, that Luis Enrique's side seemed to let it go to their head. They got a little lax and PSG served warning as Cavani hit the post and then the ball flashed across goal, before the Uruguayan scored the goal of the game. The true goal of the tie.
With Marc-Andre ter Stegen suddenly making the kind of mistake that Trapp had been guilty of earlier, Cavani was left to power the ball in supremely.
The mood and tone instantly changed.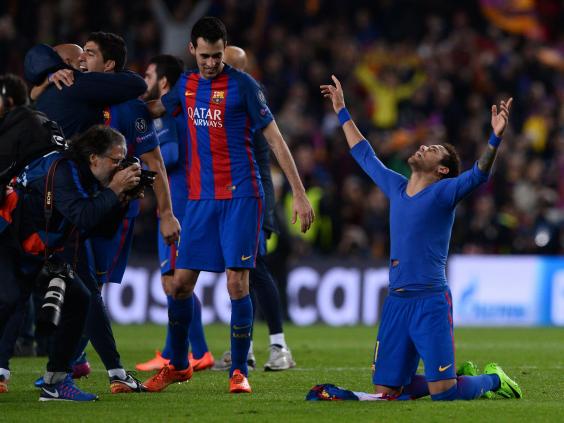 PSG were now making challenges rather than missing them, and even clearing shots off the line rather than sending them in, although Cavani still had a one-on-one save that could really have killed the game.
It still didn't kill Barca. There was still, remarkably, more drama and a grandstand finish. On 88 minutes, Neymar curled in a perfect free-kick, before we had the perfect ingredients for the purest football drama.
In the last minute of normal time, Suarez this time went down, and Barca had another penalty. It was Neymar who stepped forward this time, and put Barca right back in it.
They had three minutes to pull off what had seemed impossible.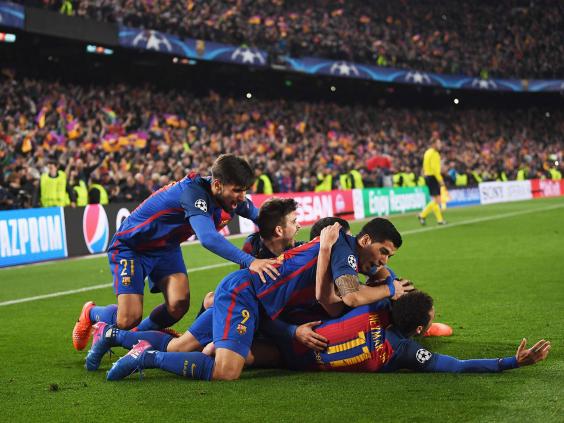 They did it. With just moments left, Sergi Roberto diverted the ball past Trapp.
Camp Nou erupted again, perhaps louder than ever before. It had certainly never witnessed something like this ever before. Football hadn't witnessed anything like this ever before.​
Reuse content