PSG head coach Unai Emery has received a vote of confidence from the club's president after their humiliating Champions League exit at the hands of Barcelona.
The French champions looked set to reach the quarter-finals of the competition for a fourth successive season after they thrashed Barcelona 4-0 at the Parc des Princes.
But they fell apart at the Nou Camp in the return leg, losing 6-1 to the Spanish club in one of the greatest comebacks in recent memory.
It was speculated in the French media that Emery, who joined the club from Sevilla in the summer, could be sacked after the disastrous second-leg performance. However PSG's president Nasser Al-Khelaifi has moved to squash those rumours by backing his embattled manager.
"After such a failure, everyone has to take their responsibility," Al-Khelaifi told Le Parisien.
"That includes me as the president, the sporting directors, the coach and also the players.
"Ever since he arrived, Emery has worked incredibly hard every day to help this team forward. We have to learn from this defeat and not let emotion dictate our actions."
The story of Barcelona's incredible comeback against PSG
The story of Barcelona's incredible comeback against PSG
1/13

Barcelona's night got off to the best possible start with Luis Suarez scoring in the 3rd minute.

Getty

2/13

Excellent improvisation from Andres Iniesta caused Layvin Kurzawa to convert the ball into his own net.

Getty

3/13

After the half-time interval, Lionel Messi put his name on the scoresheet from the penalty spot.

Getty

4/13

However, when Edinson Cavani grabbed a vital away goal for the visitors, Barca's hopes looked lost.

Getty

5/13

Cavani could not hide his emotion after scoring the goal which, at that point, had looked to have ended Barcelona's hopes of qualifying.

Getty

6/13

Three minutes from time, Neymar struck back with a splendid free-kick which beat Kevin Trapp at his near post.

Getty

7/13

Into stoppage time, and after Marquinhos' foul, Neymar converted Barcelona's second penalty of the night.

Getty

8/13

In the final minute of added on time, Neymar's lofted pass found Sergi Roberto in the box.

Getty

9/13

The 25-year-old lifted the ball over Trapp and into the far corner to complete the Champions League's greatest-ever comeback.

Getty

10/13

Sergi Roberto was duly mobbed by his teammates, as scenes of pandemonium spread around the Nou Camp.

Getty

11/13

Unai Emery, meanwhile, could not look.

Getty

12/13

As our chief football writer Miguel Delaney wrote, the night was one of the sublime, the ridiculous, and the historic.

Getty

13/13

Barcelona progress into the quarter-finals, along with Bayern Munich, Real Madrid and Borussia Dortmund.

Getty
Emery replaced Laurent Blanc at the start of the season with the Frenchman sacked after three seasons at the club because of his repeated failure to reach the last four of the Champions League.
"I have supported [Blanc] for three years but now we must think about what we will do next season to build a stronger team in Europe," Al-Khelaifi was quoted as saying at the time.
Despite this, Al-Khelaifi believes PSG have made progress under Emery, who he claims enjoys his full support".
Barcelona vs PSG player ratings
Barcelona vs PSG player ratings
1/22 Marc-Andre ter Stegen - 6 out of 10

Was rarely tested on an evening when all the action was taking further place up the pitch. Did his job when called upon.

Getty

2/22 Gerard Piqué - 7

Defiant and resilient throughout, displaying composure at the back and technical ability on the ball too.

Getty Images

3/22 Javier Mascherano - 7

Gave his all. Showed his intent from the start, putting in a series of important challenges and blocks.

AFP/Getty Images

4/22 Samuel Umtiti - 7

Dominant in the air and dominated in his battles with Cavani.

Getty Images

5/22 Rafinha - 6

Dangerous in drifting in from the flank and excellent in finding the right space but some of his deliveries were off the mark. Nonetheless, proved to be a nuisance for much of the night.

Getty

6/22 Sergio Busquets - 6

It was a scrappy and frantic night for the Spaniard. His challenges were mistimed and his passes misjudged but his energy was still invaluable in Barcelona's pressing game.

Getty Images

7/22 Ivan Rakitic - 7

A bundle of enegery throughout. His challenges were vital in breaking up PSG's forward game but almost cost Barcelona the game in allowing Kurzawa to set up Cavani for his away goal.

Getty Images

8/22 Andres Iniesta - 7

Pulled the strings for much of the, playing passes left, right and centre, and wasn't afriad to try his luck from outside the box. Dwindled in influence as the game wore on.

AFP/Getty Images

9/22 Lionel Messi - 7

Here, there, everywhere. It was another trademark performance from the Argentine but on this occasion he wasn't the man who Barcelona turned to.

AFP/Getty Images

10/22 Luis Suárez - 7

Showcased the best of his poaching abilities to snatch Barcelona's first goal and proved to be a menace for the entire 95 minutes.

AFP/Getty Images

11/22 Neymar - 9

Absolutely sensational. Was instrinsic to Barcelona's late fightback, scoring their first fourth and fifth goal before setting up Sergi Roberto's winner with an exquisite assist.

Getty

12/22 Kevin Trapp - 5

Poor decision-making handed Barca their first and failed to effectively deal with Iniesta's back-pass for the second.

AFP/Getty Images

13/22 Thomas Meunier - 4

His ill-timed foul on Neymar handed Barca their first penalty and third goal. Let down by sloppy mistakes.

AFP/Getty Images

14/22 Marquinhos - 4

Should have done much better for Barcelona's second, failing to assert himself against Iniesta inside his own box. It was night to forget in all for him.

AFP/Getty Images

15/22 Thiago Silva - 6

As ever, Silva was PSG's warrior. But although he rarely shirked a challenge even he was suspectible to lapses in concentration tonight and poor decision-making.

Getty Images

16/22 Layvin Kurzawa - 4

His disastrous attempt at a goal-line clearance handed Barcelona their second and he clearly struggled against Rafinha's pace and trickery. Impressive assist for Cavani's goal but, in all, the occasion appeared to get to him.

AFP/Getty Images

17/22 Adrien Rabiot - 5

Failed to deal with Barcelona's high-intense approach and incessant press.

AFP/Getty Images

18/22 Marco Verratti - 6

Started well but grew increasingly timid and quiet as the game wore on. Conceded a number of unnecessary challenges.

AFP/Getty Images

19/22 Blaise Matuidi - 4

Little of note to say. Looked overwhelmed at times.

Getty Images

20/22 Lucas Moura - 5

Kept himself busy in the first half but was repeatedly targeted by Barcelona's enforcers and struggled to shine as a result.

AFP/Getty Images

21/22 Edinson Cavani - 6

Did what was asked of him in expertly clinching PSG's vital away goal. Should have converted an early second-half chance though. Let down by his team-mates.

Getty Images

22/22 Julian Draxler - 5

Another player who failed to live up to the big occasion.

AFP/Getty Images
"I have had some long talks with the coach in the past few days," he added. "Unai has a lot of quality and we believe in him. He has my full support and that of everybody else.
"We will discuss what changes we need during the pre-season. Everybody said he was the best coach in the world after the first leg. He has not all of a sudden become the worst coach now.
"Let's be serious, we have important goals ahead of us. We all have to turn our focus toward our remaining goals now."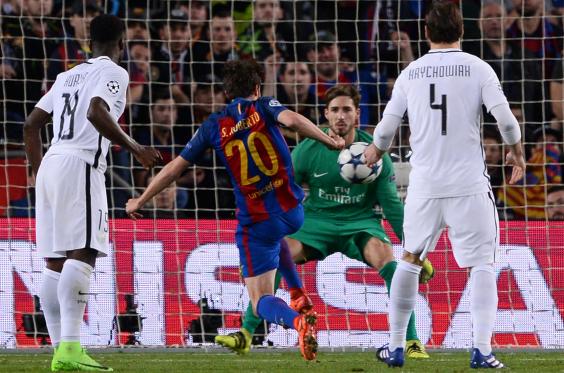 PSG have won Ligue 1 for the past four seasons, but currently sit third in the table, three points behind league leaders Monaco and a point behind the unfancied OGC Nice.
They are still in with a chance of defending their domestic titles, having reached the final of the Coupe de la Ligue, against Monaco, and the quarter-finals of the Coupe de France.
Reuse content