This time, there was no miracle comeback, just a Juventus team willing to sit back so magnificently and regally. The Italian champions thereby might have made a massive stride towards winning this trophy for the first time since 1996, because it looks like the other semi-finalists are going to find it very difficult to score against what may well be the best defence in Europe. Barcelona ultimately found it impossible in this 0-0 draw that kept it 3-0 to Juve on aggregate, and could never generate the kind of storm they did against Paris Saint-Germain. The feeling of the night was too different, the Catalans too wasteful, Juve too strong.
Had Barca even managed that kind of storm, though, it is highly doubtful whether Max Allegri's marble-hard side would have been blown away by the whirlwind. Juventus look too much like they actually relish classic backs-to-the-wall challenges like this, like they enjoy it. The fist-clenching responses of warriors like Giorgio Chiellini and Leo Bonucci to every individual challenge can testify to that. The anguish on the face of Leo Messi - who missed an unusually high amount of chances for any player, let alone one of his historic quality - only proves it. This is a team that is going to be very hard to beat.
The oddity again was that, just as in the last 30 minutes of the first leg in Turin, Barcelona actually created enough opportunities in the first 20 of the second leg to have at the very least made it 3-2 and a much tenser game.
Barcelona 0 Juventus 0 player ratings
Barcelona 0 Juventus 0 player ratings
1/22 Marc-Andre Ter Stegen – 6 out of 10

Up to the task on the few occasions Juventus called him into action, but on the whole had little to contend with.

2/22 Sergi Roberto – 6 out of 10

Attacked with purpose down Barcelona's right but could not repeat his heroics of the last round.

3/22 Gerard Pique – 6 out of 10

Did well to deny Cuadrado in the first quarter of an hour, but will have hoped to have made a more telling contribution at the other end.

4/22 Samuel Umtiti – 6 out of 10

Another Barca defender who largely coped with what he was tasked to do, but his side's problems lay up front.

5/22 Jordi Alba – 5 out of 10

Should have connected and scored after Messi's beautiful lofted pass early on.

6/22 Ivan Rakitic – 5 out of 10

An underwhelming display, with no notable moments of invention on a night when Barca needed his vision and creativity.

7/22 Sergio Busquets – 6 out of 10

Did the simple stuff in the centre of the park, as you might expect, but it would take more than that to break down the Juventus defence.

8/22 Andres Iniesta – 6 out of 10

Showed the most of any Barca midfielder, but that's not saying much. A devilish first half cross was one of the few to get the better of Chiellini.

9/22 Lionel Messi – 6 out of 10

A few neat touches, but we've come to expect so much more. Unusually wasteful in front of goal, the best player in the world had a night to forget.

10/22 Luis Suarez – 5 out of 10

Uncharacteristically quiet. Chiellini successfully shackled his old foe.

11/22 Neymar – 8 out of 10

Barcelona's best performer, the player most likely to make things happen, but appeared to let his frustration with the officials get the better of him at times.

12/22 Gianluigi Buffon – 6 out of 10

Lucky not to be punished by Messi when he failed to collect a corner. Otherwise, was his usual dependable self.

13/22 Dani Alves – 7 out of 10

His defensive capabilities were doubted in his final days at the Nou Camp, but showed he can still be relied upon here.

14/22 Leonardo Bonucci – 9 out of 10

Chiellini's equal. Put himself between almost every Barcelona effort and his goal.

15/22 Giorgio Chiellini – 9 out of 10

There is perhaps no other current defender you would want in your side when protecting a three goal lead at the Nou Camp. Predictably excellent.

16/22 Alex Sandro – 6 out of 10

Weakest member of Juventus' stubborn backline, but still a creditable display. Owes Khedira after the midfielder bailed him out of a failed attempt to nutmeg Suarez.

17/22 Sami Khedira – 7 out of 10

Good defensively, but made the wrong decision while in possession on several occasions when his team were countering.

18/22 Miralem Pjanic – 9 out of 10

Hardly put a foot wrong throughout. Known for his creativity, but put a shift in when his side needed him here.

19/22 Juan Cuadrado – 7 out of 10

Full of running and energy, posed a constant threat down Juventus' right, but his team-mates failed to make enough use of him.

20/22 Paulo Dybala – 6 out of 10

Did not sparkle like in the first leg but did not have to. Contributed to his side's dogged rearguard effort.

21/22 Mario Mandzukic – 6 out of 10

Has adapted well to his new left-midfield role, chipping in defensively when required.

22/22 Gonzalo Higuain – 6 out of 10

Had the chance to steal an unlikely lead for the visitors on the half volley early on but fired high.
It did genuinely seem like it was building up to something at that stage, especially when Messi created something genuinely special with a supreme lofted through ball for Jordi Alba, only for the full-back to just fail to make the right connection. Giorgio Chiellini then made a typically concrete block just as the ball seemed set up for Luis Suarez to shoot, before Messi - of all people - then squandered the chance of the first half by screwing the ball wide.
There were two big differences from the PSG 6-1 comeback, though, beyond the fact that Barca hadn't scored the first-half chances to really unsettle the opposition. First of all, Juventus never looked like they were going to be anything close to as nervy as the French champions. That was displayed within seconds of the start, when they actually went straight up and assuredly attacked Barca, rather than tentatively sitting back.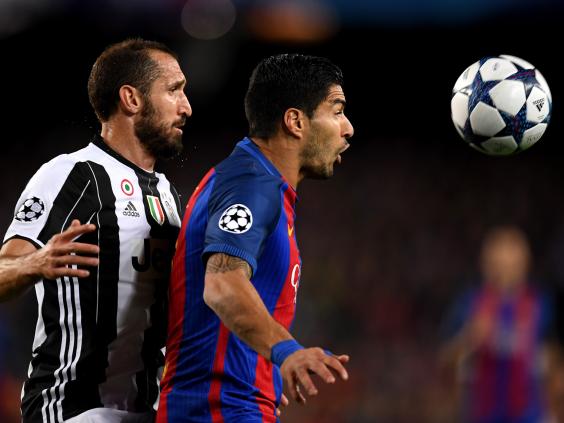 They maybe should have had the early goal themselves, too, either when Gonzalo Higuain blazed over or when Gerard Pique did supremely well to get back and cut out a Juan Cuadrado break. That danger on the counter was always there, but any Juve brittleness was not, not even during that early siege. They were being sternly tested, but staying strong.
Barca probably knew that they needed to get a goal in that period to properly ramp up the pressure and fully test those nerves but, when they didn't, their frustration was revealed in more ways than just missed chances. They began to get right on top of the referee, complaining for everything, and doing things like petulantly refusing to kick the ball out of play when Mario Mandzukic was injured.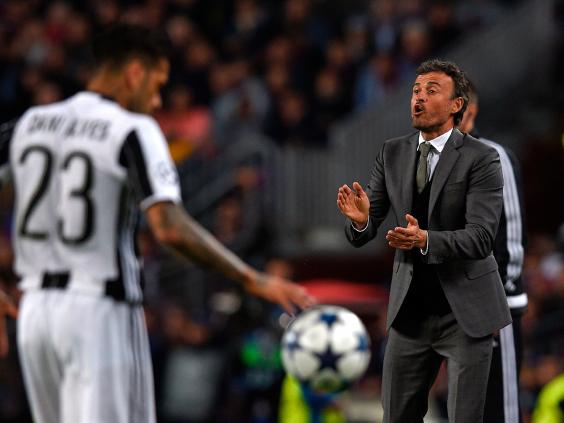 Worse was the way Neymar, who had again been one of their better players, was letting it get to him with some moments of dissent and drastic challenges. Barca to their credit still weren't trying anything drastic in attack. Even with the ever-present threat of Cuadrado cutting down the right and firing just wide, they were patiently building in the right way, looking to get the right players in the right positions.
Messi did finally wriggle free on the edge of the box again on 55 minutes, but once more shot narrowly wide, before then curling a free-kick narrowly over.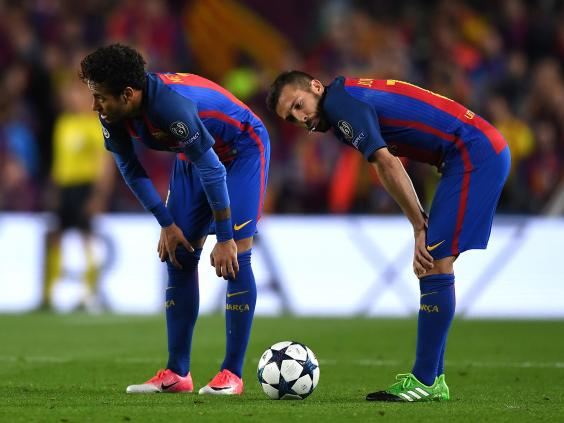 That was the growing frustration with those positions, too. Juve had closed up that bit more in defence, meaning it was harder and harder to get quality ball closer to Gigi Buffon's goal. It's harder still, of course, when defenders like Chiellini are always capable of just getting that crucial little touch on the ball to make a big difference as regards where it goes. It was thoroughly deflating, then, when Messi blazed another close-range chance over.
That was once more the contradiction to this tie, mind, and was again reminiscent of the first leg. Juve could justifiably feel they had been so commandingly resolute in defence, but Barca could feel they had enough chances to complete this comeback a few times over.
The talk will now again grow over whether an era has finished, but it could be rather different if Luis Enrique's team had finished any number of chances over a galling 180 minutes of football. Juventus won't see it like that. They will argue that, in stopping this Barca so commandingly, their era is only properly starting.
Reuse content