When you talk to people in Spanish football, you will never hear a bad word said about Ernesto Valverde, but one of the strange things that has generally been said in the time since it became clear he was taking over at Barcelona is that it is a bit of an underwhelming appointment; that one of the biggest clubs should have got one of the biggest names.
I would argue against this for a few reasons, not least Valverde's qualities, but also because I think it's important to understand something in management and coaching.
Sometimes, you can sign a coach with a supreme CV, but it's precisely because of that CV that he's actually not right for you at that moment; that he doesn't have the same desire or same obsessiveness of work rate. There is a telling example from my own career. I had a meeting with one famous manager that wanted me to work with him, and the discussions were indicative. He said: "Look, I have worked enough in the past, I now want someone to work for me."
It's human, and happens in every profession, not just football management. People arrive at a point where they are at their top level and maybe plateau for a bit, but there then comes a point when you are not able to continue with the same desire or commitment… or effect. You think you have the recipe for success, then something in the game changes, or something evolves in a different way.
Some coaches keep that desire for many years, that obsessiveness and ability to adapt, but there are few.
There are also few choices actually suitable for Barcelona, because of the number of provisions they have for any potential manager. No one in the game can tick all he boxes, but Valverde probably ticks more than most.
He is someone who knows the mentality of players, having been a player himself, and can also adapt to the players he's got while maintaining a proper style. It is a reason why Valverde can also have a close relationship with his squads, but keep his authority. That is a tough balance to strike, but he manages it, without losing commitment. He makes players feel comfortable on the training pitch, but who leaves the leadership of the dressing room to the main players, and maybe this is exactly what they need - not completely unlike Zinedine Zidane. This "aura" can be a crucial quality.
The specific challenge at Barcelona meanwhile is to help the current main players to find a slightly different style in midfield now they don't have a Xavi, or just find new players. It is the key area.
I think Valverde can especially help with this.
His teams have been able to combine, but also break lines quickly, be more direct. They don't keep the ball too long, or always move the team with the lines close together. It's quite aggressive. They are strong-minded, and try to break forward quickly.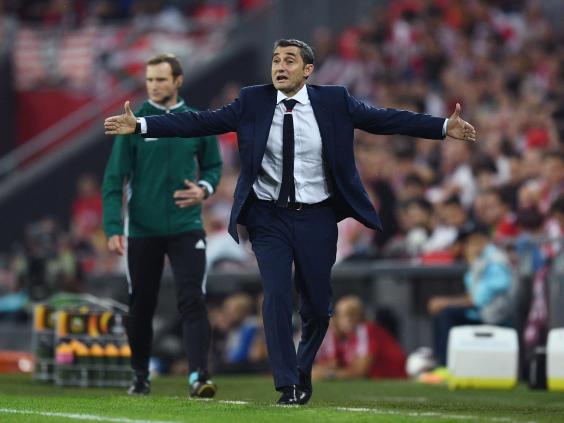 All his teams from Espanyol to Olympiakos have shown this, but I especially liked Athletic Bilbao last season. They had more control, and built more from the middle, with Benat Etxebarria.
It also shouldn't be forgotten how close Barca were to something special in the last season, to being a special team still. Had it not been for a poor 45 minutes against Juventus, they would probably still have at least made it to the Champions League semi-final.
It's just a little bit that's required, but I think Valverde can provide a lot. I think he is ready for that kind of challenge, and thereby the right choice.
Reuse content