Never mind that the words "mès que un club" (more than a club) have been written large into the seating of Barcelona's Nou Camp, before you even reach the 99,000-seat stadium football's most famous slogan hits you at the doors of the club's main office.
It's written in front of that imposing three-metre high club badge, alongside the main entrance, that Neymar stood by grinning in a Barça T-shirt and three-quarter length shorts in 2013 after signing from Santos. And it's where Luis Suarez would have stood this summer had a Fifa ban on him setting foot inside any sports facility not meant his contract signing became a covert operation.
From here I'm taken up to the office of the club president, Josep Maria Bartomeu, where both of those players signed their stratospheric deals. And, in a gesture that sums up the way that, for all their foibles, Barcelona remain a remarkably open club, he doesn't plant himself statesmanlike behind an imposing mahogany desk flanked by club and country flags, he sits himself down alongside me on the L-shaped sofa and answers questions about everything from tax evasion charges to Qatar.
It was only six years ago that Mark Hughes brought his Manchester City team to the Nou Camp for a pre-season friendly. Back then Barcelona's shirt deal was still with Unicef, and Qatar were outsiders in the race to host the 2022 World Cup.
Manchester City 1 Barcelona 2 player ratings
Manchester City 1 Barcelona 2 player ratings
1/3 BARCELONA: Marc Andre ter Stegen

The young German, who hasn't made a league appearance this season, was rarely tested – but when he was he did not always look completely comfortable. 6

Getty Images

2/3 Dani Alves

The marauding full-back is not the dynamic attacking threat he once was, but he was still able to find acres of space in which to run. 7

Getty Images

3/3 Lionel Messi

Had been the best player on the pitch before pulling rank late on to deny Luis Suarez a hat-trick – but missed the penalty and the follow up. 8

Getty Images
On Wednesday, one of the most recognisable shirts in world football will have a paying sponsor's name on it and Bartomeu tells me that in another six years the stadium will have one too.
"Camp Nou plus a brand name, more surnaming rights than naming rights," he says of the deal that will help pay for the €600m (£430m) renovation of the ground.
Does the club lose another part of its soul with every branding partner it gains – hasn't "more than a club" become "just like any other club"?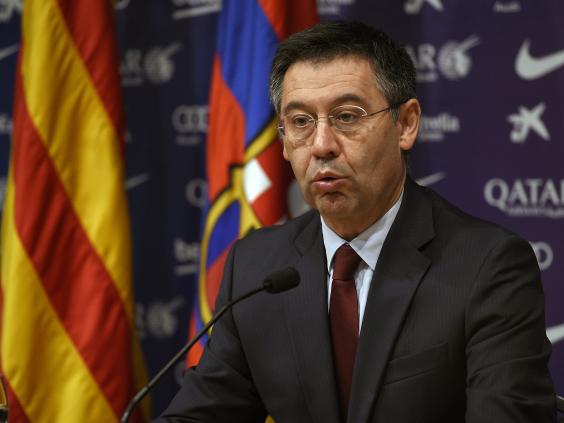 "The mès que un club banner was always more about the club's Catalan roots and its many other sports teams, for which almost 2,000 amateurs compete every week, than anything else," he says. And in terms of losing its soul, he describes the sponsor-free concept as "utopian", and believes Barça remain football's biggest democracy, which should count for something.
"The difference between an English club and Barcelona is that this is a social club that belongs to its 144,756 members. Every 'socio' [member] votes on the decisions that shape the club. It is a far more democratic process than in England, where a club can be owned by a financial corporation that is not even in the country and decisions can be made by a small group of people."
Bartomeu, a long-time Barça director who is also CEO of a company that engineers airport escalators, took over as Barcelona president in January of last year, when Sandro Rosell resigned. Last week it was announced they will both have to stand trial for alleged tax fraud in relation to the signing of the Brazilian Neymar.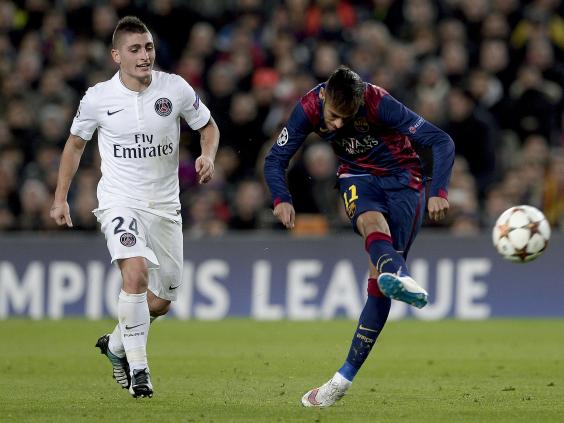 Bartomeu plans to fight the case, and stand for re-election at the end of the season, when once again the people will decide who takes the club forward. "They vote with the heart of a fan and the head of an owner," he says. "If you are just a fan you only use your heart; if you're just an owner you only use your head."
It's a measure of the power the supporters have that it was a complaint made by one of them, Jordi Cases, in December 2013 against Rosell for alleged misappropriation of funds over the Neymar signing, that started the investigative process.
Now in the hands of the public prosecutor, the charge is not that Rosell, or Bartomeu, who was vice-president at the time, committed fraud for personal gain but that they tried to save the club money at the expense of the public purse. The allegation goes that they broke down Neymar's transfer into various simulated contracts so his wages – taxable in Spain – were paid as other services – taxable at a lower rate in Brazil.
"Barça's fiscal assessors said that because of the way the deal had been set up the taxes from the signing should be paid in Brazil, but the Spanish taxman says they should be paid in Spain," says Bartomeu. "Barça has not set out to commit any tax offence. We will fight it because it's open to interpretation. You pay in Brazil or you pay in Spain. To be prudent we have also now made the payment in Spain so when this is resolved we will get the money back from Brazil or from Spain."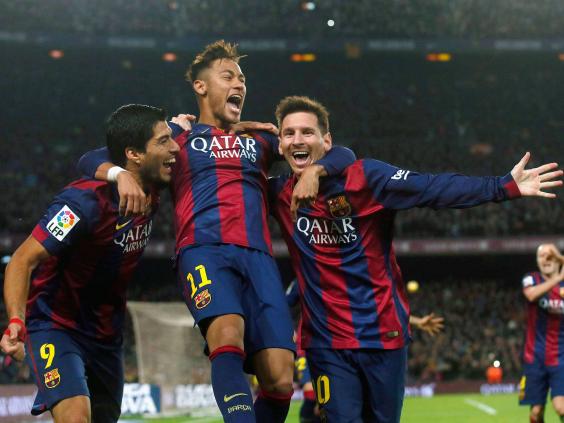 Barcelona did indeed pay €13.5m to the Spanish tax authorities last March to cover the €12.2m that the prosecution says was avoided, but the club could still be fined up to six times that figure if they are found guilty of tax evasion.
The case has helped paint the picture of Barça as a big club "getting away with it" or "not paying its way". Bartomeu says the image is grossly unfair.
"We pay the same taxes on earnings and players as any other company," he says, dismissing the idea that the "Sports Club" status in Spain afforded to only four clubs – the rest are limited companies – brings benefits through favourable corporation and property tax laws.
"There is zero fiscal advantage. In fact, in Catalonia we pay 56 per cent tax on earnings, which is the highest rate in Europe, so when it comes to matching salaries with other big clubs we are actually at a disadvantage.
"The Sports Law also means we cannot go into debt any more than 2.5 per cent of our Ebitda [earnings before interest, taxes, depreciation and amortisation]. The elected board has to put up a bank guarantee that covers 15 per cent of the budget and if the club loses money it has to come out of the pockets of the directors who have overseen the losses."
It's difficult not to see a fan of financially crippled Parma being envious of that idea.
The argument that Barça's financial advantage is not really a fiscal one is convincing. Aside from the television deal, it is sponsorship that really swells the revenue stream, and most unpalatably for many, the €30m-a-year deal with Qatar.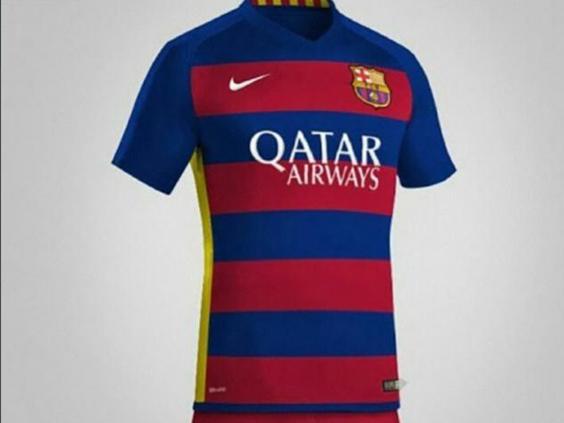 Next year Nike will launch a hooped Barcelona shirt and for the last season of the six-year deal Qatar will feature on the front of it. A partnership that began with "The Qatar Foundation" has morphed seamlessly into Qatar Airways. Does it bother Bartomeu that Qatar is on the seats of the Nou Camp as well as in the headlines of stories about World Cup voting scandals?
"It's Qatar Airways," he says. "We have an alliance with an airline – one that is in competition with other airlines such as Emirates. In 2016 the deal runs out and we will present various options to the members. We might find one that we are convinced is better, but Qatar Airways is also a serious option."
Asked if he thinks it is right that Qatar earned the right to stage the World Cup based on the false premise that they would hold it in the summer he says: "I'm not a member of Fifa. I was not part of that decision. But yes, I'm worried that in 2022 we will be loaning our players to the national teams in the middle of the season. I'm a member of ECA [European Club Association] and we want the league to finish early and for the World Cup to start in May."
Bartomeu says the club's charitable foundation that puts €12m annually into projects in 48 countries, with players giving 0.5 per cent of their wages to it, is the side of the club the critics don't want to see. But it is Barça's commitment to children closer to home that really strikes a chord. Under-14s don't pay to get into the Nou Camp provided they have paid a €45-a-year membership. And there is a project with the Johan Cruyff Foundation to modernise 10 school playgrounds in the city that will allow children to use them at weekends – breathing some much needed life back into street football.
The talk turns from Cruyff to another former Barcelona player and manager, and it serves as a reminder that not everything at Barcelona carries the name of a multinational or an oil-rich state. At the club's out-of-town training headquarters – named after the club's founder, Joan Gamper – training pitch No 1 carries the name of Tito Vilanova, the former coach who passed away last year.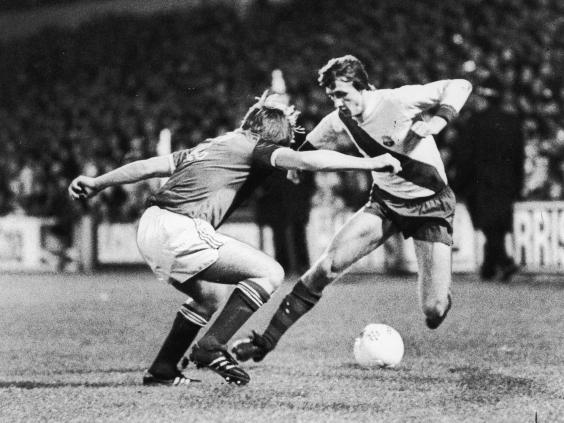 "We wanted the new generation of players to know who he was," says the president. "The other day I was at a Cruyff Foundation function and children of five and six don't know who Cruyff is. One day they won't know who Tito is. But when a kid turns up at pitch No 1 and asks who Tito was, he will be told about the man who played for Barça, who coached them, who formed a team with Pep Guardiola, and who won the league with 100 points."
Barça are unique in honouring club luminaries the way they do but the roads that weave around the Etihad Campus are named after City greats such as Mike Doyle, Neil Young and Malcolm Allison.
With a fourth Champions League game in two years against them kicking off at the Nou Camp – a far cry from the era when they would only meet in pre-season friendlies – are City becoming the mirror image of Barça? Is it a source of pride that they are being copied?
"In the 1970s we tried to emulate Ajax," says Bartomeu. "Then at the start of the 2000s we looked to Manchester United and the way they marketed their club. I don't like to say 'copy'. It's the wrong word. City are inspired by a lot of things. Is one of them the way Barça work? Possibly. They have Ferran Soriano and Txiki Begiristain, who are two people who were very important in Barça's history. It's possible that there is an influence, but they have their own ideas."
Perhaps as Barça continue to grow they will look to "copy" City with franchises in the US and Australia? "No. Our roots are here in Catalonia where the majority of our members are," Bartomeu says. "We don't want to lose our identity."
--
VITAL STATISTICS
430 - Amount, in £m, the renovation of the Nou Camp will cost Barcelona
9.7 - Barcelona had to pay £9.7m to the Spanish tax authorities last March
14 - Bartomeu succeeded Sandro Rosell as Barça president 14 months ago
Reuse content