The Palacio de Cibeles, Madrid's famous old central post office and now Town Hall, boasts that the city is not only the capital of Spain but also the capital of football. Its two leading clubs, Real Madrid and Atletico Madrid, will go head-to-head for arguably the biggest prize in club football when they meet in Lisbon next weekend in the final of the Champions League and its hard to disagree. In recognition, the eye-catching building unveiled a huge banner accompanied by giant shirts of both clubs to the thousands of daily passers-by. Spain is a proud nation and Madrid a proud football city.
The capital clubs looked to be heading for a personal duel domestically too. Only a matter of weeks ago Atletico led the way in La Liga with their more illustrious neighbours not far behind and Barcelona, seemingly, heading for a a rare season without a major trophy that would have, and probably still is, set to bring about big changes in staff and playing personnel in the summer. While Barca had dominated Spanish football and world football in recent years Madrid was fast becoming the focal point of the beautiful game and not only at the Santiago Bernabeu.
Carlo Ancelotti's side edged out their Catalan foes in the final of the Copa del Rey with Gareth Bale's memorable solo goal deciding the first major trophy of the campaign in Valencia. Not to be outdone, Diego Simeone's men beat Los Blaugrana over two legs in the quarter-finals of the Champions League. The tide was turning in Iberia and although Barca were not washed up, they were not themselves and Madrid's two-pronged attack was hurting them badly.
Now, despite all the problems and despite the apparent crisis, Tata Martino's men have their La Liga fate in their own hands going into the final winner-takes-all match of the season against Atleti at the Camp Nou on Saturday. The visitors need to avoid defeat to lift the title for the first time since 1996, when Simeone was a player at the Vicente Calderon, while their hosts need to claim all three points to retain the title on Spain's head-to-head rule. It would be seen as harsh on an Atleti side that has impressed hugely on all fronts this season and it would be somewhat of a surprise for a Barca side very much in transition and self-admittedly having a campaign largely to forget.
So much in transition that Martino's exit from the Camp Nou and Luis Enrique's arrival is seemingly all-but rubber-stamped. Win the league or not, the Argentine is all-set to depart after just a year in charge and be replaced by the man who controversially left Madrid for Barcelona as a player. The 44-year-old has already helped out his probable new club by knocking Los Blancos out of the title race with a 2-0 win for his Celta Vigo side last weekend. The former Roma manager announced his departure from the Galician club on Friday and there are no prizes for guessing his next destination.
Enrique's likely return to Catalonia is not the only interesting sub-plot in what's set to be a thrilling final day in La Liga. Barcelona ensured news of Lionel Messi's new contract came to fruition on Friday afternoon, just 24 hours before the big kick-off at the Camp Nou. Details of the deal were not announced by the club but reports suggest he will be the highest-paid player in the world, above Cristiano Ronaldo and teammate Neymar, who is likely to miss Saturday's crunch clash.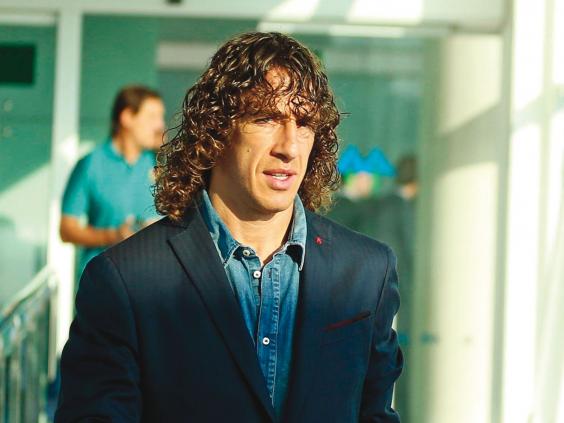 The day will also be an big one for Barca stalwarts Carles Puyol and Victor Valdes. Neither will play due to injury but both will hope for the perfect send-offs with another La Liga medal before Puyol becomes a likely assistant for the incoming Luis Enrique and Valdes seemingly heads to France with big-spending Monaco. Their teammates will do everything to ensure they finish their playing days with the club on a high.
Emotions will be running high and although Martino and Simeone will ensure their players' focus is fully on the immediate task at hand, there will be a notable absence of former friends and idols. Less than a year ago Tito Vilanova was helping Barca to league glory but less than a month ago he died after a long battle with cancer. Atleti were also in mourning this season following the death of former player and manager Luis Aragones. The ultimate tribute for both clubs would be to lift La Liga in their honour.
For years La Liga has been a two-horse race but this season it's been different. This season Atletico, although pushing the regular two front-runners last season, have emerged as genuine and worthy title contenders. This season all three have been in the driving seat and all three have thrown that lead away. First it was Barca leading the way before Atleti nipped in and then Madrid surged back to the top as Ancelotti's men built a head of steam. Nobody has wanted to secure the title. Last weekend none of the top three won and the week before none of them won either. Seven games have passed involving Atleti, Barca and Real and the trio haven't managed one crucial victory between them.
Madrid may be out of the title race but they'll have a keen eye in the goings on at the Camp Nou. Ancelotti's men face Espanyol at the Bernabeu in a match where all eyes will be on next week's huge trip to Lisbon, but there will be a keen interest in the Liga decider on more than one front. Their rivalry with Altetico should not be underestimated, especially after this season, but the majority of staunch Madridistas will be rooting for their city neighbours over Barcelona. Whether that's a wise idea is a different story.
Those fans may rather see anyone win the title except their old foes from Catalonia but a victory for Los Rojiblancos would ensure a huge surge in confidence ahead of the Champions League final. Defeat for Atleti on Saturday after being so close to clinching the title for a number of weeks would sap morale and Simeone would be left with a tough job of lifting his troops for the Estádio da Luz, while Ancelotti has been left with albeit unwanted extra time to prepare his troops for their attempts to lift a tenth European Cup.
Spain's capital city celebrated its patron saint San Isidro on Thursday and those celebrations will continue over the weekend and into Sunday night. They will be made all the sweeter, for the red and white side of the city at least, if their side can carry through on what has been a superb season by coming away from the Camp Nou undefeated and parading the league trophy around their famed Neptuno fountain in the centre of the city into the early hours of Sunday. Madrid is a city that has lived and breathed football more than usual this season and the perfect night for next week's Champions League final, for the Spanish capital at least, would be an Atleti victory. Barca will have other ideas.