Cristiano Ronaldo is the top scorer in La Liga with 28 goals in 27 games. He is the top scorer in the Champions League with 14 goals in just eight games. He is Real Madrid's joint top scorer in the Copa del Rey with three goals. He is the holder of the Fifa Ballon d'Or, and undoubtedly Real Madrid's talisman.
With a crucial game against Barcelona in the Copa del Rey final on Wednesday, the former Manchester United man is the last player Carlo Ancelotti would want to be without, but a thigh injury looks almost certain to prevent him from playing.
And yet, statistically this season, Madrid are no worse off when their star man is absent than when he plays. In the ten games that Ronaldo has missed, Real have lost only once, a tame defeat to Borussia Dortmund which still saw them progress on aggregate. They have won eight of the other nine and scoring 28 times in the process.
Compare that to their record with the Portuguese superstar, and surprisingly, Real are, on paper at least, marginally better. A win ratio of 78 per cent goes up to 80 per cent, while the number of goals scored also goes up slightly, from 2.7 goals per game to 2.8 goals per game.
Why should this be the case? Well, one possibility is that, when Ronaldo is unavailable, those around him step their game up. Gareth Bale is the prime example of this - the Welsh winger has eight goals in as many games when he has played in Ronaldo's absence. This compares extremely favourably to his 11 in 30 when the Portuguese forward plays. In other words, Bale is, according to the stats, three times more likely to score if Ronaldo doesn't play.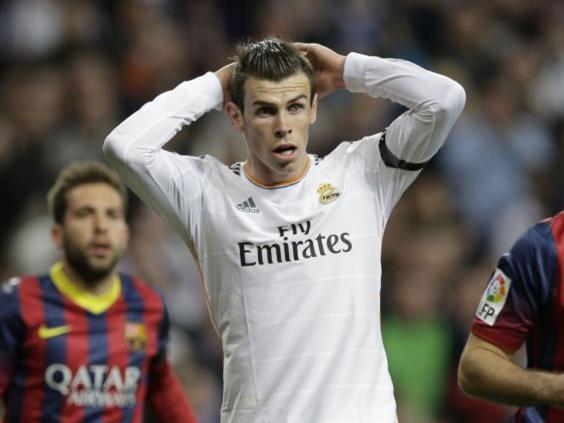 Similarly Jese Rodriguez has scored two of his five La Liga games in the four appearances he has made without Ronaldo – the other three have come in 14 matches alongside the superstar. Angel Di Maria also seems to lift his game, scoring about once in ever three games without Ronaldo, as opposed to one in every five games with him.
But, alongside these forwards filling the gap left by Real Madrid's star man, there is also a significant improvement defensively when Ronaldo is left out. In the 10 games without him, Madrid have conceded just three times. In the other 41 games they have played this season, across the League, the Copa del Rey and the Champions League, they have conceded 38. This fall in goals conceded per game, from 0.9 to 0.3, is a significant disparity.
Ronaldo, of course, is not responsible for the prevention of goals – however, this gap might be an indication that the team, as a whole, defends more cohesively without him. The Portuguese, so devastating going forward, particularly on the break, is sometimes spared defensive duties – when he doesn't play, it seems, these duties are taken up by his replacements.
Granted, the sample size is small, and whether this is just a quirk of the numbers, or an indication of a team which is more balanced when Ronaldo is out, Carlo Ancelotti is sure to play him on Wednesday if he is fit. But with so much hanging on the result of this Clasico, Real Madrid should take comfort in the fact that, even without the world's best player, they are a formidable force.
Reuse content