The scoreline was broadly in line with expectation but the scale of the demolition, on a night when Joe Hart put in one of the finest displays of English goalkeeping in living memory, was one that made you worry for the fabric of Manchester City.
 They were overpowered in a way which must leave players who have hung their hat on this club's tilt at world domination, David Silva and Sergio Aguero, wonder whether it is worth staying around for what still feels like a very long journey indeed.
And while the timing is not good for a change of manager, because there are simply few likely to be around who fit the City mould this summer, the class differential suggested that this is a squad which needs ripping up, starting again, and imbuing with a mentality and tactical acuity to prevent it being overwhelmed this way. There is no shame in being cut away by the best of Lionel Messi but there was a shame in the fruits of close on half a billion pounds of transfer investment being reduced to this.
Barcelona 1 Manchester City 0 player ratings
Barcelona 1 Manchester City 0 player ratings
1/22 BARCELONA: Marc-Andre Ter Stegen

Strayed out of area but well covered by defenders before a comfortable penalty stop. Held pair of Kolarov efforts. 7/10

Getty Images

2/22 Dani Alves

Got forward to relieve Kompany of possession before vital tackle on Milner to prevent a leveller. Effective at both ends. 8

Getty Images

3/22 Gerard Pique

Worked with Alves to clear danger and cool and calm in possession. Left a leg for Aguero to fall over for the penalty. 6

Getty Images

4/22 Jeremy Mathieu

Trusted ahead of Marc Bartra but was hardly tested by sporadic City attacks. Made number of important blocks. 6

Getty Images

5/22 Jordi Alba

Enjoyed space to motor forward and should have added second. Had effort ruled out for offside. Caught Nasri off the ball. 7

AP

6/22 Javier Mascherano

Argentine helped to break up City attacks and fed his forwards. Combined with Pique to bring Aguero down. 7

Reuters

7/22 Andres Iniesta

Not as vital to this Barça side as in his pomp but fine combination with Messi almost resulted in a goal. Sent shot at Hart. 8

AP

8/22 Ivan Rakitic

Collected Messi pass to lob the goal. Sent shot wide, but his work allowed more illustrious colleagues to shine. 7

Getty Images

9/22 Luis Suarez

Star of the first leg but bit-part player here as Messi ran show. Sent shot over Hart but on to post and also headed wide. 7

Getty Images

10/22 Neymar

Beat Sagna before hitting post and failed to get better of Hart all night. Hacked down cynically by Nasri. 7

Getty Images

11/22 Lionel Messi

Back to his sublime best, and makes it all look so easy. Played superb flighted ball for Rakitic's winner. 9

Getty Images

12/22 MANCHESTER CITY: Joe Hart

Saved by post and given little help with goal. Fine handling, countless saves. Gave everything to keep City afloat. 9/10

Getty Images

13/22 Bacary Sagna

Surprising pick ahead of Zabaleta. Beaten by Neymar in opening minutes and missing entirely for Rakitic's goal. 5

AP

14/22 Vincent Kompany

Troubled campaign continued as easily robbed by Alves on edge of box. Toiled against Barça's merry-go-round frontline. 5

Getty Images

15/22 Martin Demichelis

City's best defensive performer, although that doesn't say much. Entered long list of City names in book for foul on Suarez. 7

Reuters

16/22 Aleksandar Kolarov

Sent speculative effort at Ter Stegen. Booked for taking out Messi, restricting rest of game. Got forward to little effect. 5

Getty Images

17/22 Yaya Toure

Remains a world away from his best. Rare foray forward fed Milner in box but a mere bystander on return to Nou Camp. 5

Getty Images

18/22 Fernandinho

Given the runaround by Neymar and Messi. First into the book for hauling down the Brazilian. Ineffective display. 5

Getty Images

19/22 James Milner

Denied by Alves in front of Barcelona goal early on before being embarrassed by Messi. Pushed forward late on. 6

Getty Images

20/22 Samir Nasri

Left to admire dazzling home attacking play. Struck on head by Alba before mindless hack at Neymar. Taken off early. 4

AP

21/22 David Silva

In fine form domestically but struggled to influence here. Rightly booked for bringing down Messi. 6

Getty Images

22/22 Sergio Aguero

Crowded out by Barça defence. Had shot blocked from distance but left to feed off scraps and wasted fortunate penalty. 6

Getty Images
The preparatory routines were just the same: Hart walking on with that white towel flung over his shoulder, Vincent Kompany taking the running leap and practice jump to get the tension out of his legs. There were actually interventions from Vincent Kompany and Martin Demichelis in the first minute or two which suggested some kind of City intent.
But the night of 1,000 cuts began very, very early and from this position in the gods, where the beautiful, terrifying geometry of Catalan football is visible in such vast perspective, the sentiment was one of desperation and sorrow for what was happening to an English team.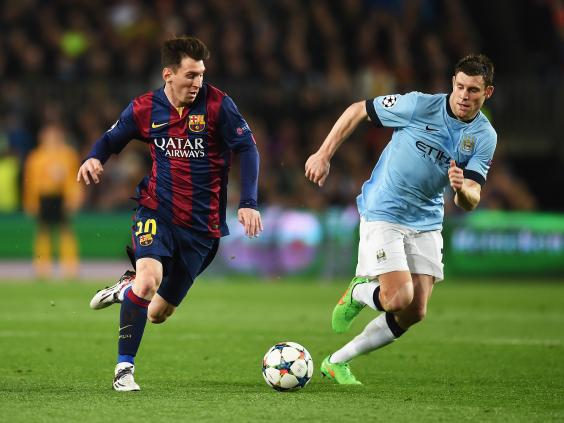 By the half hour, when Manuel Pellegrini was beckoning his players forward in a way which implied they might actually be able to dictate where they ran, four of his traumatised team had been booked. It dawned on you in that moment how futile the manager's suggestion that they must not again be reduced to ten men had actually been.
The fourth of those bookings was a metaphor for what was happening. Samir Nasri simply flung out his leg in an aleyard kick at Neymar as the Brazilian evaporated out of an attempted tackle and eased ahead of him. Nasri suffered the ignominy of a half-time substitution: not for the first time unable to deal with a genuine football force.
 Silva was a little more unfortunate, landing some connection on the ball Messi was easing towards the penalty area, yet felling him as the momentum of his tackle carried him into the Argentinian.
But the central space offered up to the galaxy of talents sent a shiver through City every time the home side moved forward. Andres Iniesta didn't tell us the half of it when he said on Tuesday that City would be make them "suffer, so they are the chasing the ball." There was just no-one in the middle – no discipline or rigour – to stem the tide.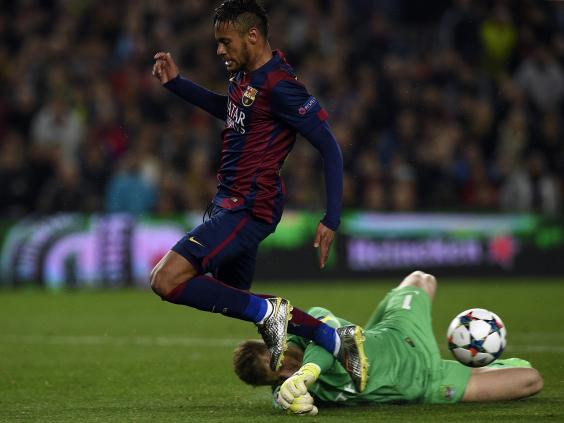 It was the night of the nutmeg, too: Fernandinho suffering the indignity twice, most bluntly by a Messi manoeuvre at which the Nou Camp gasped, and then James Milner, left with his legs apart as the little Argentinian's flick had sent the ball through them.
But no-one had it worse in the first 45 minutes than Bacary Sagna, a player utterly out of his depth as he ran inside, in blind pursuit of Barcelona's diagonal runs, only to leave the back door wide open for Neymar, lurking with menace behind him. It was Sagna's area of responsibility which was left gaping a minute past the half hour, when Messi, facing the combined defensive force of Aleksandr Koloarav and James Milner on Barcelona's left, paused, assessed, levered a left foot cross to the free space from which Ivan Rakitic chested it down and and lifted it assuredly over Hart's head into the net.
 There were very occasional glints of daylight for City, such as when Silva – one of the few who demonstrated a right to be on this field, in this company – put Yaya Touré into the right hand side of the area, to cross for the arriving Milner, who was deterred by Daniel Alves's sliding tackle.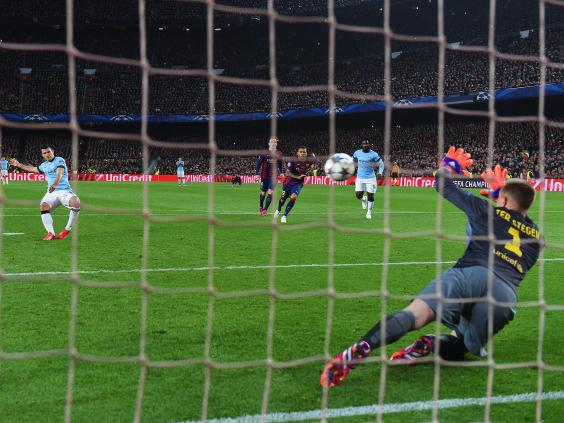 But you can pick any one of a dozen opportunities that the Spaniards had to tie the night up early. They hit the post twice in that first period and the misery of it all for Pellegrini was to see his players keep the ball so briefly before the carousel was set off once again.
The introduction of Jesus Navas for Nasri was of marginal significance, as Hart was forced into two more saves within three minutes of the time City had to regroup in the dressing room. He actually supplied City's best scoring chance, with a cross which was overcut behind the City front line before it fell to Kolarov, whose strike hit Touré. The challenge remained how to find sandbags for the sinking centre. Touré was wisely shipped out of there as soon as the second half began, and moved forward. He had been the crux of the problem of City being overrun and Milner dropped into his place.  There was no eye contact for the manager as Touré was substituted, midway through the second period. He did not serve the Chilean well.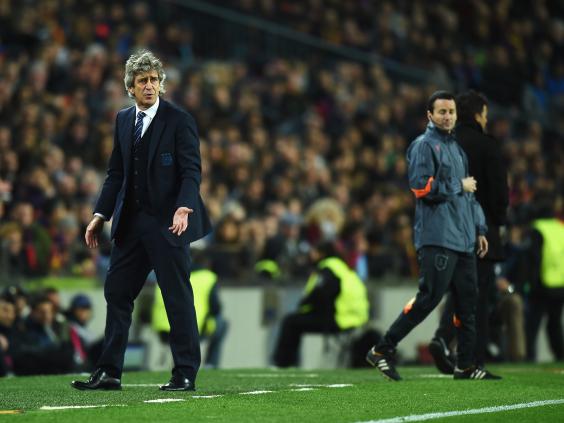 The midfield did tighten, even though Hart was called upon a half dozen more times to save in the second half, and briefly – against all rationale – there was the fleeting prospect of a City breakthrough. Aguero, almost  entirely invisible, was marginally clipped by Gerard Pique in the box but watched Marc-Andrew ter Stegen leap to his right to save his penalty. Hart's last breathtaking save, palming away from Neymar in injury time, prompted Suarez to offer him a handshake before the corner was taken. He left the field last, buoyed by what he had achieved. His teammates' sentiments will be different.
Reuse content