Manchester City may face an uphill task to progress to the quarter-finals of the Champions League but all is not completely lost for Manuel Pellegrini's men ahead of the second leg of their last-16 clash against Barcelona at the Camp Nou on Wednesday night.
The Spanish giants are favourites to progress to the last eight and send City packing a year on from the Catalans' 4-1 aggregate victory at the same stage of last season's competition. Barcelona sit top of La Liga and carry a 2-1 lead into the second leg thanks to Luis Suarez's brace at the Etihad Stadium a fortnight ago.
City's form does not bode well with a shock 1-0 loss at Burnley at the weekend leaving them six points adrift of leaders Chelsea having played a game more. The momentum is definitely with Luis Enrique's men, who have lost just twice since the turn of the year, but the tie is only at its halfway point and Pellegrini will hope to exploit the few weaknesses Barca have to hand City an historic success.
Former Barcelona man Yaya Toure back to add some steel to City's midfield
The Ivorian was a big miss for City in midfield in the first leg as he sat out the last of a three-game suspension following his sending off against CSKA Moscow in November.
Toure is set to return to European action at his old stomping ground of the Camp Nou on Wednesday night and he should provide a big boost for Pellegrini after City were overrun by the Barcelona midfield at the Etihad Stadium.
The towering former Barcelona man not only adds threat going forward but he is crucial defensively, not only as a stand-alone player but in keeping the back four on their toes, something which is crucial against an attacking trio such as Lionel Messi, Luis Suarez and Neymar.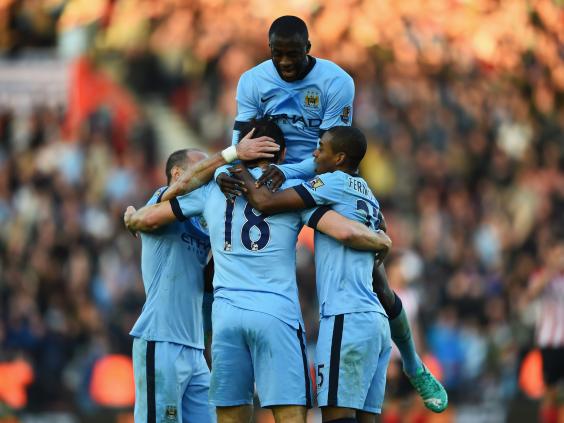 Toure makes City tick and is crucial from the transition from defence to attack. He carries the ball well, is a competitor in the middle of the park and also adds a big threat from set-pieces. With Messi coming deep for the ball, the 31-year-old will ace a big battle against his former team-mate.
He also knows the Camp Nou well from his playing days and will not be fazed by the intense cup-tie atmosphere. His team-mates are not inexperienced on the big occasion but Toure's presence will help them mentally.
Toure returns but Sergio Busquets misses out for Barcelona
Luis Enrique confirmed in Tuesday's pre-match press conference that midfielder Sergio Busquets will be absent after failing to recovery from an ankle injury and that will be a blow for the hosts.
Star names such as Messi, Suarez and Neymar may get the headlines but Busquets is almost as crucial in the pivot role that holds things together at the back and sets things in motion going forward.
Busquets seems unspectacular in his play but that it exactly what is needed in his position as his team-mates do the magic around him. He is the first to get his team-mates moving, he enables fluid transitions from back to front and adds some much-needed steel to a team that is often seen as hugely-talented but lacking on the physical side.
His presence not only adds plenty to Barcelona as a team unit but he lifts those around him. While Busquets gets on with the 'dirty work' he allows others to flourish and is happy enough to let them take the plaudits.
When the Catalans need a bit of grit and they need a big tackle it is Busquets who can provide it. Although he can sometimes tread that fine line carefully, more often than not he is on the right side of it. Javier Mascherano may be a more-than-suitable back-up, but Busquets will be a miss for Barcelona. Not on the same scale as Toure for City, but not too far off.
Barcelona have their off days
They may not be too common, especially since the turn of the year, but Luis Enrique's side have their off days and more often than not this season those off days have come on home soil.
Malaga's performance at the Camp Nou in securing a shock 1-0 win last month will give City hope. Their playing style and squad quality may differ but they still managed a winning outcome in one of the toughest stadiums in Europe to get a result.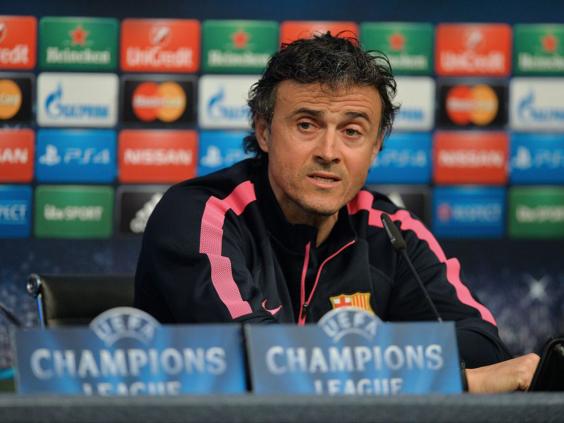 That 1-0 win for Pellegrini's former side was not exactly a smash and grab, either. Malaga frustrated their hosts defensively but they had more than their fair share of chances on the counter-attack at the other end and could have ended up with more than just the one goal.
Celta Vigo also picked up three points in Barcelona's own back yard earlier this season and they did it with attacking football mixed with a stubborn defence. City need to be strong at the back on Wednesday night but they can be confident that chances will come for them.
Pellegrini needs to ensure his men are disciplined
City have yet to finish one of their Champions League meetings with Barcelona with ten men and that will be key if they are to get anything from the fourth time of asking.
Martin Demichelis, Gael Clichy and Pablo Zabaleta have seen red in the previous three outings. Beating Barcelona is a tough enough task with eleven men but with a man advantage for the Catalans, things get even tougher.
The dismissals of Clichy and Zabaleta, in the 2-1 loss in the first leg and the second leg of last season's last-16 tie respectively, may not have had a direct impact on the outcome given they both came with the damage having already been done by Barcelona. Demichelis's did, however, with his dismissal in last season's first leg setting the tone for the whole tie.
City need all eleven men from the first minute until the last on Wednesday night if they are to ensure one of their greatest nights. Discipline will be crucial.
The gap is at least narrower than last season
City may seem to be in the same position as they were last season but at least the gap is narrower a year on thanks to Sergio Aguero's 69th-minute penalty at the Etihad Stadium.
That could have been tempered by a late Messi penalty that could have all-but killed the tie but the Argentine missed and left City with a glimmer of hope going into the second leg. Despite a home defeat, the celebrations following Messi's miss showed signs of belief that a one-goal deficit can be turned around.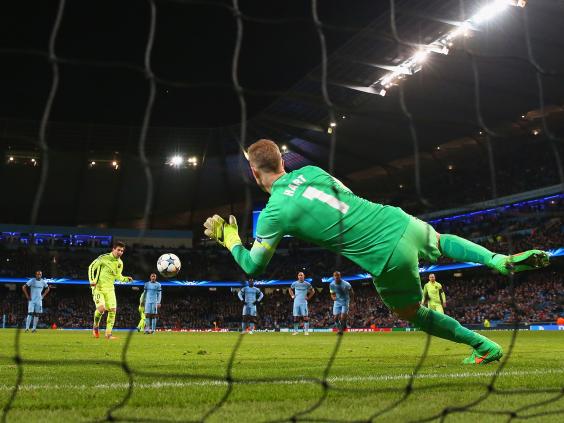 Not only does it mean the gap is narrower but it will alter the way Pellegrini and his men can approach the game. They still need to score twice owing to the away goals rule but they do not need to go all-out to level a two-goal gap. If the hosts score first, it does not mean curtains. That could be key and should see the game pan out differently to how it did a year ago.
A year on and more experience on the pitch and on the bench
City are still relative newcomers to the Champions League, especially in comparison to four-times winners Barcelona, but they will arrive at the Camp Nou with another year under their belt.
Pellegrini is blessed with a squad packed full of quality who have played matches on the biggest stage but the fact they played at the 98,000 Camp Nou at the same stage last season should help them a year on.
Previous experience should help them understand facing Barcelona as a team that bit more and it should also help them with the experience of playing in the biggest stadium in Europe, where the away fans are tucked high up in the clouds and can hardly be heard.
Manchester City 1 Barcelona 2 player ratings
Manchester City 1 Barcelona 2 player ratings
1/3 BARCELONA: Marc Andre ter Stegen

The young German, who hasn't made a league appearance this season, was rarely tested – but when he was he did not always look completely comfortable. 6

Getty Images

2/3 Dani Alves

The marauding full-back is not the dynamic attacking threat he once was, but he was still able to find acres of space in which to run. 7

Getty Images

3/3 Lionel Messi

Had been the best player on the pitch before pulling rank late on to deny Luis Suarez a hat-trick – but missed the penalty and the follow up. 8

Getty Images
This season's European campaign may have been another struggle, especially, considering the amount of money spent on City's squad, but they at least showed they can play under pressure on the big stage when they won in Rome to progress to the knockout stages.
City's form may still be met with some disappointment but they are getting better on the continent, if only slightly, and have a calm head in control in Pellegrini, a man who knows all about coaching in Spain thanks to his time with Malaga, Real Madrid and Villarreal.
Reuse content