Yaya Toure said Manchester City's players owed the club's Abu Dhabi owners and supporters an historic performance against Barcelona, in the match on which Manuel Pellegrini's future may hinge.
Asked if he felt whether the players were responsible for suggestions that Pellegrini would be sacked,  and whether they felt a duty to help "kill off" those rumours, Toure said: "We all know what we have to do. The owners have spent a lot of money to make this one of the top clubs in Europe. We have had some difficulties but we are working hard. It's not the first time we have been in this situation. We'll try to do it for the fans and the club and the people who continue to help us."
The pressure on Pellegrini was remorseless last night with his predecessor Roberto Mancini, whose divisive nature led the club to sack him in 2013, claiming that the Chilean had been "lucky" to inherit the squad he had bequeathed him and flatly contradicting his claim that winning a trophy each season was not essential.
Manchester City 1 Barcelona 2 player ratings
Manchester City 1 Barcelona 2 player ratings
1/3 BARCELONA: Marc Andre ter Stegen

The young German, who hasn't made a league appearance this season, was rarely tested – but when he was he did not always look completely comfortable. 6

Getty Images

2/3 Dani Alves

The marauding full-back is not the dynamic attacking threat he once was, but he was still able to find acres of space in which to run. 7

Getty Images

3/3 Lionel Messi

Had been the best player on the pitch before pulling rank late on to deny Luis Suarez a hat-trick – but missed the penalty and the follow up. 8

Getty Images
Mancini, now manager at Internazionale having been sacked by Galatasaray, told CNN: "Pellegrini … was really lucky because he got this team that is a strong team and he had the chance to put inside other good players and he improved his team. But I think Manchester City can win a title every year. I think that City have a chance and they should, they must win a title, try to win a title every year."
Pep Guardiola, who would be City's favoured replacement if Pellegrini leaves the club, is expected to be at the Nou Camp to see tonight's match, in what would be his first return to the stadium in the three years since he stood down.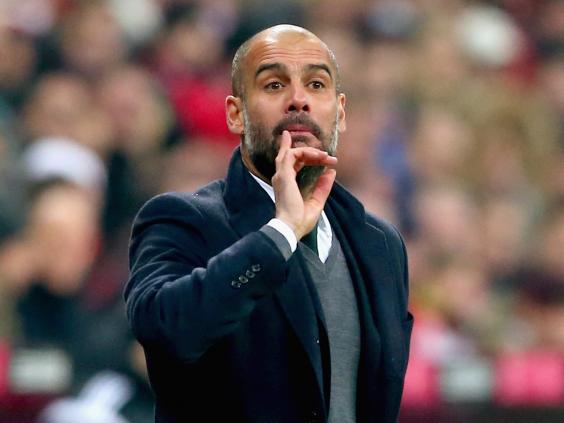 In the circumstances, Pellegrini seemed remarkably relaxed as he and Toure gave their press conference, smiling when it was put to him by a Spanish journalist that the Barcelona players' confidence in manager Luis Enrique was greater than the City players' in him. "You don't know the kind of confidence my players have in me," he said. "You know what football is. You could have asked the question the other way round if we were talking two months ago. All teams go through different moments and we will try to do our best with dedication and hard work."
Toure also said that the pressure on City revealed the short memories in football. "Last year being brilliant. Everyone was saying Manchester City are the top team in Europe. All of a sudden we have some problems and we're the worst team in the world. We can deal with that."
Barcelona's Andres Iniesta said that the aim tonight was a possession-based game "so [City] suffer; so they are chasing the ball. We have to control what is going on at every different moment."
Coach Luis Enrique said that City's weekend defeat to Burnley could create an "anxiety" in them. "In a moment like this they could be very dangerous or it could be better for us if it causes some anxiety in them." He rejected the idea – proposed by Pellegrini in an interview earlier this week – that fatigue could be a factor in City's struggles. " I don't have that perception. I didn't see City as a tired team… It's about the dynamics sometimes, when the dynamics are not so good maybe they can struggle a bit."
Pellegrini said that if he could avoid a man being sent off,as Pablo Zabaleta, Martin Demichelis and Gael Clichy have in the past three matches against the Catalans, City could win. 
 "I want to say there's no such strange atmosphere at Manchester City," he said. "I respect all opinions but I don't think my [job] is in danger. I don't know what the Catalunian press says but I have one more year left and I'm confident I'm going to finish my contract."
Reuse content