There will be no Pep Guardiola watching Leo Messi live at the Nou Camp when Barcelona face Real Madrid. The Bayern Munich manager will have just watched his team play Borussia Mönchengladbach at home when the Clasico kicks-off. But, based on the evidence he saw at first hand this week, he can enjoy the game on television safe in the knowledge that the genius he left behind in 2012 is back to his very best.
Messi stagnated in the first two seasons after Guardiola's departure; he has now not just returned to the levels of brilliance not seen since the Guardiola peaks of 2009 and 2011, which both produced European Cup wins over Manchester United, but also reinvented himself again.
Under Frank Rijkaard, Messi was a wide forward. Under Pep he became a 'false nine'. Under Luis Enrique – at least on Wednesday against Manchester City – he seemed to have become omnipresent.
There was a moment during that 1-0 win over Manchester City just after Ivan Rakitic scored from Leo Messi's cross-field pass, when the watching Guardiola could no longer control his delight. His immediate reaction to the goal had been as reserved as would have been expected flrom a current Bayern Munich manager but then, seated between his friend and confidant Manel Estiarte and his father Valentin, he put his scarf over his mouth, got to his feet, and let out what appeared to be an exuberant "Gooool!"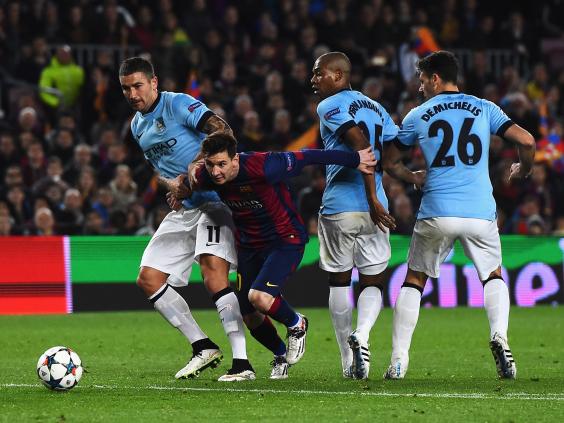 Facing him, in the season's second league Clasico and the one that will surely decide the destination of the league title, is Cristiano Ronaldo who has gone in the opposite direction to Messi in the last three months. Ever since he stood up at the Balon d'Or ceremony in Zurich to  collect his third Golden Ball and announce that he was "coming after Messi" (who has four of the individual awards ) the pursuing has all been done by the Argentinian.
Ronaldo had raced to the 30-goals tally towards the end of last year while most top European strikers were yet to reach double figures. He had left Messi in his wake, too, and was at one point 12 goals clear of his nemesis. But a dramatic turnaround in 2015 means Messi now has two more league goals than Ronaldo, while the former Manchester United forward also has a sending off, a Copa del Rey exit, a derby day thrashing against Atletico Madrid, a birthday party controversy (the night after that defeat), and a spat with home supporters, to his name.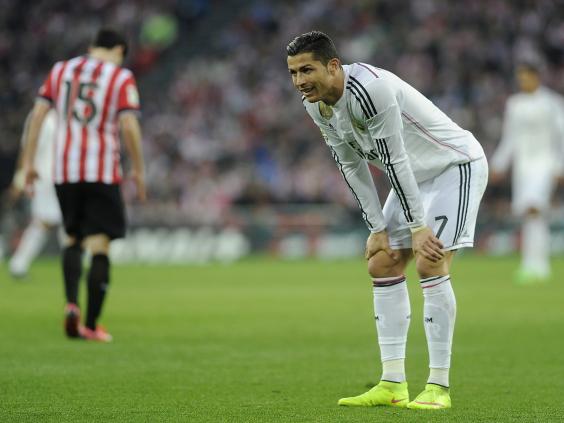 That run-in with the Santiago Bernabeu, shuffling off straight down the tunnel after a win over Levante last week, has breathed new life back into the old story that Ronaldo might yet return to Old Trafford.
The snub for Real Madrid supporters came after he had shunned his own celebrating team-mates when Gareth Bale scored Real Madrid's opening goal in the win over Levante. Ronaldo could be seen lamenting not having scored himself immediately before the goal, but was still seen to throw his arms in the air after Bale buried the rebound. It was a reminder of the Ronaldo that plays not for his team or his public, but just for himself and for the record books.
Barcelona vs Real Madrid combined XI
Barcelona vs Real Madrid combined XI
1/11 Claudio Bravo

Barcelona have the best defensive record in the league and the most clean sheets, Bravo has been fantastic in his debut season at the Nou Camp and is excellent with the ball at his feet - a necessity. Iker Casillas is not as bad as some would have you believe, he is a long way from what he once was.

Getty Images

2/11 Dani Alves

Not able to race up and down the pitch quite as he once was but the Brazilian is still a key outlet for this team and a fiery defender. It'll be very difficult finding a replacement for a very unique player.

GETTY IMAGES

3/11 Sergio Ramos

A great defender, although he can cross the line between aggressive and dirty if things are not going his way. Possesses great talent on the ball, a threat in the opposition box, but don't be surprised if he sees red.

Getty Images

4/11 Gerard Pique

Has returned to the kind of form that made him the world's best under Pep Guardiola, no matter who is playing alongside him. Brilliant on the ball, strong in the tackle and dominant in the air, he is the best both teams have to offer.

Getty Images

5/11 Jordi Alba

Marcelo has been a much improved defender this season but Alba is the superior option in defence and attack. His pace and energy are crucial to Barca's high pressing game.

AP

6/11 Toni Kroos

Xabi Alonso has been forgotten far more quickly than could have been anticipated because of the ease with which Kroos has slipped in. A true great in possession, Kroos perhaps is found a bit wanting in his defensive duties but one of the best in his possession in the world.

Getty Images

7/11 Isco

During Real's bad patch since the turn of the year Isco has been the one bright, consistent spot for Carlo Ancelotti. Another who is superb on the ball and has the ability to drive his team forward with his low centre of gravity. This team is perhaps a touch attacking, and Sergio Busquets will play as bigger a role as any of the stars during the game.

Getty Images

8/11 Andres Iniesta

Still the master. Age may have finally caught up with long-time partner Xavi but Iniesta shows no signs of slowing. Yaya Toure and Fernandinho couldn't get near him on Wednesday night and while he has lost a little bit of pace, his brain is as sharp as any in world football.

AP

9/11 Lionel Messi

Cristiano Ronaldo may have won the Ballon d'Or at the turn of the year but Lionel Messi has easily been the best player in the world since then. Where Ronaldo has struggled (by their standards) - nine goals in 14 matches - Messi has thrived with 20 in his last 17.

Getty Images

10/11 Luis Suarez

After taking a few weeks to work it out, his Barcelona debut in the Bernabeu was a real struggle, Suarez has finally clicked with his new team-mates. He may not quite be as prolific as he was during his Liverpool days but he is forming a nightmarish front three with Messi and Neymar that cannot be stopped.

Getty Images

11/11 Cristiano Ronaldo

Even if he is struggling a bit, are you really going to leave Ronaldo out? Messi might be in better form, but no other player comes close to striking terror into opponents as much as the Portuguese. Gareth Bale and Karim Benzema have been anonymous lately, while Neymar is unlucky to miss out.
Ronaldo might not be too worried about being away from the Santiago Bernabue. Messi, likewise, will be glad that the game kicks off in the Nou Camp, where his name echoed around the 99,000-arena on Wednesday night as he almost single-handedly  destroyed Manchester City.
The communion between the masses and their messiah is stronger than ever and, if he leads them to victory, they will be four points clear, and with one hand on the title.
--
How Messi eclipses Ronaldo in winning the big prizes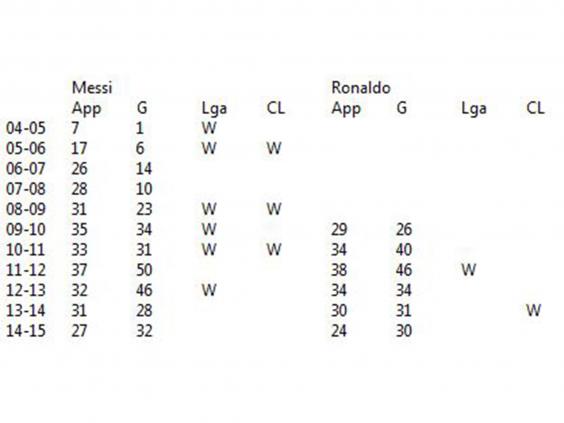 A close look at the records of Messi and Ronaldo for their clubs show that while both have breathtaking goalscoring records Messi has won a lot more in terms of La Liga and Champions League titles
Reuse content