They needed a miracle, but in the end the only shock of the night was that Thomas Muller, one of those pitiless German assassins from 12 yards, had a penalty saved and passed up the chance to win the match for Bayern Munich, although the tie was safe by then.
Over the two legs there was no question which side was superior, even as Arsene Wenger held up Wojciech Szczesny's dismissal in the first leg as mitigation on another sobering night for Arsenal in Europe. The reigning champions are leagues ahead of Wenger's team and it is not an imbalance that looks like it will be redressed anytime soon.
Wenger's players left the Allianz Arena having dug in, avoided defeat and generally shown themselves to be of good character in the face of a formidable opponent. But they are also out the Champions League at the last-16 stage for the fourth time in four years. One hesitates to say that it was men against boys but you only need to know that even with the away team chasing a two-goal deficit from the first leg at the Emirates it was Bayern who did the most of the attacking. 
Pep Guardiola's team are a truly wonderful side to watch, even if they could not quite unpick an Arsenal team that sat deep and played a five-man midfield for the first half. When they can afford to leave the likes of Muller and Toni Kroos out the starting XI, there is an obvious gulf in class. As for Arsenal, a cock-up in their organisation after late injuries to Yaya Sanogo and Kieran Gibbs, meant that they brought Ryo Miyaichi to Germany only to discover he was ineligible.
Bayern Munich 1 Arsenal 1: Player Ratings
Bayern Munich 1 Arsenal 1: Player Ratings
1/22 Manuel Neuer 6

In truth had little else to do but pick the ball out of his net from Podolski's goal. One nervy clearance nearly let Rosicky in but never really in trouble. Would have been a touch disappointed to be beaten at near post

Bongarts/Getty Images

2/22 Philipp Lahm 6

Quieter than in first leg and little as an attacking force but didn't put a foot wrong defensively. Seemingly fouled in lead up to Podolski's goal

AP

3/22 Dante 6

Booked early on for cynically blocking off Oxlade-Chamberlain which kept him honest for rest of the game. Steady and dependable and gave Giroud very little

AP

4/22 Javi Martinez 6

Rightly called offside after neat volleyed finish past Fabianski. Guilty of bad foul on Podolski, booked and frustrating with overacting at times. Cleared danger well after Neuer's poor clearance

EPA

5/22 David Alaba 7

Produce fine saving tackle to deny Giroud as Arsenal put pressure on after goal. Tireless up and down the wing and near faultless at the back

Getty Images

6/22 Thiago Alcantara 6

Quality all round play if unspectacular. Tried to set up Mandzukic when an effort at goal might have been the better option

Bongarts/Getty Images

7/22 Bastian Schweinsteiger 7

Scored vital opening goal with composed touch and finish showing his class. Tired slightly but understandable after injury break

Getty Images

8/22 Arjen Robben 8

Main threat for the home team all night and looked capable of scoring at any time. Pace and power throughout and was clever to win penalty late on. Guilty of some suspected diving but looked the best player on the night

Getty Images

9/22 Franck Ribery 6 (Muller, 83)

Relatively quiet night by the Frenchman's standards but produced moment of real quality to set up Schweinsteiger for Bayern's vital goal

Getty Images

10/22 Mario Gotze 5 (Kroos, 59)

Could have scored just before halftime but hit straight at Fabianski. Quiet as real attacking threat but neat with the ball, taken off on hour mark

EPA

11/22 Mario Mandzukic 6

Should have scored from Thiago's pull back but made a hash of it. Hold up play was decent and link up well but never really a threat in front of goal. Could have scored with header late on but blocked

Getty Images

12/22 Lukasz Fabianski 8

Played he's part as Arsenal tried to compete their near impossible task. Fantastic double save from Muller's penalty late on and denied Gotze and Mandzukic well. Cleared up well and came off line quickly throughout. Had no chance with Schweinsteiger's goal

Bongarts/Getty Images

13/22 Bacary Sagna 6

Jittery under pressure from Alaba which nearly led to opening goal. Made up for uncertainty early on with solid display in second half

Getty Images

14/22 Per Mertesacker 7

Very strong in the air as always and put in plenty of blocks with good positioning. The big German lived up to his famous chant with a towering display

Bongarts/Getty Images

15/22 Laurent Koscielny 6

Was scrappy at times and made a few mistakes included gifting a chance to Gotze which should have opened the scoring before half time. On the whole dealt well with Robben and put in a whole hearted performance

Getty Images

16/22 Thomas Vermaelen 6

Booked for foul on Ribery but did his best to deal with the quality of opposition. No attacking threat from the certain back come left back but coped well with defensive work

Getty Images

17/22 Mikel Arteta 6 (Gnabry, 76)

After been booked for cynical foul taken off with quarter hour left and replaced with Gnabry as Arsenal went for broke. Steady in the defensive

Getty Images

18/22 Alex Oxlade-Chamberlain 8 (Flamini 83)

Arsenal's best player by a distance in first half with his pace and bravery. Energy faded slightly in second half but produced a number of fine sweeping passes instead. Quick and strong, the Ox continues to impress

Getty Images

19/22 Lukas Podolski 7

Arsenal's biggest threat in the second half and earned his goal with some dogged play and riffled home goal

Getty Images

20/22 Mesut Ozil 4

Very quiet night for the German who look jaded and off the pace. Taken off at half time with a tight hamstring and Arsenal looked better for it

Getty Images

21/22 Santi Cazorla 5

Ineffective throughout but link up play and passing was nice in the mid field. Only real chance came from a deflected free kick that had Neuer momentarily unsure

Getty Images

22/22 Olivier Giroud 5

Was kept very quiet by Bayern's defence and had little to work with. Held up nicely at times but was on the fringes of the match

Bongarts/Getty Images
They went into the game with just six substitutes, rather than the regulation seven on the bench. But then this Bayern team could have beaten the best Arsenal team Wenger could pick even if injuries were not a concern.  Bastian Schweinsteiger scored the night's first goal on 54 minutes and Arsenal only levelled because Lukas Podolski's crafty shove in the back of Philipp Lahm went unnoticed by referee Svein Oddmar Moen.
Wenger had warned that the Norwegian may not be quite up to speed on the tricks that players in Europe's elite league employ to gain a sneaky advantage. He was certainly proved right in that respect.
Moen did spot a terrible dive by Arjen Robben in the 51st minute, which made the Dutch winger the villain of the piece in Wenger's eyes once again. Robben did finally win a penalty when Laurent Koscielny fouled him in time added on at the end of the game, although on that occasions Lukasz Fabianski proved the equal of Muller, from his penalty and the rebound.
That aside it was hard to envisage Wenger's players pulling off the turnaround of a lifetime, not against a team that has such quality in every layer, right down to the unflappable Manuel Neuer in goal. Bayern have lost one game here since Arsenal won the second leg of their tie here this time last year – the dead rubber against Manchester City – and it was not hard to see why that was the case.
Even so, you might have hoped for some dramatic intervention from one of Wenger's bigger names. Mesut Ozil, peripheral in the first half came off injured in the break. Olivier Giroud was off the pace. Only Alex Oxlade-Chamberlain, impressive again, seemed to embrace the occasion.
Wenger's pre-match view that Arsenal could afford to take their time when it came to risking anything was borne out by their approach to the first half which they survived with the two-goal deficit intact. It was Bayern who did all the attacking and the away side who, in a 4-1-4-1 formation with Ozil out on a limb on the right wing, as good as parked the bus.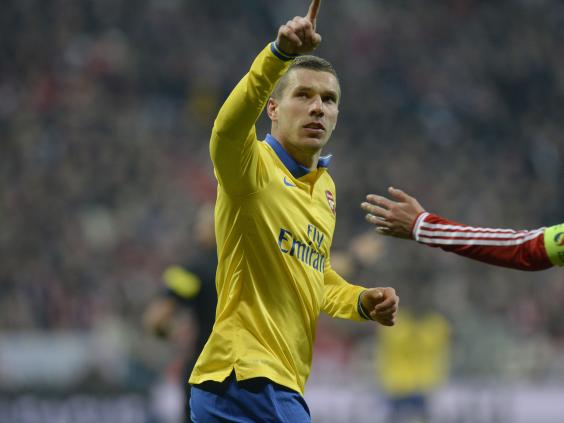 Evidently the philosophy was that Arsenal could wait to score – but they could not afford to concede a third goal in the tie. Sitting deep, with Per Mertesacker and Laurent Koscielny in sparkling form when it came to interceptions and astute blocks, they survived to half-time. Bayern put the ball in the net once when the converted centre-back Javi Martinez volleyed in Thiago Alcantara's ball from the right but it was disallowed for offside.
On the right side, Ozil was as good as invisible. Arsenal's best player before the break was the only Englishman on the pitch, Oxlade-Chamberlain, who announced his presence with a bold run forward on eight minutes that drew a foul from Dante and earned the Brazilian defender a booking.
Another run by the man they call "the Ox" on the half hour was only stopped by another foul by Schweinsteiger – which should have earned him a booking but did not – and won Arsenal a dangerous free-kick. When that was deflected behind, Ozil's corner was met by Giroud. His header, saved, was the best Arsenal chance of the first half.
Otherwise it was a case of a dominant Bayern trying to draw Arsenal out and get in behind them. They had the most success down the side Ozil and Bacary Sagna tried to defend against David Alaba and Franck Ribery. The best Bayern chances of the half fell to Robben, the first when he hit a high bouncing shot from Ribery's cross over the bar. On 38 minutes the loose ball fell to him in the area and he hit a snapshot that was not quick enough to beat Fabianski.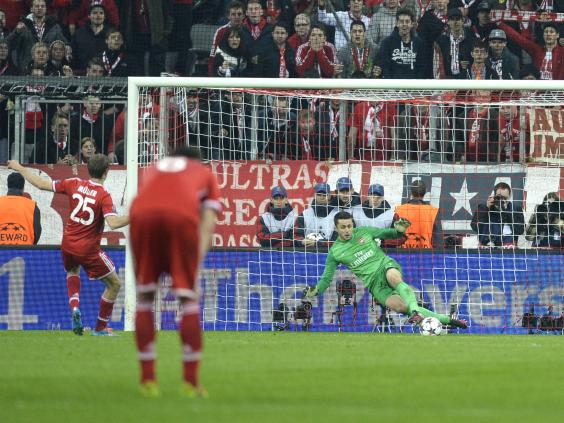 The second-choice goalkeeper, in for the suspended Wojciech Szczesny, stopped  a shot from Mario Gotze just before the break. Having accomplished the first part of the Arsenal plan it was intriguing to see when Wenger would signal a change of approach.
A fairly wretched evening's football ended at half-time for Ozil who was substituted with what was described as a tight hamstring. If Wenger was looking to make a change that only made it easier, because on form alone Ozil was the obvious candidate.
Instead, it was Tomas Rosicky who took up the position on the right side which was the side the Bayern goal eventually came from. Not before Robben's efforts to con referee Moen in the penalty area were met with a shake of the head from the Norwegian and the derision of the travelling Arsenal fans. Weaving into the box, the Dutch winger flung himself to ground when he came together with Santi Cazorla.
On 57 minutes, Bayern took the lead with Cazorla losing track of Schweinsteiger in the area when Ribery crossed and the Arsenal midfielder was unable to prevent the midfielder from completing the relatively simple task of scoring from close range. It looked at that moment as if it would be time for Arsenal to accept that their Champions League journey had ended but they scored an equaliser within three minutes.
That came from Podolski, the former Bayern man, who chased Lahm down the right, gave him a shove in the back and stopped to wait for the foul to be given. When Moen failed to do so, he took a touch and struck a brilliant quick-rising shot with his left foot past Neuer and into the roof of the Bayern net.
Enraged, the German side came at Arsenal again. Kroos replaced Gotze. Mandzukic had a chance to score with 20 minutes remaining but failed to squeeze the ball past Fabianski, who had risen to the task well. They took control of the game and Robben finally got his penalty with a clumsy challenge from Koscielny at the end of the game. That Fabianski was equal to the double-save was the smallest of consolations on another humbling night.
Bayern Munich (4-2-3-1): Neuer; Lahm, Martinez, Dante, Alaba; Schweinsteiger, Thiago; Robben, Gotze, Ribery; Mandzukic.
Subs: Kroos/Gotze 59, Ribery/Muller 85
Arsenal (4-1-4-1): Fabianski; Sagna, Koscielny, Mertesacker, Vermaelen; Ozil, Arteta Oxlade-Chamberlain, Cazorla, Podolski; Giroud.
Subs: Rosicky/Ozil ht, Gnabry/Arteta 77, Flamini/Oxlade-Chamberlain 84
Booked: Bayern Munich Dante, Martinez Arsenal Podolski, Arteta, Vermaelen
Man of the match: Ribery
Rating: 6
Reuse content