Even now, in the slow descent of his career, Cristiano Ronaldo has the power to bend games his way, to surprise and punish any opponent or observer who dared wonder if the old magic was starting to wear off.
In the first half of this Champions League quarter-final, Ronaldo was anonymous and his Real Madrid team were nowhere. They could not live with Bayern Munich, who went 1-0 up and should have had a second only for Arturo Vidal to put his penalty high into the stands. That was at the very end of the first half when it still felt like a big home win was on the cards.
But the second half was different. Ronaldo scored two clever poacher's finishes, turning a 1-0 deficit into a 2-1 lead. He got Javi Martinez to foul him, then foul him again, a yellow card swiftly turning into red. Bayern collapsed, in a way that a team with this much experience should never do. Real seized control of the tie and now it is very hard to see them not being in the semi-finals.
Bayern Munich vs Real Madrid - player ratings
Bayern Munich vs Real Madrid - player ratings
1/22 Manuel Neuer - 8 out of 10

Made one of the saves of the season when he denied Benzema in the first-half with a fingertip stop. Made several more world-class stops in the second-half and was desperately unfortunate to concede two goals. His performance deserved better.

Bongarts/Getty

2/22 Philipp Lahm - 7 out of 10

As good as ever. Solid at the back and impressed going forward, too, working well with Robben and Mueller.

AFP/Getty

3/22 Javi Martinez - 5 out of 10

A relatively solid performance but picked up two completely unnecessary bookings and will now miss the second-leg.

AFP/Getty

4/22 Jerome Boateng - 6 out of 10

Was guilty of ball-watching as Ronaldo lashed home his goal. Otherwise solid.

Bongarts/Getty

5/22 David Alaba - 6 out of 10

He may be one of the best defenders in the world, but he is having a poor season. Didn't make a single tackle, interception or clearance for over an hour.

AFP/Getty

6/22 Thiago Alcantara - 7 out of 10

Classy in possession and set up Bayern's opening goal, curling an inch-perfect corner onto the forehead of Vidal.

AFP/Getty

7/22 Xabi Alonso - 6 out of 10

Masterful in possession as ever and whipped a couple of dangerous crosses into the box.

Bongarts/Getty

8/22 Arjen Robben - 7 out of 10

33-years-old and yet still as dangerous as ever. Was electric down the right-wing and unlucky not to score.

Bongarts/Getty

9/22 Arturo Vidal - 8 out of 10

An eventful night for Vidal, who scored the opener before missing a penalty. But dominated the midfield throughout.

AFP/Getty

10/22 Franck Ribery - 6 out of 10

Impressed in the first-half before fading somewhat in the second. Withdrawn for Douglas Costa.

AFP/Getty

11/22 Thomas Mueller - 6 out of 10

Played the target man role in the absence of Robert Lewandowski and was largely kept quiet.

Bongarts/Getty

12/22 Keylor Navas - 6 out of 10

Stubbornly refused to come off his line for the corner which led to Bayern Munich's goal and paid the price.

AFP/Getty

13/22 Dani Carvajal - 6 out of 10

Looked shaky in the opening exchanges but improved and assisted Ronaldo's goal in the second-half. Very unfortunate to concede a penalty.

AFP/Getty

14/22 Nacho Fernandez - 6 out of 10

A big night for the defender in only his second European appearance of the season. Made a number of important clearances early on.

AFP/Getty

15/22 Sergio Ramos - 6 out of 10

Repeatedly brought the ball out from defence and almost scored with a curling free-kick.

AFP/Getty

16/22 Marcelo - 6 out of 10

Exceptionally wasteful in possession although a constant attacking outlet down the left and almost scored late on.

AFP/Getty

17/22 Luka Modric - 7 out of 10

One of Madrid's busiest players and played a key role in the second goal.

Bongarts/Getty

18/22 Casemiro - 7 out of 10

Picked up a knock early on but battled back superbly. No player on the pitch made more than his eight tackles.

AFP/Getty

19/22 Toni Kross - 7 out of 10

No Real Madrid player touched the ball more than Kroos, who also boasted incredible 97% pass accuracy. A huge performance.

Bongarts/Getty

20/22 Gareth Bale - 6 out of 10

A quiet night from the Welshman. Saw a header from pointblank range saved by Neuer before being withdrawn early on into the second-half for Asensio.

Bongarts/Getty

21/22 Karim Benzema - 6 out of 10

Not the Frenchman's best performance in a Madrid shirt. Like Bale, was denied by Neuer with a header from pointblank range.

Bongarts/Getty

22/22 Cristiano Ronaldo - 8 out of 10

A quiet first-half but came to live in the second. Scored a superb cushioned volley to level the scores and won the match with a second close-range finish.

AFP/Getty
Should it be a surprise? They are reigning European champions after all, having won the big one in 2014 as well. Yes, at half-time here it certainly felt like they would be heading out. 
But the reality of this Real Madrid team is that they have always been about seizing the moment more than dominating games. That is how they beat Atletico Madrid in those two famous finals, and that is what they did to Bayern tonight.
It was a perfect example of a team realising that a match was still within their grasp. Bayern had begun the second half slowly, still cursing themselves for Vidal's clumsy penalty. Real burst forwards, Dani Carvajal breaking down the right.
He darted a cross to Ronaldo, pulling back into space in the box. He swivelled and volleyed the ball into the bottom corner, a masterful finish, his 99th European goal. Not bad for a player who struggled to control the ball in the first half.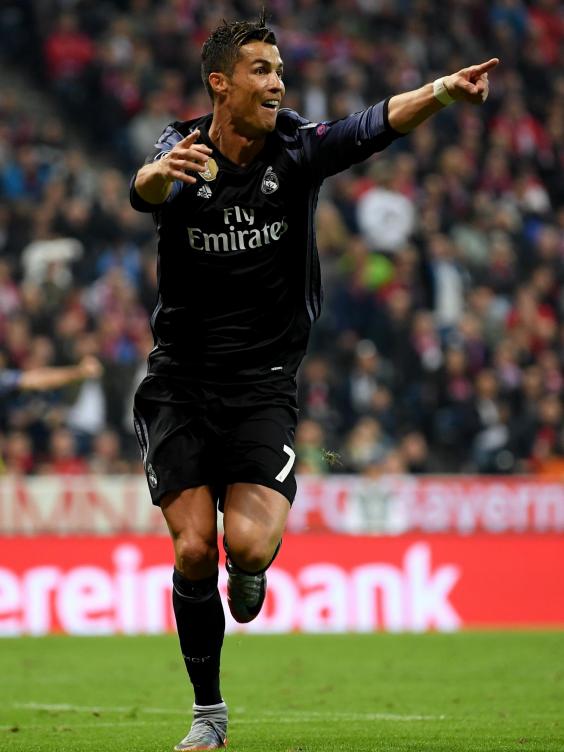 The momentum had switched, the crowd silenced, as Manuel Neuer tipped a Gareth Bale header over the bar. Real had the away goal and Bayern had the regret they had not made the most of their dominance.
What they needed most was cool heads and deep breaths. What they got was the opposite. Javi Martinez pulled Ronaldo back and was booked. Just two minutes later Martinez, who should know far better, clattered Ronaldo to the grass as he broke down the middle.
The only defence was that he had forgotten his earlier booking, but either way Martinez was off.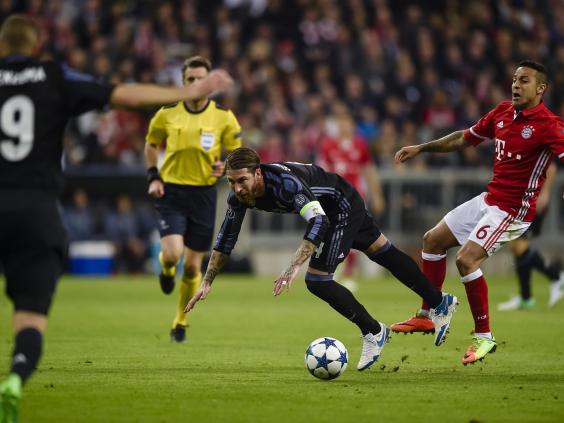 Bayern were in emotional and tactical tatters. Zinedine Zidane made what looked like a conservative change, withdrawing Gareth Bale, who was feeling a stiff hamstring, for Marco Asensio. But by going to 4-4-2 Real got the control to kill the game.
They started to churn out chances, enough to eventually to take a crucial lead. First Carvajal played in Benzema he should have done better than shoot at Neuer. Then Benzema had the ball on the left and found Ronaldo on the penalty spot, but Neuer stopped it with a crucial strong arm.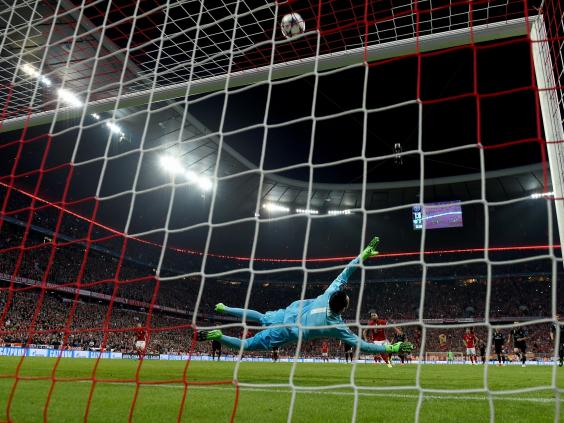 Even Neuer could not hold off the inevitable forever. Asensio got the ball in space on the left and swung in a cross. Ronaldo met it in the middle and his shot squeezed through Neuer and in.
 That was his second of the night and his 100th in Europe in his career, the first ever player to reach that remarkable milestone. More importantly, it was Real Madrid's second away goal of the night, and it felt like a killer blow to Bayern.
It could have ended even worse for the hosts when, in second half added time, Sergio Ramos headed in a free-kick only for it to be disallowed. That surely would have been the end of the tie but even this, a 2-1 away lead, feels like an implausible mission for Bayern in the Bernabeu next week.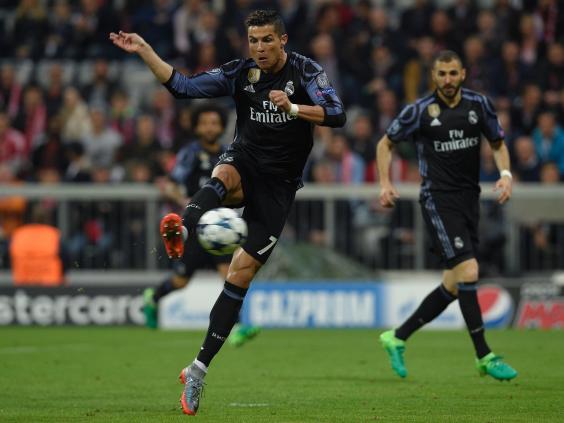 All of which is a surprise given how well Bayern played in the first half. Thiago Alcantara was easily the best player on the pitch, or at least, before Ronaldo decided otherwise. He ran the midfield, first to everything, stopping Real's attacks and starting his own.
Even Luka Modric and Toni Kroos were outmanoeuvred in midfield and this did not look like a Real side that would eventually be winning 2-1.
Bayern had pinned Real back and they took the lead from a corner. Thiago took an out-swinger and it was met by the thumping run and header of Arturo Vidal, Bayern's barrel of muscle in midfield.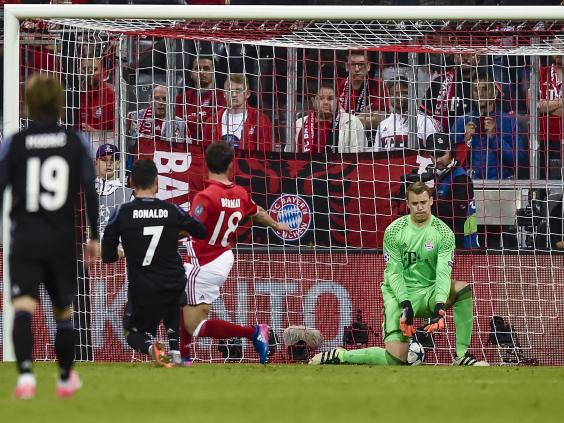 Vidal was everywhere and soon enough he had a chance to double Bayern's lead. When Robben stood up a cross to the far post no-one saw Vidal's run until it was too late, but his unstoppable header whistled just over the bar.
That was a good chance but even better was the penalty kick at the end of the first half, forced by waves of Bayern's pressure. Ribery's shot was blocked by Dani Carvajal's arm and Nicola Rizzoli awarded a harsh penalty. Vidal stepped up but blazed it far over the bar, missing his moment to give Bayern a 2-0 lead their dominance deserved.
At the time it was not obvious that was the moment that Bayern lost the game and their chance of reaching the semi-finals. But Cristiano Ronaldo only needs the narrowest opening to take control, and if Bayern did not realise this, then whose fault is that?
Reuse content