Manchester United manager David Moyes said his side had committed a "crime" by conceding just 22 seconds after taking the lead against Bayern Munich on Wednesday night, as their 18 seasons of unbroken competition in the tournament ended with a 3-1 defeat to Pep Guardiola's side.
Moyes, who admitted that Wayne Rooney had struggled even to kick a ball on a night when he sacrificed two fine goalscoring chances, said that allowing Bayern to equalise so soon after Patrice Evra's thunderbolt put the team ahead, was "the sort of the thing you learn as a schoolboy that once you score a goal make sure you don't concede and be in your position and do your job."
His admission that Rooney was so fragile, having insisted on Tuesday that United were doing "nothing wrong" by giving the striker an injection for a broken bone in his toe, will surprise the Football Association but Moyes said United simply could not do without him.
Bayern Munich 3 Manchester United 1 (agg: 4-2): Second leg player ratings
Bayern Munich 3 Manchester United 1 (agg: 4-2): Second leg player ratings
1/22 Manuel Neuer 6/10

Steady showing but not overly worked before break. Could not be faulted for Evra's howitzer and dealt well with sporadic United attacks thereafter

GETTY IMAGES

2/22 David Alaba 6

Offered strong presence for Bayern and did well standing up to direct running of Valencia. Never switched off and enjoyed a quieter second half

GETTY IMAGES

3/22 Dante 6

Brazilian was back in centre of defence of being banned for first leg. Was not greatly troubled by a struggling Rooney as United lacked attacking spark

GETTY IMAGES

4/22 Jerome Boateng 6

Was kept busier than might have been expected as United held their own before the interval. Almost cleared into his own net in comical fashion

GETTY IMAGES

5/22 Philipp Lahm 7

Stationed in now unfamiliar right-back role. Strong challenge on Evra went unpunished. Pushed forward at 1-1 and change worked wonders

GETTY IMAGES

6/22 Toni Kroos 6

Has been strongly linked with United in recent weeks and put on a committed show here. Sent one effort over from distance and tracked United runners

GETTY IMAGES

7/22 Mario Gotze 7

German helped control proceedings in centre of park in first half. Taken off for Rafinha as Bayern reshuffled to take the game away from United

GETTY IMAGES

8/22 Thomas Muller 6

Scuffed Bayern into lead after Robben afforded time on United's left, again proving the scourge of English opposition. Struggled for the ball at times

GETTY IMAGES

9/22 Franck Ribery 7

Always prompting and probing but contained well by Fletcher and Carrick. Caught offside early on before finding side netting with one shot

GETTY IMAGES

10/22 Arjen Robben 8

Picked up where he left off at Old Trafford, driving forward at United backline. Allowed time and space to set up second before dancing through for third

GETTY IMAGES

11/22 Mario Mandzukic 6

Slow to react to one ball into box, Smalling getting in well to clear. Caused Vidic to get early booking and quiet until he stooped for quickfire equaliser

GETTY IMAGES

12/22 David De Gea 6

Not tested in first half as Robben and Ribery shot wide. Left exposed for Bayern's quick double before allowing Robben effort to squirm in

GETTY IMAGES

13/22 Patrice Evra 6

Played key part in United's first-half containment job as Bayern were frustrated. Fine strike for goal but found wanting at back, at fault for hosts' last two

14/22 Nemanja Vidic 6

Goal hero from first leg was walking tightrope early on after harsh yellow for challenge on Mandzukic. Failed to stop Robben from sending in third

GETTY IMAGES

15/22 Chris Smalling 8

Surprisingly chosen ahead of Ferdinand in first European start since loss in Olympiakos but performed heroics before United tired. Blocked Robben effort

GETTY IMAGES

16/22 Phil Jones 8

Caught out of position after early surge down the right but made vital block on Robben. Recovered to put in one of his best showings in United shirt

GETTY IMAGES

17/22 Darren Fletcher 7

Provided valuable extra cover in first European start for 17 months, linking up well with Carrick. Bayern's extra fitness ultimately showed at the end

GETTY IMAGES

18/22 Michael Carrick 6

Calm in possession and made vital interceptions as United more than held own in a busy midfield. Unable to react late on as game ran away from United

GETTY IMAGES

19/22 Shinji Kagawa 6

Given starting berth following recent form and drove effort straight at Neuer for game's first shot on target. Not as effective as would have hoped

GETTY IMAGES

20/22 Antonio Valencia 6

Saw effort ruled out for offside when poking in Rooney cross and was caught out by Ribery. Cross set up Evra's opener and enjoyed battle with Alaba

GETTY IMAGES

21/22 Wayne Rooney 5

Was he ever going to be left out? Might as well have been for all the impact he made. Fluffed lines badly when played in by Welbeck and seemed unfit

GETTY IMAGES

22/22 Danny Welbeck 6

Problems with his boots limited his involvement in opening minutes but never stopped running and offering for the ball. Taken off for Januzaj

GETTY IMAGES
"I was concerned that Wayne had not trained all week and he had taken an injection," he said. "At times it looked like it was a struggle striking the ball on a couple of occasions. But he is so vital a player to us. He is so important especially with Robin van Persie out just now. He had a couple of opportunities but couldn't quite take them."
It was the end of a United road for Nemanja Vidic, who will leave for Inter Milan this summer and departed the field in tears on Wednesday night, as well as Patrice Evra, who is likely to go in the summer and also looked emotional as he left the stadium.
Moyes agreed that the quality of the two performances – and particularly the second leg – had demonstrated that his inheritance from Sir Alex Ferguson had not been so poor as had seemed to be the case this season
"I think our team has improved. There have been games when you might say it has not but there have been signs of improvement. I think the word rebuilding is building and a focus on where we want to improve." He justifiably cited Chris Smalling and Phil Jones as "outstanding" performers as a valiant United denied the Germans a shot on goal for the first 45 minutes. "They were terrific," Moyes said. "Shinji Kagawa played very well. There were a lot of positives."
But the defence let United down in the final reckoning. "The only crime was conceding a goal after we had scored within 30 seconds," the manager said. "That was the biggest crime. We had to play against the holders of the competition and for long periods we made it difficult for them. In the end we just couldn't quite keep it going.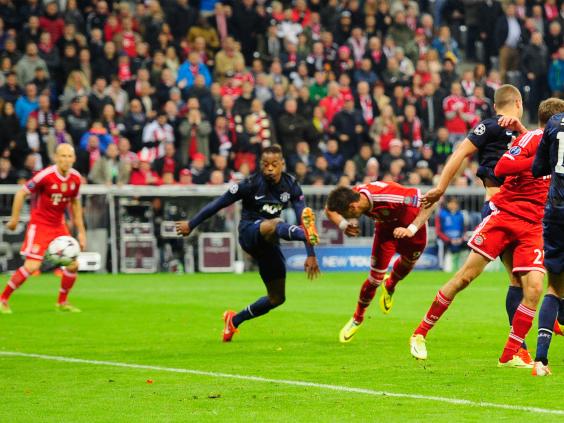 "Possibly [we were caught out by the euphoria of the goal] but I do also think that I have a team full of experienced players. We had concentrated so fabulously well throughout the game. The players had done tactically well. The positioning and their jobs but for us to give it up, or rather the goal, at that moment was really disappointing."
Rooney's two squandered chances – one in the first half, another at 1-1 - followed Danny Welbeck's good opportunity in the first leg, leaving Moyes to rue that aspect of his team's display. "We have to be fair Munich are a good team and we had to defend really well," Moyes said. "But we did create opportunities to score, probably more so than we did even in the first game. I am disappointed we didn't take those chances. We had three or four good opportunities but in the end we just couldn't quite get it."
United's Michael Carrick declared that it was "not good enough" to be out of the Champions League next season, though vowed that the club would be back.
He said: "We're bitterly disappointed," he said. "This [competition] is where we want to be and we will be again in the not too distant future. Losing that first goal after just 20 odd seconds after scoring was a big blow. They had so much possession around the box. All it takes is for something to drop to them. And it did.
"Their second goal was a bit of a killer. The reason we are not [in next season's competition] is not about tonight. We have had too many bad results. We need to finish the season as best we can and get ready for next season and come back believing we can win the title and qualify for the Champions League next season."
Bayern's Arjen Robben said: "The first half was a disaster. We played so slow. The goal was a wake-up call and it was very important we scored [again] straight after."
Reuse content