It was not just a victory that FC Bayern were celebrating in northern Germany on Saturday evening. The 7-0 thrashing of Werder Bremen was a message – and arguably the clearest yet this season – that they have earned the accolade of the world's best club side.
The defeat in the German Supercup aside, Bayern remain unbeaten under Pep Guardiola, but this was the first game in which they have looked truly invincible. While Bremen's performance was lacklustre, it could hardly have been anything else, faced with the relentless pressing, exquisite triangles and vicious attacks of their opposition.
In the build up to the game, Director of Sport Matthias Sammer had unleashed one of his habitual rants - somewhat contrarily bemoaning the amount of praise his team were receiving. "It's very superficial to talk about dominance," he said after Bayern's midweek cup win in Augsburg, "there's not enough recognition of the extremely hard work which we put in every day."
It was, somewhat surprisingly, a fair point. From results and possession statistics alone, it is easy to conclude that Bayern and Guardiola are an unassailable force. Look a little closer, and you see a side plagued by injuries, who have not always found it easy to adapt to Guardiola's style. A banal criticism it may be given the results, but Bayern have frequently been accused of struggling to convert possession into goals this season.
The immense size and talent of their squad has carried them unbeaten through to a four point lead at the top of the Bundesliga, and it is a testimony to their brilliance that they are judged on how heavy a defeat they can inflict. But Saturday's win in Bremen was arguably the first occasion on which Bayern have effectively displayed the trademark of the Guardiola philosophy: to make hard work and extreme discipline look effortless.
"Bremen didn't make it too hard for us after the 3-0, but we had to invest a lot to get to that point," was how Toni Kroos put it after the game, "you could see from that point that we still had the drive to go and score more goals. And we got them."
They scored them, moreover, without the man who Guardiola has described as "our best forward". Arjen Robben joined a long line of Bayern players who have been on the treatment table last Wednesday, as he sustained a knee injury which will keep him out for six weeks.
Robben has seen large chunks of his career in Munich disappear through injury, but this one will cause him and his club by far the most pain. While the Dutchman may have earned worldwide acclaim for his Champions League goals over the last few years, his overall contribution to the side has been the subject of endless scepticism. No longer. Under Guardiola, the winger has completed his transition from gifted liability into a consistent and committed performer.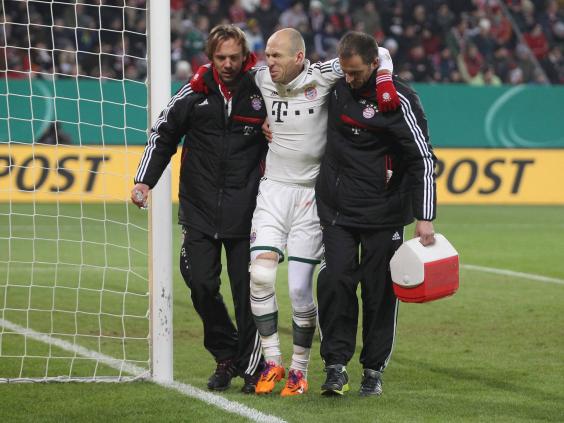 Even without him, though, Bayern were able to continue their upward trend to reach the dizzy heights of the 7-0 victory. Guardiola's innovation and rotation has been one thing his side have taken time to get used to, but they are reaping the benefits.
No one at the club is yet getting carried away. Even on Saturday, they could have conceded one or two needless goals on the counter had Bremen's strikers been sharper, and both Uli Hoeneß and Pep Guardiola have opined in recent weeks that, sooner or later, Bayern have to lose a game.
Kroos, too, was quick to insist that the hard work must continue on Tuesday evening against Manchester City, albeit this Bayern side is even stronger than the one which won so comprehensively in Manchester in the autumn.
"The first game (against City) is completely forgotten. They're a very good team. We have to start again from square one, and we need to invest a lot into this game too," he said on Saturday.
In mathematical terms, it is a relatively insignificant fixture. City need to win by three clear goals in Munich to oust Bayern from top spot, and that is highly improbable, however well they exploit the counter attacks. For Bayern though, buoyed by the watershed result against Bremen, it is an opportunity to send out another message of hard earned dominance - and this time on the international stage.
Reuse content