At a club which sees so few clouds on the horizon, the opening day of the tax trial of Bayern Munich's president Uli Hoeness yesterday was that rare occasion when a leading light at the European champions generates negative headlines. In fact, it turned into a personal disaster for one of the architects of the success of modern Bayern.
With the expectation he had evaded €3.5m (£2.9m) in taxes, Hoeness, the multi-millionaire sausage-factory owner, an outspoken critic of football's new-money clubs, owned up to some €18.5m (£15.4m) and now faces a prison term when sentencing begins on Thursday.
At Bayern, the message was steadfast that these were personal choices made by Hoeness and unconnected to his work as an employee of the club. In fact, there was no condemnation at all for his actions. While Hoeness's lawyers made the disclosures at 9.30am in a court in Munich, across town, Bayern manager Pep Guardiola was promising to win tonight's Champions League last-16  second-leg game against  Arsenal as a personal tribute to his boss.
It was Hoeness and the Bayern chief executive Karl-Heinz Rummenigge who pulled off the appointment of Guardiola between them, landing the most sought-after coach in world football amid competition from much wealthier rivals, not least Chelsea. As a club that places great store in its ethical approach to ticket prices, its 75 per cent fan ownership and its independence from a wealthy owner,  Hoeness's admission is at the very least an embarrassment for Bayern.
Hoeness has been one of the most vocal critics of those nouveau-riche clubs, like Manchester City, Chelsea and Paris Saint-Germain, for the manner in which their super-rich owners have used their wealth to challenge the traditional powers like Bayern and Manchester United. He has been critical, with justification, of the tax debts of Spanish clubs in a nation that has enjoyed a European Union bail-out, although they may entertain less of his finger-pointing now.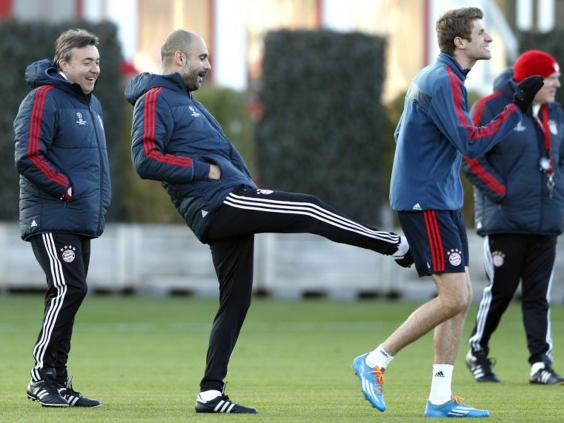 Hoeness was also one of the key drivers behind Uefa's Financial Fair Play initiative that still promises to change the landscape of European football, with Bayern and Arsenal among those most hopeful it will prove useful for their business model and that process will not change without him.
Hoeness admitted to keeping undeclared funds in a Swiss bank account which he used to trade on the stock market, with mixed results. He is hopeful that his "self-reporting" will persuade the court to be lenient. "I have evaded taxes," Hoeness said yesterday, adding later, "I am not a social parasite". The legal debate around his sentence will centre upon whether his disclosure was prompted by the fact that the tax authorities were already on to him.
The subject of Hoeness and his tax matters has been all but verboten at Bayern, and one of the few mentions of it yesterday was from Thomas Müller who said that it would not affect the team. "We will try to focus on the game. When the whistle goes for the start then everything else is shut out," he said. "I do not expect it to have any negative effect."
As player, and then administrator, Hoeness has taken a full role in the development of Bayern from a club with two Bundesliga titles in 1971 to one which proudly boasts 23 in total on the honours board in the Allianz Arena's lobby as well as five European Cups, including last year's at Wembley. Thus far the appointment of Guardiola has taken them to yet another level, unbeaten in the league this season and with a two-goal lead over Arsenal that makes them heavy favourites to go through tonight.
Their 6-1 thrashing of  Wolfsburg at the weekend was just another step towards a title in a league which they lead by 20 points. While Arsène Wenger was being asked whether the FA Cup now represents his best chance of a first trophy in nine years, Bayern have the quadruple in their stadium's trophy cabinet: the league, the German cup, the Champions League and the Club World Cup.
As for Guardiola, he described that 2-0 lead as "dangerous" for his own team despite the fact that no team in the history of the Champions League has squandered a two-goal lead from a first leg played away from home. He intimated that Bayern will not sit back tonight. "Against Arsenal, we have to make sure we have the ball, that we really attack well and go through to the next phase," he said. "They have a lot of quality, so we have to make sure we have a lot of possession."
The Bayern midfielder Toni Kroos, who has become the archetypal German footballer that English clubs would love to produce, or failing that sign, dropped the briefest hint that he might be prepared to listen to Premier League suitors.
"It is no secret the English Premier League is not a bad league," he said. "No decision has been made [about a new contract at Bayern]. I think I am a person where a lot is possible for me. But I have to make thoughts about this for myself to make a complete decision about this."
It would still represent quite an achievement for any club, not least Manchester United, to prise him away at this stage of his career and the fact that Bayern permitted him to be the designated player at their Uefa press conference suggested they are not in any panic about him leaving.
All that Arsenal have in their favour is the memory of last season's victory in Munich, a victory that ended a run of 11 straight victories for Bayern and all the more remarkable for the fact the German club have lost only once since then, to Manchester City in December. Otherwise, even with a potential jail sentence for one of their most famous executives looming, it looks like nothing can budge this team from their course.
Reuse content