Goalkeeper Joe Hart felt Manchester City were "killed" by an unfortunate deflection as they slipped to a last-gasp 1-0 defeat in their Champions League opener at Bayern Munich.
Hart looked to have done enough to earn City a point from a pulsating Group E encounter as he returned to his best with a series of outstanding saves at the Allianz Arena.
But just moments after he made a fine one-handed stop to deny former City defender Jerome Boateng, his old team-mate struck from the edge of the box in the 89th minute thanks to a slight deflection off Mario Gotze.
Hart said: "We did okay and looked like we were going to get a result out of it, which would have been a good start to the group away against a good side.
Bayern Munich 1 Manchester City 0 player ratings
Bayern Munich 1 Manchester City 0 player ratings
1/22 Bayern: Manuel Neuer

A quiet night for the world's best 'keeper. Beaten by Dzeko's first half shot, but thankfully for him that beat the goal as well. 6

2/22 Rafinha

Busy bursting forward, but final ball left much to be desired. 6

3/22 Mehdi Benatia

Composed performance from the much-coveted Moroccan, but was hardly over-run. 6

4/22 Juan Bernat

Dealt with the threat of Dzeko with ease for the majority of the contest. 7

5/22 Jerome Boateng

Thrashed home the winner against his former team, and dealt with the threat of Dzeko with ease for the majority of the contest. 7

6/22 Philipp Lahm

Immaculate passing from the right-back-turned-midfielder. Kept Bayern ticking over. 7

7/22 Xabi Alonso

Alongside Lahm, kept Yaya Toure under wraps. His usual passing brilliance came to the fore too. 7

8/22 David Alaba

Despite fizzing in a long-range effort at Hart, had less impact than usual. 6

9/22 Mario Gotze

Got behind the defence with some fine runs from midfield, but the finish was lacking 6

10/22 Thomas Muller

Should have taken early chance better with the goal at his mercy, but was behind all of Bayern's best attacking work. 7

11/22 Robert Lewandowski

Touch eluded the striker when he needed it most. His first-half miss mirrored that of Muller's. More was expected. 6

12/22 Joe Hart

Close to his best, offering a reminder of his quality by producing some brilliant saves to keep City in the game. 9/10

13/22 Bacary Sagna

Kept busy on the flank, especially in defence, but showed plenty of energy and occasionally had to come into the centre to cover. 7

14/22 Martin Demichelis

Also under severe pressure at the back as Bayern mounted wave after wave of attack, but stood up well. 7

15/22 Gael Clichy

Almost through a big test as the City back four held firm for 89 minutes. 6

16/22 Vincent Kompany

Penned back a lot, but rarely out of position and forced Bayern to find ways round him. 7

17/22 Fernandinho

Forced to undertake lots of defensive work to protect the back four. 6

18/22 Samir Nasri

Involved only occasionally in City's sporadic attacks and was withdrawn just before the hour. 6

19/22 Yaya Toure

Tried to bring the ball forward when given space in midfield but not the rampaging force he can be. 6

20/22 Jesus Navas

Showed his pace and good delivery when City were able to get him into space on the right. 6

21/22 David Silva

Menacing and probing in possession, showing silky skills and creating some chances. 8

22/22 Edin Dzeko

A strong threat up front alone, had opportunities and fought on despite some rugged treatment from Bayern. 8
"But it was an unfortunate deflection that ended up going in, and that killed us.
"I had a bit to do, but we defended well on the whole and had a few chances. It could have been the perfect performance and we come away with a 1-0 win, but unfortunately we ended up with a loss."
Hart's performance bore similarities to another outstanding display against Borussia Dortmund two years ago, when he almost single-handedly defied the Germans at the Etihad Stadium.
Since then, however, his position has been questioned a number of times with a clutch of errors leading to a spell out of the side last autumn.
The England keeper said: "I always seem to have plenty to do when we play in Germany, against good sides, but unfortunately it didn't affect the result.
"I'm not here for headlines - if I was, I would probably have quit. It would have been a good game if we had got the result.
"The only way it would be a good game for me would be if we win the group on goal difference."
Hart was especially hurt that the identity of the goalscorer was a former team-mate, but felt he would have stopped the long-range shot without the deflection.
The 27-year-old said: "Jerome's a good guy and someone I got on well with - you can't hold personal grudges on a football field.
"It was the deflection more than anything. Either I would have got it or it would have gone wide had it not hit the guy, but that's football.
"It was tough, but away from home against Munich you are going to play a bit differently than you would at home and they maybe needed the win that little bit more than us. That makes it a little more disappointing."
City manager Manuel Pellegrini could not carry out any post-match media duties because of his touchline ban.
Instead his assistant Ruben Cousillas, who called the shots from the technical area, spoke of City's misfortune.
Cousillas said: "Definitely we are frustrated. We played a really good game and also (gave) good entertainment for the people.
"We had two teams trying to score goals but to concede in the last minute was frustrating.
"It's the first game, we have only just begun. There are many games ahead and we don't have to be too sad. We can still be first in the group."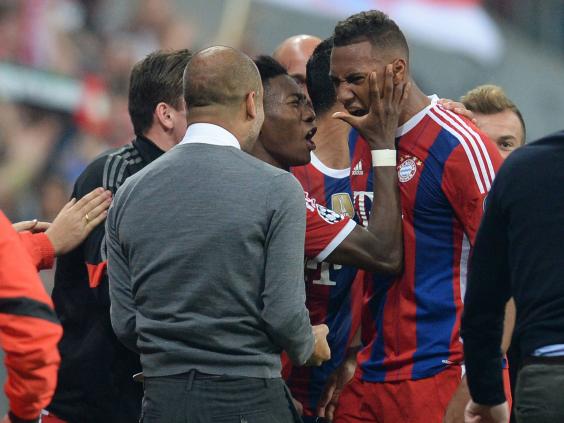 Bayern coach Pep Guardiola felt his side underperformed, despite creating the majority of an entertaining game's chances, but paid tribute to City's resilience.
Guardiola said: "We played well. In the first 20 mins Manchester were better than we were but the last 15 minutes we dominated.
"We created a lot of opportunities to score but it was not easy against them. We played with a lot of courage and we won and we earned it.
"I know Manuel Pellegrini very well, his defensive movements in the back line are first class, almost perfect.
"It is not easy creating so many chances but we were consistent. We tried, we made everything and we deserved it.
"We know how difficult this group is. We know it will not be decided until the last game so to start with this victory is very important for us."
PA
Reuse content