Just when Manchester City seemed to have done enough to suggest that things have changed, a brutal and sobering strike at the death to leave them reflecting once again that the Champions League can be a desperate place.
There were extenuating circumstances. The struggle of Yaya Toure to make an imprint on a game he frankly looked unfit for, despite protestations to the contrary from Manuel Pellegrini's assistant Ruben Cousillas last night. The absence through injury of the key summer acquisition, Fernando, who was purchased with Europe in mind more than anything else, because City's need for defensive balance in a midfield which can often lack it when Toure follows his attacking instincts. They also had a very good penalty claim when David Silva was brought down by Mehdi Benatia in the latter stages, though Pellegrini's assistant Ruben Cousillas refused to question the official's decision late last night
The ifs and buts count for nothing in the final reckoning, though. The truth of another opening defeat in the competition, which has painful echoes of the late defeat to Cristiano Ronaldo's late strike for Real Munich in the opening game at the Bernabeu two years ago, is that City still looked naieve and vulnerable to the kind of predatory teams they will encounter in this competition. They did not look as if they believed they could overcome them. Bayern Munich had two attempts on goal, nine on target; City had eight, two on target. That pretty much told a story of the difference between a German opposition who had seemed there for the taking, with so many injured, and a City side which, with an average of 29, has been built to win the Champions League now.
Joe Hart's display recalled all the heroics of that night in Madrid, another occasion when the midfield was overrun and the side found themselves subjected to waves of attacks. The way his goal was finally breached in the 90th minute revealed the pitifully fine margins that this competition can bring. A powerful 90th minute shot by Jerome Boateng – who returned to Germany from City three years ago because he could not accept being deployed at right back – was deflected off Mario Gotze's back to put Pep Guardiola's out of a very obvious sense of discomfort. But the goal came minutes after Hart had made perhaps the best of half a dozen saves. "I tend to be busy against the Germans," he said last night, though it is time for City to move beyond holding on.
Bayern Munich 1 Manchester City 0 player ratings
Bayern Munich 1 Manchester City 0 player ratings
1/22 Bayern: Manuel Neuer

A quiet night for the world's best 'keeper. Beaten by Dzeko's first half shot, but thankfully for him that beat the goal as well. 6

2/22 Rafinha

Busy bursting forward, but final ball left much to be desired. 6

3/22 Mehdi Benatia

Composed performance from the much-coveted Moroccan, but was hardly over-run. 6

4/22 Juan Bernat

Dealt with the threat of Dzeko with ease for the majority of the contest. 7

5/22 Jerome Boateng

Thrashed home the winner against his former team, and dealt with the threat of Dzeko with ease for the majority of the contest. 7

6/22 Philipp Lahm

Immaculate passing from the right-back-turned-midfielder. Kept Bayern ticking over. 7

7/22 Xabi Alonso

Alongside Lahm, kept Yaya Toure under wraps. His usual passing brilliance came to the fore too. 7

8/22 David Alaba

Despite fizzing in a long-range effort at Hart, had less impact than usual. 6

9/22 Mario Gotze

Got behind the defence with some fine runs from midfield, but the finish was lacking 6

10/22 Thomas Muller

Should have taken early chance better with the goal at his mercy, but was behind all of Bayern's best attacking work. 7

11/22 Robert Lewandowski

Touch eluded the striker when he needed it most. His first-half miss mirrored that of Muller's. More was expected. 6

12/22 Joe Hart

Close to his best, offering a reminder of his quality by producing some brilliant saves to keep City in the game. 9/10

13/22 Bacary Sagna

Kept busy on the flank, especially in defence, but showed plenty of energy and occasionally had to come into the centre to cover. 7

14/22 Martin Demichelis

Also under severe pressure at the back as Bayern mounted wave after wave of attack, but stood up well. 7

15/22 Gael Clichy

Almost through a big test as the City back four held firm for 89 minutes. 6

16/22 Vincent Kompany

Penned back a lot, but rarely out of position and forced Bayern to find ways round him. 7

17/22 Fernandinho

Forced to undertake lots of defensive work to protect the back four. 6

18/22 Samir Nasri

Involved only occasionally in City's sporadic attacks and was withdrawn just before the hour. 6

19/22 Yaya Toure

Tried to bring the ball forward when given space in midfield but not the rampaging force he can be. 6

20/22 Jesus Navas

Showed his pace and good delivery when City were able to get him into space on the right. 6

21/22 David Silva

Menacing and probing in possession, showing silky skills and creating some chances. 8

22/22 Edin Dzeko

A strong threat up front alone, had opportunities and fought on despite some rugged treatment from Bayern. 8
The echoes of the Bernabeu were there from the start. The City midfield was often an open field for the Germans in the early stages. The road which they want to take them to Berlin on June 6 was only 44 seconds travelled when Thomas Muller was put through. The goalkeeper clipped him as he took the ball around the left route and the striker's reward for staying honest, on his feet, was the sight of his shot clipping the side netting. Hart could count himself as lucky as Silva was aggrieved.
There was nothing entirely new about the source of City's imbalance. Yaya Toure's advances, the singular source of City's energy and drive, left the rearguard exposed in a way that Fernandinho could not always cope with. When Toure seizes the ball and moves from his nonchalant paddling around the centre circle to advance mode he looks as dangerous as anyone on the continent. Periodically, that was the picture last night. But his advances left City as exposed  behind him as when Chelsea won at the Etihad last season, in another defining game
German profligacy kept City in contention. Hart was given shots to save by Mario Gotze and David Alaba, Robert Lewandowski did not cover himself in glory and after weathering what Bayern immediately threw at them City created something of their own. Dzeko, selected ahead of Sergio Aguero for the greater physical presence he provides as a lone striker, went close early on, when he followed David Silva's ball to the left touchline and forced Manuel Neuer into a sharp save. But the Germans looked comfortably more likely to convert attacking possession into chances.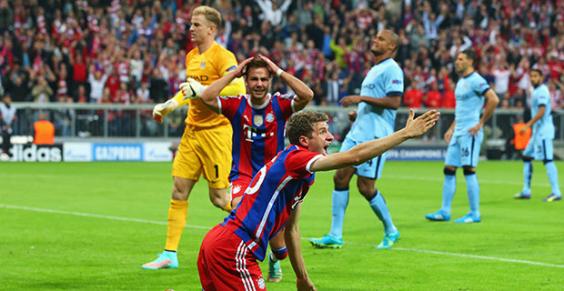 City turned to James Milner to deliver some of what he had provided in their recovery from the ropes to win 3-2 here last December. His arrival for Samir Nasri was one of the night's more elementary decisions. The Frenchman did not manage to make inroads into the game. But Milner also created immediate balance, strengthening the central areas alongside Fernandinho for City and freeing Toure into an advanced role. Toure's seeming lack of fitness was a problem. The sight of Mehdia Benatia easing past him - Toure not offering so much as a challenge - as the game entered its last ten minutes said a lot.
Milner was involved at the inception of a move which demonstrated City's fire for the first time - locating Silva, who followed his raking 20-yard pass out to Jesus Navas with a run into the area where his marginal miscalculation with the winger's returned cross saw him nod the ball wide.
But there were more heart-stopping moments for Pellegrini's side. In a rare blemish, Hart fumbled a Rafinha cross straight to Muller's feet was saved from by the fact that the striker was offside. Some moments of outstanding individual defending were also needed. Sagna might not provide the attacking width of Pablo Zabaleta but the new level of security he brings was even more evident in the second half. Martin Demichelis' vital interception in a move built out of Navas' inattention on the right potentially affected the course of the evening.
Though officialdom affected the course of those last minutes, denying Silva, it was substitute Arjen Robben who turned the night the Germans' way. His penetration helped set up the winner. Early days in this group but the road seems a long one.
Reuse content