There are things that are far more important in life than football. 
If you ask most people that would include family, friends, happiness....
According to Uefa, it would also include cold, hard cash and ensuring that you don't upset broadcasters.
"It was so loud it reminded me of the war," said one eyewitness of Tuesday's terrorist attempt on the lives of Borussia Dortmund's players, players who went through a uniquely traumatic event as criminals with suspected Islamist motives tried to blow up their bus with three explosive devices. 
Borussia Dortmund Team bus attack
Borussia Dortmund Team bus attack
1/8

Police stand near team bus of the Borussia Dortmund football club after it was damaged in an explosion in Dortmund, Germany

Getty Images

2/8

Team bus of Borussia Dortmund is seen on a street after it was hit by three explosions in Dortmund, Germany

EPA

3/8

According to reports, Borussia Dortmund's team bus was damaged by three explosions, as it was on its way to the stadium ahead of the UEFA Champions League soccer match between BVorussia Dortmund and AS Monaco

EPA

4/8

Police escort Dortmund's players after the team bus of Borussia Dortmund had some windows broken by an explosion some 10km away from the stadium prior to the UEFA Champions League 1st leg quarter-final football match BVB Borussia Dortmund v Monaco in Dortmund, western Germany

Getty Images

5/8

The match was postponed after a explosion targeted the Borussia Dortmun football team

Rex

6/8

Police cars stand in front of the main entrance of the Dortmund training ground as Dortmund's players arrive one by one in their cars in Brackel, one day after the explosives attack on the Borussia Dortmund team bus prior to the UEFA Champions League 1st leg quarter-final football match BVB Borussia Dortmund v Monaco

Getty Images

7/8

Fans hold posters 'You'll never walk alone' when Dortmund player Pierre-Emerick Aubameyang leaves the training ground of the team in Dortmund, western Germany,

AP

8/8

A team bus arrives at the training grounds of Borussia Dortmund in Dortmund, German

AP
German prosecutors said how fortunate the team had been to escape without any casualties - a shard of metal embedded in one of the bus' headrests serving as a chilling nod to what further tragedy might have occurred. 
Uefa, on the defensive, have already tried to snuff out criticism from fans, players, coaches and media alike for scheduling players who, fewer than 24 hours before, had been the subjects of an attempted mass murder. 
Teflon corpo speak, rather than genuine concern, appears to be the order of the day:
"The decision to play the Uefa Champions League match between Borussia Dortmund and AS Monaco FC on Wednesday at 18.45CET was made on Tuesday night at the BVB Stadion Dortmund in cooperation and complete agreement with clubs and authorities," they said on Thursday morning.
"Uefa was in touch with all parties on Wednesday and never received any information which suggested that any of the teams did not want to play."
Perhaps, then, you should have asked?
Thomas Tuchel, Dortmund's coach, paints a very different picture of events to the sanitized exec-generated babble dribbling like sewage out of Uefa's shiny Nyon headquarters.
"We were informed by text message that Uefa was making this decision," he said, as if it were shiny-domed briefcase-on-legs Gianni Infantino arriving late for a dinner reservation.
"A decision made in Switzerland that concerns us directly. We will not forget it. It is a very bad feeling.
"A few minutes after this attack, the only question that was asked was, 'Are you ready to play?'. As if we had had a beer can thrown at our coach.
"At that time, we did not know the reasons for this attack. There is a feeling of helplessness. The date was imposed on us. What we think has not interested anyone. We weren't asked about playing the game."
Dortmund's performing seals, ringed by the dazzle of screaming LED sponsors and broadcast to hundreds of millions, were trotted back out onto the field by European football's governing body in virtually unprecedented circumstances. 
"[Uefa] have to understand that we are not animals," said defender Sokratis Papastathopoulos, but whoever made this decision was certainly not taking into account the human element of what occurred near Höchsten on Tuesday.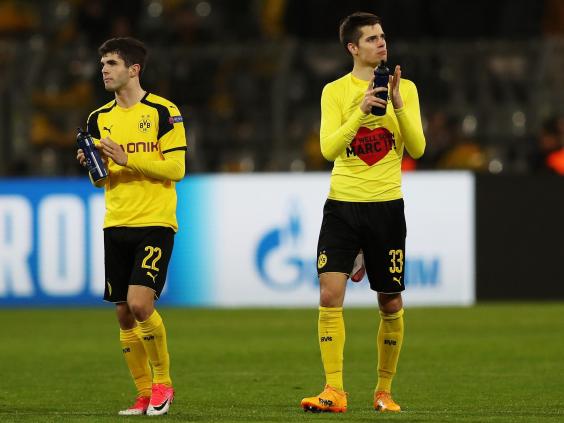 There were a procession of Dortmund players ready to chastise the footballing authorities for a decision that was short-sighted and, really, callous. Lothar Matthaus revealed that Uefa had pressurised the players into taking the field against their wishes.  
Imagine being the shameless lizard in a suit who is more worried about what Nissan or Heineken's sponsorship liaisons might say than the state of these young men.
Curiously there is also a contingent of people who appear to think footballer's wages bear relevance to how quickly they should mentally recover from the trauma of a bomb attack. When a bank balance can be converted into something that can neatly box up human emotion and send the negative ones to a junk folder, that argument may begin to hold water.  
Until then, people will need time and help. Not 22 hours and a pat on the back as they made their way onto the field. 
Dortmund, a side known for having a particularly exciting but young core, looked shell-shocked as they went 2-0 down early on - Nuri Sahin later admitted he didn't even think about football until the second half - but eventually rallied to a 3-2 defeat.
It gives Dortmund a chance in Monaco next week, albeit a slim one, but the result is ultimately an irrelevance after players suffered what police have since confirmed was a serious attempt on their lives, a terrorist attack, a near-tragedy. 
"We are human beings," pleaded Sahin post-match. "There is so much more than football in this world."
It is too late this time, but Uefa would do well to remember that.
Reuse content