Arsene Wenger conceded tonight that his Arsenal team had been outplayed in their 2-0 defeat to Borussia Dortmund which could have been much more severe had the German side taken more of their chances.
Wenger also said that Jack Wilshere turned his right ankle in the game and will have to go for a scan today on the injury, which Arsenal hope is not serious. Wenger said: "It's difficult to say how bad it is. I'm a bit cautious because of his history. Normally it's not too bad."
Otherwise the Arsenal manager accepted that his team were a distant second-best on the night. "It was a difficult night," he said. "Congratulations to Dortmund, they were the better team. We had a disappointing performance and overall the result is normal. Still the paradox of the night is that we had very good chances to score first. We were caught on two counter-attacks. It was very difficult.
On the first Dortmund goal, a brilliant run from Ciro Immobile, Wenger said: "We were still three against one at the back and it's difficult to understand how we conceded the goal. We lost the ball 80 metres from our goal but there were enough people to stop the goal.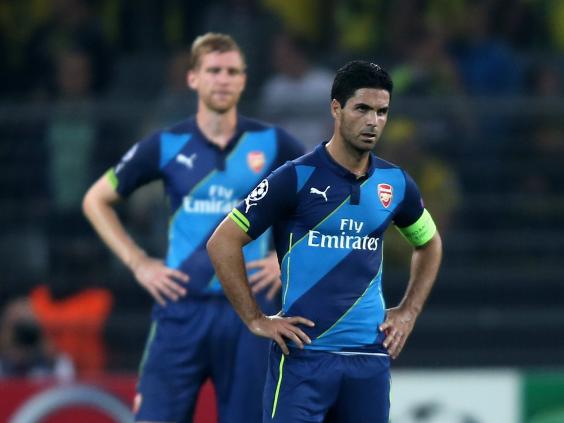 "They were very strong in midfield, stronger than us, I agree. On the night it is difficult to go into individual assessment of any player because as a team were not at the required level."
Aaron Ramsey, substituted after the hour, tweeted an apology to supporters. He posted: "That wasn't good enough tonight, sorry to all the fans and thank you for your support."
Mikel Arteta said: "We faced a top side at one of the toughest stadiums in Europe. After you go 1-0 down here it is difficult to recover. They have a lot of pace up front and we gave the ball away too many times. They took the game where they wanted to take it."The Dortmund managr Jurgen Klopp said: "I am very pleased. We had three players out of the team because of muscle problems, but we made some decisions and I have to say it was a great performance by the team. Really strong. We were brave, we were fast and that is everything we needed for this game. I enjoyed this game from the first second until the last ... To see games like this, it is the best in the world."
Reuse content