Barcelona captain Carles Puyol has announced he will be leaving the Spanish champions at the end of the season.
The 35-year-old Spain international had a contract with Barca until 2016 but has reached an agreement with the club to rescind the final two years of the deal.
Puyol, who has spent his entire career at Barcelona and made his first-team debut in 1999, made the announcement at a press conference on Tuesday afternoon.
He said: "I want to announce that at the end of the season I will no longer be a Barcelona player.
"There are three months of the season left and I will not give up. I will help the team."
The defender, who only signed his contract extension with Barca a year ago, has seen his career disrupted by injuries.
In his career he has suffered a total of 36 injuries in 15 campaigns with the first team, eight of which have been knee problems.
This season he has been limited to just five appearances in La Liga, one in the Champions League and six in the Copa del Rey.
Carlos Puyol and the Barcelona legends
Carlos Puyol and the Barcelona legends
1/15 Samuel Eto'o - 2004-2009

Samuel Eto'o scored 152 goals in his 232 games for the Spanish side. He scored in both the Champions League final in 2006 and 2009. Eto'o now plays for Chelsea under once Barcelona assistant Jose Mourinho.

Getty Images

2/15 Ronaldinho - 2003-2008

One of Barcelona's most exciting players to watch, Ronaldhino scored 110 goals in 250 appearances winning FIFA World Player in 2004 and 2005 as well as the Golden Ball during his time with the Spanish club.

GETTY IMAGES

3/15 Diego Maradona - 1982-1984

Despite only playing 73 games for the side due to injury and illness, Maradona won all three major Spanish trophies at the club, and even had Real Madrid fans applauding one of his goals at the Bernabau following a sublime chip.

GETTY IMAGES

4/15 Lionel Messi - 2004-present

Although yet to leave the club, Messi will undoubtedly go down as one of Barcelona's greats. Winner of the Ballon d'Or four times and Barcelona's all time record goal scorer, he was the youngest player to score 200 La Liga goals, at just 25.

GETTY IMAGES

5/15 Xavi - 1998-present

Xavi has been an integral part of Barcelona for over a decade. Since making his debut in 1998, he has won 22 major trophies for the club, including three Champions League titles and and seven La Liga championships. The midfielder has over 460 appearances for Barcelona.

GETTY IMAGES

6/15 Carlos Puyol - 1999-2014

Since debuting back in 1999, Puyol's presence in the Barcelona squad has allowed his team to win numerous trophies as well as individual accolades for himself. Appearing more than 400 times, the defender has won three Champions League titles and two Spanish Cups.

GETTY IMAGES

7/15 Johan Cruyff - 1973-1978

The Dutchman exploded onto the scene when he signed with Barcelona in 1973. Cruyff helped the club to their first League title in 14 years that season. He returned to the club as coach in 1988 winning four league titles and the European Cup for the first time at Wembley in 1992 with the famous 'Dream Team'.

GETTY IMAGES

8/15 Pep Guardiola - 1990-2001

Guardiola was one of Barcelona's great players to not only play for the club but also manage it. During his time as a player he won the European Cup and six League Cups. In his first season in charge at Barcelona, he led the team to the first treble in Spanish football history in 2008/9.

GETTY IMAGES

9/15 Michael Laudrup - 1989-1994

The Danish striker was considered one of the finest passers in football during his time at Barcelona, and was notoriously dangerous for his one on one skill. He left the club however for Real Madrid in 1994 and was recently fired as manager of Swansea City.

GETTY IMAGES

10/15 Romario - 1993-1995

Despite not being at the club for very long, he made an immediate impact after his signing in 1993, scoring 30 goals in 33 league games. Despite his on the field form, he regularly took more holiday than he was allowed and was subsequently let go by the club in 1995.

GETTY IMAGES

11/15 Laszlo Kubala - 1950-1961

Kubala scored 280 goals in 345 appearances for the Spanish side. He was part of the golden age of the club, winning four league titles and five Spanish Cups. He died in Barcelona in 2002 and was posthumously given the gold medal of merit in recognition of his work for the club.

GETTY IMAGES

12/15 Andres Iniesta - 2002-present

Since making his debut for the club in 2002, Iniesta has seen the latter part of his career at the club become his most productive. Iniesta has been voted into the FIFA World XI five years in a row and was named man of the match in the 2010 World Cup Final for Spain. The midfielder has played over 320 times for the club, scoring 31 goals.

Getty

13/15 Hristo Stoichkov - 1990-1995, 1996-1998

One of the clubs most beloved characters, Stoichkov was a fan favourite, especially after saying 'Real Madrid made me sick'. He is the only Barcelona player to win the European Cup (1992), the World Cup Golden Boot (1994) and the Ballon d'Or (1995).

GETTY IMAGES

14/15 Andoni Zubizarreta - 1986-1994

One of Barcelona's greatest goalkeepers, Zubizarreta appeared in nearly 500 games for the club and was a captain for several seasons. He helped Barcelona win their first European Cup in 1992, with a clean sheet against Sampdoria.

GETTY IMAGES

15/15 Ronald Koeman - 1989-1995

Another central figure in Barcelona's 'Dream Team', he scored 102 goals in his six year period at the club, an incredible tally for a defender. He was also remembered as being an incredibly reliable penalty taker.

GETTY IMAGES
He said: "After two recent surgeries, it has become harder for me to recover the level that I demand of myself and that I need to be at to play here."
As to what he plans to do after leaving the Nou Camp, Puyol admits he is not sure yet - save to take a break.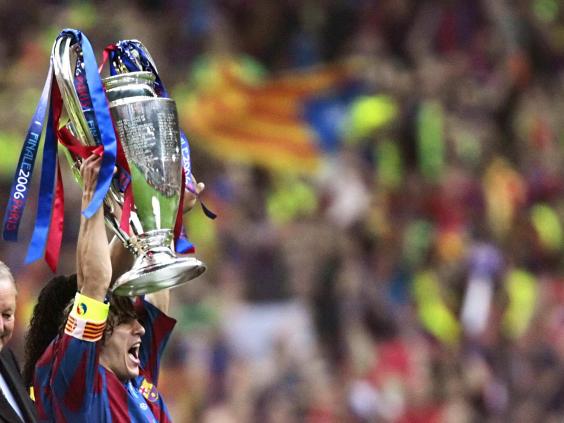 "I don't know what I will do after June 30," he said. "But I'm sure than in the summer I will rest.
"I would like to have a press conference at the end of the season to say a proper goodbye after a total of 19 years at the club."
Puyol came through Barca's youth ranks and made his Primera Division debut in the 2-0 victory at Real Valladolid in October 1999.
He has made 593 appearances for the Catalan giants and is the second most capped player in the club's history behind current team-mate Xavi.
During his time with the first team, Puyol has won numerous trophies, including six La Liga titles, three Champions League crowns, two Spanish Cups and two FIFA Club World Cups.
The veteran central-back was also a pillar of the Spanish national side, making 100 appearances for La Roja between 2000 and 2013.
Puyol was a member of Spain's triumphant teams at Euro 2008 and the World Cup two years later.
He missed Euro 2012 with a knee injury and made his last appearance for Spain in a friendly against Uruguay in February 2013.
PA