Manchester United striker Marcus Rashford struck a stunning second half free-kick to secure a 1-0 win at Celta Vigo in their Europa League semi-final, first leg on Thursday.
The victory puts United on course for this month's final with Ajax Amsterdam the most likely opponents after they beat visiting Olympique Lyonnais 4-1 in their first leg on Wednesday.
Until the goal United's finishing had been poor with Celta keeper Sergio Alvarez thwarting them several times. However he was powerless to stop Rashford's 67th minute free-kick
Relive all of the action below...
Preview...
An injury ravaged Manchester United squad will still be favourites against out-of-form Celta Vigo, who have lost all three of their most recent matches.
United's Premier League top four hopes were dealt another blow at the weekend when Gylfi Sigurdsson's free kick sailed into the top corner past David De Gea to steal Swansea a point from Old Trafford.
The Europa League now presents their most realistic chance of qualifying for next season's Champions League, so Mourinho's men will need to be on their game. The Spanish side should not be taken lightly, as their main focus will be the Europa League as a result of their comfortable mid-table position domestically.
Celta Vigo sit 13th in La Liga but have performed well in the Europa League losing just 2 games, the same as United, beating Genk and Shakhtar Donetsk on the way to the semi-finals. Top scorer Iago Aspas will be looking to capitalise on United's defensive injury crisis which will see Luke Shaw, Eric Bailly, Timothy Fosu-Mensah and Marcos Rojo all sidelined, while first choice striker Zlatan Ibrahimovic is out long term after a knee injury ended his season.
What time does it start?
Celta Vigo vs Manchester United kicks off at 20:05 on Thursday 4th May.
Where can I watch it?
The match will be shown live on BT Sport 2 from 19:30. Highlights will be shown on BT Sport 3 at 01:00 on Friday 5th May.
The players Mourinho has fallen out with
The players Mourinho has fallen out with
1/14 The players Jose Mourinho has fallen out with

Mourinho's treatment of the young full-back Luke Shaw has made headlines, with the manager angrily accusing the 21-year-old of not applying himself in training, before hinting he could farm the player out on loan. But Shaw is far from the first player Mourinho has spectacularly fallen out with...

Getty

2/14 Vitor Baia

The former Portugal goalkeeper started and ended a glittering career at Porto, having also spent two years at Barcelona. But Baia did not have it all his own way during his second spell, losing his first-team place and suspended for disciplinary reasons in Mourinho's maiden season as boss following a reported training ground row with his compatriot. Baia remained at the club until he retired in 2007, three years after Mourinho left for his first stint at Chelsea.

AFP/Getty

3/14 Ricardo Quaresma

Quaresma was meant to be Inter's star player under Mourinho, but the manager grew impatient with his ill-discipline and resorted to critiquing him in the press, which didn't go down well with the player. "My biggest regret was joining Inter," Quaresma later said. "I felt on the margins of the squad and woke up crying when I had to attend training sessions."

Getty

4/14 David Suazo

Mourinho failed to give David Suazo much of a chance when he took over at Inter in 2008 and criticised him in the press before farming him out on loan to Benfica. "Mourinho is arrogant and selfish, and likes to assert his dominance," Suazo later told the Honduran publication, Diez.

AFP/Getty

5/14 Romelu Lukaku

"The thinking behind the move was the fact that Romelu was always very clear with us, in his mentality, in his approach, he was not highly motivated to come to a competitive situation at Chelsea," Mourinho said after allowing Lukaku to leave Chelsea for Everton in 2014, for £28m. The striker has recently been linked with a summer move to Mourinho's United, for £65m.

Getty

6/14 Kevin de Bruyne

The Belgian infamously revealed that he gave up on his Chelsea career after Mourinho had embarrassed him in front of his team-mates. "He called in all the attacking midfielders," said De Bruyne of his final weeks in west London. "He showed us the stats of his six players - assists, goals, passing percentage, key passes, dribbles. He wanted to prove I didn't perform on the level of the others. I simply answered him: 'Sorry, that's not logical. I've played less games than the others. How can you compare me to the others?' That was just not fair in my eyes."

AFP/Getty

7/14 Juan Mata

Mata became a fans' favourite at Stamford Bridge after arriving at Chelsea from Valencia in 2011. However, the Spaniard struggled to adapt to Mourinho's style of play during his second spell in charge of the Blues and was sold to Manchester United in 2014. Mata and Mourinho were later reunited at Old Trafford and the former has now become an important player for his manager in Manchester.

Getty

8/14 Iker Casillas

The Madrid legend was one of the first players Mourinho fell out with after joining the club in 2010. Mourinho was disgusted that Casillas regularly spoke to Barcelona players and was said to be suspicious of his girlfriend, who worked as a journalist. "Mourinho saw him as a grass, a mole, a traitor and an egoist," Diego Torres wrote in his biography, 'The Special One'.

Getty

9/14 Sergio Ramos

Current Real captain Ramos was a key player during Mourinho's three year stay in Madrid, although the pair were far from friends. Ramos went public with his dismay at Mourinho's treatment of Mesut Özil and insisted in a 2014 interview that he had forgotten who Mourinho was.

AFP/Getty

10/14 Pepe

The pair frequently bickered during Mourinho's time at Real, although like Ramos, Pepe remained a key part of Madrid's starting XI. Pepe accused Mourinho's treatment of his friend Casillas as being "not adequate". Mourinho replied: "It is easy to analyse the Pepe thing. His problem has a name, and it is Raphael Varane," suggesting that Pepe wasan inferior player to the emerging 20 year old.

AFP/Getty

11/14 Pedro Leon

Similar to Luke Shaw, Pedro Leon was a young player inherited by Mourinho whom he almost immediately dismissed. The Guardian's Sid Lowe reported that "Mourinho told Leon that even if the team plane crashed without him on it and he was the only man available, he still would not play the following week." Leon accused Mourinho of workplace bullying before being sold to Getafe.

AFP/Getty

12/14 David Luiz

Mourinho sold Luiz upon his return to Chelsea and insisted that the defender "would not be missed". The pair have regularly traded jibes since and Luiz perhaps got the last laugh when Chelsea resigned him in 2016, under Antonio Conte.

AFP/Getty

13/14 Bastian Schweinsteiger

Frustrated with Schweinsteiger's habit of flying back to Germany when injured, Mourinho banished the veteran midfielder to training with the reserves. However, in a possible sign that he had mellowed, Mourinho later admitted to feeling regret over his handling of the player. "After knowing him as a person and a professional and the way he was respecting my decisions as a manager, yes I regret [it] and there is no problem for me to admit it, because I have told him," he said after selling the midfielder to the Chicago Fire.

Getty

14/14 Luke Shaw

Mourinho's rant on Shaw's lack of effort in recent months was one of his most explosive yet. "It is difficult for him to be on the bench," Mourinho said. "I cannot compare him with Ashley Young, with Matteo Darmian, with Daley Blind. I cannot compare the way he trains, the way he commits, the focus, the ambition. I cannot compare. He is a long way behind."

Getty
It's a big game for…
Daley Blind. The Dutch utility player will be tasked with organising United's makeshift defence and will be tasked with shutting out the in-form Iago Aspas. Blind has failed to assert himself since Mourinho arrived at Old Trafford and with the summer transfer window approaching, Blind has the chance to prove his worth to his manager.
Best stat…
25: United boast a 25 game unbeaten run but have suffered due to too many draws: 8 of their last 14 games have ended tied. The two teams have almost identical scoring records across the league and Europa League, with Manchester United scoring 70 and Celta Vigo 69.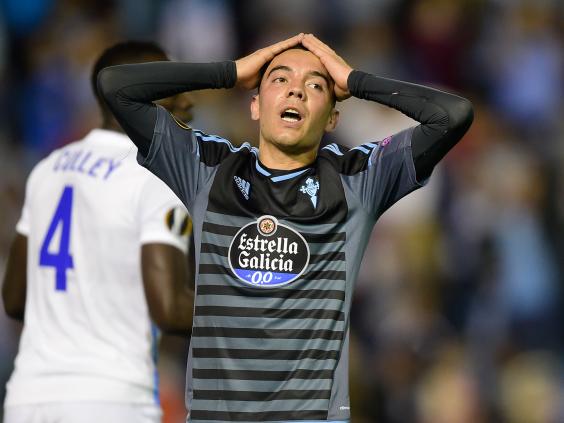 Player to watch...
Iago Aspas: The striker has a point to prove after his disappointing spell at United's rivals Liverpool, where he failed to score at all. Since his return to Celta Vigo in 2015, he has scored 31 goals in 64 games, and already has 25 goals in all competitions this season.
Past three-meetings…
This will be the first meeting between the two sides.
Form guide…
Celta Vigo: LLLDW
Manchester United: DDWWW
Odds…
Manchester United to win: 5/3
Celta Vigo to win: 7/4
Draw: 28/13
(Odds provided by 888 Sport)
Reuse content