It said much about the excitement of this season's Champions League that, although one of the most exhilarating sides in the competition had just come from behind to brilliantly win their second leg against Benfica 4-0, their manager Thomas Tuchel only really wanted to talk about the other game happening at the same time.
The Borussia Dortmund boss went on a rather lengthy monologue about how his squad reacted to the Barcelona result.
"We all stood there like we were involved ourselves, all in a party mood," Tuchel said. "When it happened, it was insane. We thought before that we would be the exciting news, but compared to that we were boring."
The story of Barcelona's incredible comeback
The story of Barcelona's incredible comeback
1/13

Barcelona's night got off to the best possible start with Luis Suarez scoring in the 3rd minute.

Getty

2/13

Excellent improvisation from Andres Iniesta caused Layvin Kurzawa to convert the ball into his own net.

Getty

3/13

After the half-time interval, Lionel Messi put his name on the scoresheet from the penalty spot.

Getty

4/13

However, when Edinson Cavani grabbed a vital away goal for the visitors, Barca's hopes looked lost.

Getty

5/13

Cavani could not hide his emotion after scoring the goal which, at that point, had looked to have ended Barcelona's hopes of qualifying.

Getty

6/13

Three minutes from time, Neymar struck back with a splendid free-kick which beat Kevin Trapp at his near post.

Getty

7/13

Into stoppage time, and after Marquinhos' foul, Neymar converted Barcelona's second penalty of the night.

Getty

8/13

In the final minute of added on time, Neymar's lofted pass found Sergi Roberto in the box.

Getty

9/13

The 25-year-old lifted the ball over Trapp and into the far corner to complete the Champions League's greatest-ever comeback.

Getty

10/13

Sergi Roberto was duly mobbed by his teammates, as scenes of pandemonium spread around the Nou Camp.

Getty

11/13

Unai Emery, meanwhile, could not look.

Getty

12/13

As our chief football writer Miguel Delaney wrote, the night was one of the sublime, the ridiculous, and the historic.

Getty

13/13

Barcelona progress into the quarter-finals, along with Bayern Munich, Real Madrid and Borussia Dortmund.

Getty
Compared to that, too, the plight of Arsene Wenger's Arsenal against Bayern Munich no longer seemed so profoundly dismal. Paris Saint-Germain's collapse took at least some of the pressure, but also emphasised how rich this Champions League last-16 has been; just how many storylines and staggering moments have fired it. If the group stages were again dull, this has been anything but. It has exploded. Even the most repeatedly played ties, like Arsenal-Bayern and Barca-PSG, ended up offering events so sensational and new that it no longer mattered how many times they'd met in the recent past.
Consider what this last-16 has seen so far. There has been: the end of Leicester City's fairytale in its purest sense with the sacking of Claudio Ranieri after defeat to Sevilla; the double humiliation that could well prove the landmark losses in Wenger's own departure from Arsenal; one of the greatest ever Champions League games - and maybe Manchester City's true arrival in the competition - with that 5-3 victory over Monaco then surpassed with what happened at Camp Nou just two weeks later; the supposed end of an era for Barcelona at Parc des Princes with a stunning thrashing, only to then have a game for the ages, with PSG entering their own psycho-drama. And those are just the main plots. Some of the sub-plots, then, would be headline news on their own terms in other seasons: Neymar taking centre stage for Barca; Radamel Falcao's rousing resurgence… and missed penalty; the statement performances of Kylian Mbappe; Atletico Madrid dangerously coming to form as they try and finally win this competition; Sergio Ramos' latest heroics.
And there might yet be more to come.
Leicester City should have been hammered by Sevilla in the first leg and effectively be out of the competition, but will now be further emboldened by the narrowness of 2-1 defeat thanks to the change that has come over the squad since the change of management. They should also be emboldened by history. In promoting Craig Shakespeare as interim coach at this exact point in the continental season, they have followed the example of two previous English clubs: Aston Villa with Tony Barton in 1982; Chelsea with Roberto Di Matteo in 2012. Both ended up doing the improbable and winning the competition. That may sound ludicrous with Leicester at this point, but that was the case for both of those sides, who just seemed to catch that kind of rare and special cup momentum. It's not exactly like this last-16 has been predictable either. Leicester may feel something similar against a Sevilla side who are suddenly a little off the boil.
Monaco themselves will gain hope by what happened to their French title rivals PSG and feel they can overturn the 5-3 deficit to City, especially given Pep Guardiola's own admissions about how they will need to score. That could be one of the deepest effects of the Barcelona comeback this season, that it fosters a further mood of adventure; that it inspires sides to go for it; that it deepens their drive. Tuchel has already admitted that's the case, and that is very promising for the competition as a whole.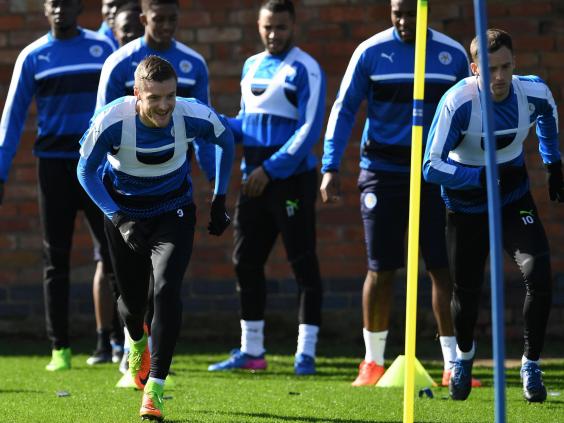 It also touches on a wider theme as to why we've seen this. Ever since 2008 - and, appropriately, the first influences of Barcelona's pressing-possession game - goal averages in the competition have shot up, from around 2.5 to close to 3. More proactive football has been the norm, and even reactive teams like Atletico Madrid have perfected how triumphantly devastating they are in transition.
It feels like this season has seen a further glorious combination of circumstances to maximise that, from the form some of the sides happen to find themselves as they approach the gripping tension of knock-out football to the fact the big three of Real Madrid, Bayern Munich and Barca aren't so very far ahead of everyone else in the way they have been. They all have flaws, and it has helped set up a near-perfect last 16 so far.
It's certainly difficult to think of a campaign with so many storylines, and so many stunning moments.