Forget the Lionel Messi records, the fact Neymar and Luis Suarez are in the team, three European Cups won in the last eight years, and last year's last-16 result; Manchester City can beat Barcelona this time around.
Barça coach Luis Enrique has already used 22 different line-ups in 22 different games this season and the team has looked disjointed as a consequence. They have lost to Paris Saint-Germain and Real Madrid away, and although they beat PSG at home last week it only served to illustrate the coach's incoherence as he picked a completely different side to face Getafe on Saturday and they spluttered to a goalless draw.
The weekend before they had been just as poor against Espanyol but were saved by a Messi hat-trick as they won 5-1 – his magic is covering a multitude of sins.
The midfield that was once their greatest weapon is now the biggest weakness. In an exclusive interview in The Independent at the weekend, the Real Madrid assistant coach, Paul Clement, was talking about getting the ball beyond the first line of pressure and making Barça's midfielders work defensively when he said: "Xavi and Iniesta are great players but they are not getting any younger."
There has been a grave failure to rejuvenate, with the nonsensical sale of Thiago Alcantara to Bayern Munich last year and the criminal turning down of Toni Kroos in the summer speeding the decay. In defence, Dani Alves continues at right-back because there is no alternative. Douglas was signed but even supporters of his former club Sao Paulo were shaking their heads at that £4.4m move, and  he has started only one league game.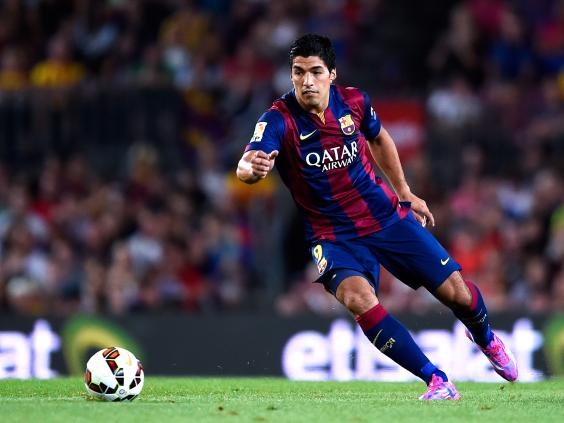 In attack the parts have been greater than the sum with Suarez yet to score in the league. The components are similar to the Thierry Henry, Samuel Eto'o, Messi attack that Barça boasted under Guardiola, but Luis Enrique is no Pep.
The team does not move in the same way as it did under Guardiola. The well-rehearsed passing moves that would suck rival teams into spaces they did not want to occupy and then cut through them are long gone. In his Independent column recently Paul Scholes observed that they now lack the "breathtaking speed and penetration" of old. He is saying nothing Barcelona supporters disagree with.
Luis Enrique said yesterday that things will have changed come February and March when the games against City are played. Fans doubt that. There is a stubbornness to the coach that will bring conflict with the dressing room before it brings compromise, and the transfer window will deliver no respite because Barcelona are banned from using it.
Champions League 2014/15: The Last 16
Champions League 2014/15: The Last 16
1/12 Atletico Madrid

Best CL finish: Runners-up (1973/74, 2013/14) Dangerman: Mario Mandzukic Manager: Diego Simeone

Reuters

2/12 Monaco

Best CL finish: Runners-up 2004 Dangerman: Joao Moutinho Manager: Leonardo Jardim

3/12 Borussia Dortmund

Best CL finish: Winner 1997 Dangerman: Ciro Immobile Manager: Jurgen Klopp

Getty Images

4/12 Chelsea

Best CL finish: Winner 2012 Dangerman: Diego Costa Manager: Jose Mourinho

Glyn Kirk/AFP

5/12 Porto

Best CL finish: Two-time winner Dangerman: Jackson Martinez Manager: Julen Lopetegui

Getty Images

6/12 Juventus

Best CL finish: Two-time winner Dangerman: Paul Pogba Manager: Massimiliano Allegri

Getty Images

7/12 Basel

Best CL finish: Quarter-final in 1974 Dangerman: Marco Streller Manager: Paulo Sousa

GETTY IMAGES

8/12 Bayer Leverkusen

Best CL finish: Runners-up 2002 Dangerman: Lars Bender Manager: Roger Schmidt

Getty Images

9/12 Arsenal

Best CL finish: Runners-up 2006 Dangerman: Alexis Sanchez Manager: Arsene Wenger

Getty Images

10/12 Manchester City

Best CL finish: Last 16 (2013/14 2014/15) Dangerman: Sergio Aguero Manager: Manuel Pellegrini

Getty Images

11/12 PSG

Best CL finish: Semi-finalists (1995) Dangerman: Zlatan Ibrahimovic Manager: Laurent Blanc

12/12 Shakhtar Donetsk

Best CL finish: Quarter-final in 2011 Dangerman: Douglas Costa Manager: Micea Lucescu

Getty Images
They blamed the state of the pitch and the 4pm kick-off for the draw with Getafe. Yesterday, attention was being drawn to the second leg against City on 18 March coming just three days before the season's second Clasico against Real Madrid – that will only add to Luis Enrique's temptation to tinker.
Barcelona supporters joked about "hot balls" being used in the draw after Real drew Schalke. The harsh reality is that on current form Real could take on all-comers; it was Barça who needed a favour – and they didn't get one.
Reuse content