The Champions League without Manchester United is like Christmas without Morecambe and Wise and to Louis van Gaal their return to the European elite would have been as familiar as a chorus of "Bring Me Sunshine" to a  family on the sofa.
When he won his first Eredivisie title with Ajax 21 years ago, PSV Eindhoven were the moneyed, dominant club Van Gaal swept aside. They were the club that in 2007 stole the championship from him on the final day of the season when all his AZ Alkmaar side had to do was win at home against Excelsior Rotterdam. Last night he joked that when he was in charge of the Netherlands, PSV fans would ask him for photos and autographs.
Just before he accepted that job, he had been offered the position at the Philips Stadion but as PSV's director of football, Marcel Brands, reflected: "Not everyone in the club agreed with it." Chief among them was Eindhoven's newly appointed captain, Mark van Bommel, who had fallen out badly with Van Gaal at Bayern Munich.
"For me, it has been a difficult place," the Manchester United manager said on his return to Eindhoven. "I did not win so many times here, not when I was manager of Barcelona and not when I was with Ajax."
Provided United avoid defeat here, something they failed to do on their last visit to Eindhoven in 2000, Van Gaal would take not winning – especially since Wayne Rooney was not fit enough to travel.
"An away draw," he said, "is always good in the Champions League." That would be especially true of United, who under Sir Alex Ferguson and David Moyes won one of their last seven away games in the competition.
Champions League draw in full
Champions League draw in full
1/32 Group A: PSG

Having won the French domestic league three times in a row, PSG must now look to a big performance in the Champions League to truly cement themselves among the rest of the European elite. Big spending in recent seasons has still not seen them progress beyond the quarter-final stage, where they have exited in each of the last three seasons. However, they look stronger than ever having completed the biggest transfer saga of the summer by signing Angel Di Maria from Manchester United, a man with experience of winning the competition.

Getty Images

2/32 Group A: Real Madrid

The most successful team in the competition's history failed to add to their 10 European titles when they were shocked by Juventus in their previous campaign. Despite winning the competition a year earlier, this proved costly for Carlo Ancelotti who was promptly removed as manager. Replacement Rafa Benitez has not impressed the fans, and so the Spaniard will need a strong showing in this competition to earn their faith. Even without a traditional 'galactico' signing this summer, the threat Real pose through the likes of Cristiano Ronaldo and Gareth Bale is huge.

3/32 Group A: Shakhtar Donetsk

Another team who look to have weakened rather than strengthened over the summer, the Ukrainians lost two of their biggest names in this transfer window. Douglas Costa left to join Bayern Munich, while Luiz Adriano – who equalled Cristiano Ronaldo's record nine group stage goals last season – has departed for AC Milan. Without any significant additions to replace them, it's hard to see Shaktar improving upon their round of 16 appearance last season.

GETTY IMAGES

4/32 Group A: Malmo

Last season marked their first appearance in the group stages of the Champions League, where they unsurprisingly failed to even make it into the Europa League. They'll look to better the three points they managed last time around.

Reuters

5/32 Group B: PSV Eindhoven

With the promise of a relatively short away trip, and arguably the weakest of all the pot one teams, PSV are the name the English contingent in pot two will be hoping to draw. Having lost captain Georginio Wijnaldum to Newcastle, and prized asset Memphis Depay to Manchester United, PSV look incapable of posing threat to the leading teams. The Dutch side do have a European title to their name, but it was won back in 1988, and they didn't even feature in last season's tournament.

Getty Images

6/32 Group B: Manchester United

Returning to the Champions League after a one year absence, Manchester United are a vastly different squad to the one that fell out of the competition in Munich two years ago. The Reds are currently far short of the team that won the tournament back in 2008, but in Louis Van Gaal, they have a manager who is experienced in leading ill-fancied teams to European glory, as he did with Ajax back in 1995. They surely lack the depth of squad to effectively challenge on domestic and European fronts simultaneously.

7/32 Group B: CSKA Moscow

A long away trip for the Western European sides to avoid, CSKA were unfortunately drawn in the toughest group last season, alongside Bayern, Manchester City and Roma. They ultimately finished bottom of that group, but put in some credible performances, including holding City to a draw in Russia, before beating them back in England.

GETTY IMAGES

8/32 Group B: Wolfsburg

Arguably the biggest threat in pot four, Wolfsburg finished behind only Bayern in the Bundesliga last season. However, they could lose their star man and assist-king Kevin de Bruyne having reportedly agreed a deal to sell to Manchester City.

Getty

9/32 Group C: Benfica

Despite being drawn in an attractive-looking group that included Monaco, Bayer Leverkusen and Zenit Saint Petersburg, Benfica failed to even qualify for the Europa League as they finished rock bottom of their group. Only once in the last five seasons have they actually succeeded in making it to the knockout stages of the competition, and even then fell at the quarter-final hurdle. Their top scorer last season, Jonas, will be the man they look to for a big performance. The forward has started the season with two goals in two games.

Getty Images

10/32 Group C: Atletico Madrid

After coming within a minute of their first ever Champions League trophy in 2013, Atletico experienced a dip in their European performance as they once again failed to get past city rivals Real, this time in the quarter final stage. Continuing a tradition of stellar attacking names that includes Sergio Aguero, Radamel Falcao and Diego Costa, summer signing Jackson Martinez is the latest big name hoping to fire Atletico to European glory. However, their summer dealings haven't all been good news, as they lost key playmaker Arda Turan to Barcelona.

Getty Images

11/32 Group C: Galatasaray

Perhaps more famous for the hostile atmosphere they create at the Türk Telekom Arena than any European achievement. The Turkish side have also signed Arsenal forward Lukas Podolski, so the Gunners could potentially see him turning out against them. Embarrassingly, they managed just one point in the group stages last season.

Getty Images

12/32 Group C: Astana

The minnows from Kazakhstan represent the lowest ranked team in the group stages under UEFA's coefficient ruling. It's their first season in the Champions League group stages, and indeed the first time any team from Kazakhstan has made it this far.

Getty Images

13/32 Group D:Juventus

Despite being the Italian champions, few people expected Juventus to make it all the way to the final last time around, particularly when drawn against Real Madrid in the semi-final stage. However, Juve stunned Madrid, and gave a good account of themselves despite ultimately coming up short against Barcelona. Their odds of repeating that achievement look even longer this year, thanks to the departure of key players such as Carlos Tevez, Andrea Pirlo and Arturo Vidal, who were instrumental in their progress to the final.

Twitter/@JuventusFCEN

14/32 Group D: Manchester City

Another big summer of spending has taken place in the blue half of Manchester, with big name singings Raheem Sterling and Nicolas Otamendi recruited to improve a squad that is yet to show its full potential in European competition. As one of the more inexperienced teams in the tournament, City have been found out when facing off with the big names, as Barcelona showed them last season, but with another year's experience to their names, expect them to do that little bit better this time around. Taking their first big scalp would fill them with confidence.

Getty Images

15/32 Group D: Sevilla

Though they finished fifth in their domestic league, Sevilla qualify for the Champions League as UEFA Cup holders, which makes Spain the first country to ever have five representatives in the group stages of the competition. Sevilla enter the competition with a strong recent European record, as Unai Emery's men have won back-to-back Europa League titles, but without the driving force behind those successes, top scorer Carlos Bacca who has joined AC Milan.

GETTY IMAGES

16/32 Group D: Borussia Monchengladbach

Owing much to Dortmund's demise, Mochengladbach finished a surprise third in the Bundesliga last year, and will enter the Champions League group stages for the first time ever.

Getty Images

17/32 Group E: Barcelona

The reigning Champions will go into this year's competition as the favourites to become the first team to ever successfully defend their crown in the Champions League era, and four titles to their name in the last nine years make them undoubtedly the most dominant European force of the last decade. With new signings Arda Turan and Alex Vidal unable to play until a transfer ban is lifted in January, and the high-profile loss of Pedro to Chelsea, their squad is arguably weaker than last season's, but anyone hoping to beat them to the crown this time round will still have to find a way to stop the brilliant Lionel Messi, Neymar and Luis Suarez trio.

Getty

18/32 Group E: Bayer Leverkusen

Qualified for the competition having finished fourth in the German Bundesliga, last season Leverkusen took Atletico Madrid – finalists from the previous year – all the way to penalties in their round of 16 tie. Last season's key man Son-Heung-min has been heavily linked with a move to Tottenham in the remainder of the transfer window.

GETTY IMAGES

19/32 Group E: Roma

Finished a distant second to Champions League finalists Juventus in their domestic campaign, and crashed out of the Europa League at the round of 16 stage to fellow Italians Fiorentina. They'll be relying on Premier League loanees Mohamed Salah, Edin Dzeko and Wojciech Szczesny to keep them in the main competition this time around.

EPA

20/32 Group E: Bate Borisov

The Belarusians might still be having nightmares of the group stages, given that they finished last year's with a goal difference of -22 from just six games. Their defeats included a 7-0 loss to Shaktar Donetsk and a 6-0 hammering from Porto.

Getty Images

21/32 Group F: Bayern Munich

A regular fixture in the latter stages of the competition, Bayern Munich overcame a two-goal deficit to beat Porto in the quarter-final stage last season, only to be humbled by manager Pep Guardiola's former side Barcelona in the semis. With domestic success all but assured long before the season began, big summer signings Arturo Vidal and Douglas Costa will have been brought in to gain ground back on the European champions, and attempt to regain the title they last won in 2013.

Getty

22/32 Group F: Arsenal

The Champions League is the one trophy that has eluded Arsene Wenger in his long tenure at the helm of Arsenal, and last season provided a summary as to why that remains the case. Despite being heavy favourites for their Round of 16 clash with Monaco, the Gunners once again displayed their European naivety by allowing their French opposition three away goals, which ultimately proved unrecoverable. Not a side to be taken lightly, but also one that you feel the main contenders would not fear coming up against

Getty Images

23/32 Group F: Olympiakos

After unsurprisingly failing to get out of a group containing Atletico Madrid and Juventus last time around, Olympiakos instead featured in the Europa League, where they were immediately dumped out in the round of 32. Premier League fans can expect to see Esteban Cambiasso appearing for the Greeks.

GETTY IMAGES

24/32 Group F: Dinamo Zagreb

The most dominant team in their domestic league in the competition, Zagreb have won the Croatian league 10 times in a row. They struggle to replicate that form in Europe though, having never made it out of the group stage.

Getty Images

25/32 Group G: Chelsea

The English champions are always unpredictable in Europe. They won the competition in 2012 despite looking way off the level of the continental elite, but crashed out at home to 10-man PSG when looking as good as anyone last season. Their shaky start to the Premier League season might have some writing them off already, but now that he has a domestic title under his belt, expect European-specialist Mourinho to have his eyes fixed firmly on continental glory this time around.

Getty Images

26/32 Group G: Porto

Weakened by the loss of star-striker Jackson Martinez to pot two rivals Atletico, it is almost impossible to see Porto repeating the incredible feat of winning the competition, as they did so famously under the guidance of Jose Mourinho in 2004. The addition of Iker Casillas adds some European pedigree to the team, but they are still far short of the leading sides. This season will mark their 20th appearance in the group stages of the Champions League era, with Barcelona and Real Madrid the only other two teams to hit that mark.

Getty Images

27/32 Group G: Dinamo Kiev

Having just won their first Ukrainian league title in five years, Kiev come into the competition on some form. They've lost influential winger Jeremain Lens to Sunderland over the summer, leaving Portuguese midfielder Miguel Veloso as their most high-profile player.

Getty

28/32 Group G: Maccabi Tel-Aviv

Their first appearance in the Champions League group stages in 11 years, Tel-Aviv are another of the likely whipping boys. However, the Israeli champions won't be many teams' preferred opposition, owing to a long away trip for many.

Getty Images

29/32 Group H: Zenit St-Petersburg

Managed by former Spurs and Chelsea man Andre Villas-Boas, Zenit returned to the top of Russian football last season with their first league title in three years. The Russians do have some sort of European pedigree, winning the Europa League and beating Manchester United to the European Super Cup in 2008, but are yet to make a significant impact on the Champions League. Big name players such as Hulk pose a threat to any team, but they remain one of the better teams to draw from pot one.

GETTY IMAGES

30/32 Group H: Valencia

The Spanish side returned to the competition after beating Monaco in a play-off, to end a two-year absence. Unlikely to progress too far in the competition, especially given the need for a centre-half to replace the recently departed Nicolas Otamendi, who left in a big money deal to Manchester City. They made the final of the competition twice in a row in 2000 and 2001, but have since failed to significantly impact the competition.

EPA

31/32 Group H: Lyon

Despite winning seven French league titles in a row between 2002 and 2008, Lyon have only made it even as far as the semi-finals just once. Firmly in the shadow of PSG in terms of providing a serious French challenge, and unlikely to progress very far.

Getty Images

32/32 Group H: Gent

Another team to make their debut in the group stages this year, the Belgians ended their 115-year wait for a domestic title when they won the Belgian Pro League for the first time in their history last season.

Getty Images
However much the pursuit of the European Cup resonates at Old Trafford, the fact remains that since reaching the final in 2011, United have been knocked out by the first decent team they have encountered. Fortunately for Van Gaal, who was brought in to take United to the Champions League and keep them there, Group B appears pretty bare of decent teams.
There was, however, considerable interest in the two men behind the microphones in the Philips Stadion's press room. What, Van Gaal was asked, did he make of the collapse of Dutch national side since he stepped down as the national coach and how did Memphis Depay feel about returning to the club he had helped to win the championship last season?
Depay was more forthcoming than his manager, for whom the startling decline of the Oranje after he led them to third place in the World Cup is something of a difficult subject, not least because Danny Blind, the man in charge now after Guus Hiddink's departure, is regarded as one of his closest allies in football. "Every word I say is one too much," Van Gaal claimed.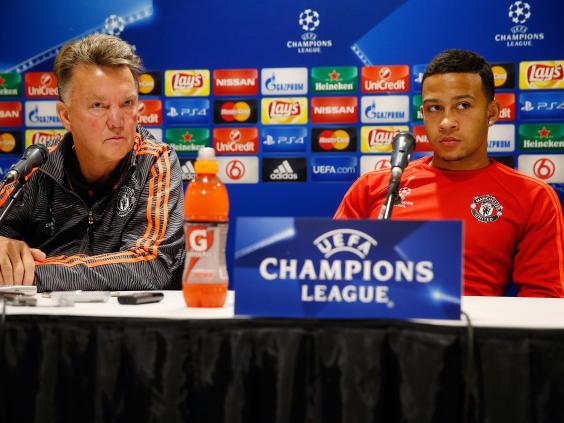 Depay's return comes at an awkward time. Of all those celebrating in the home dressing room after United's 3-1 win over Liverpool on Saturday evening, the striker would have been the most muted. He had been substituted during the interval at Old Trafford and Van Gaal had not been especially supportive in his post-match comments.
For PSV's coach, Phillip Cocu, for whom Depay had scored 28 times in their title-winning season, this was not a surprise. "He will have some ups and downs," said Cocu, who played for Van Gaal at Barcelona. "He is a player who puts a lot of risk into his game. Some matches will end well for him but it will be difficult in the beginning.
"I am sure when he has been playing for a few months that it will get better for him. He has a good vision and he has an eye for his fellow players but you need some time to grow. Physically, he is very strong and a quick learner."
Van Gaal agreed, saying Depay still had to adapt to the rhythm and intensity of the Premier League, which was very different to an Eredivisie that is increasingly dominated by young players, chiefly because as soon as anyone in the Netherlands becomes any good they are offered substantial sums to leave.
"The Eredivisie is getting younger and younger and that is why the fans in Holland have to be patient," said Van Gaal. "And that is why I have to be patient with Memphis, Anthony Martial or  Adnan Januzaj. You cannot demand consistency of 19 or 20-year-olds.
 "The Eredivisie is very nice to watch but the pressure on the ball is less and that is why Memphis is feeling the pressure. It is the same for Martial and it is the same for Memphis – you have to give them time. That is what I am asking of the fans."