Far away from the KingPower Stadium, and an occasion that manager Craig Shakespeare was describing as up there with any in Leicester City's history, a more sedate Gigi Buffon was asked who he wouldn't want to get in Friday's Champions League quarter-final draw. His answer, having just kept yet another cleansheet in Juventus' 1-0 win over Porto, was almost as surprising as Leicester's 2-0 win over Sevilla.
"I want to avoid Leicester," Buffon said. "They have enthusiasm and passion."
They might also have that rare kind of cup momentum that the Italian great has clearly recognised, that sense of defiant belief that comes from extreme circumstances and ever-more impressive results. If all of that sounds rather esoteric and intangible, it has had gloriously tangible results in this competition. Aston Villa 1982 and Chelsea 2012 found themselves in similar situations, successful teams struggling in the league and eventually deciding to sack their manager just before the post-Christmas European fixtures got really serious, only to then go and win the competition.
The question that will grow ever more serious in the next weeks is whether Shakespeare can go on to emulate Villa's Tony Barton and Chelsea's Roberto Di Matteo to do the same.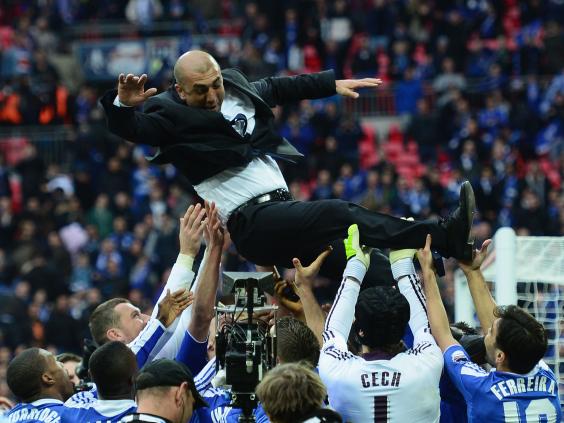 And, if that sounds fanciful after a mere last-16 win - especially given those victories were born of either a very different side or a very different type of squad - you only have to consider the nature of their elimination of Sevilla.
Both Villa and - especially - Chelsea had similar ties, where they probably should have been well beaten and effectively knocked out in the first leg, only to hang in there, ride their luck and then roared back in the second leg to really catch the opposition out. That is precisely what happened against Sevilla.
Jorge Sampaoli's team should really have been out of sight from the first leg in the Sanchez Pizjuan. They were so much the better team, and had so many chances. A 5-0 or 6-0 win would not have been unfair. They couldn't score that many, only managing two, but Leicester did get a late away goal through Jamie Vardy.
It was the first of a few key moments that gradually but completely altered the mood of the tie, and the mood of the Leicester City team. Next, and of course most notably, Claudio Ranieri was sacked. For all the raging debate about the fairness and ethics of that decision and the circumstances around it, the realpolitik of football meant that there was an undeniable upswing in application, intensity and base confidence - in much the same way that Chelsea managed once the deeply unpopular Andre Villas-Boas was sacked. The immediate succession of wins over Liverpool and then Hull City obviously helped things along, as Shakespeare made a point of saying on being asked what the difference was after Ranieri had been sacked. All the while, Sevilla were losing some of their energy, and their wonder.
Leicester vs Sevilla player ratings
Leicester vs Sevilla player ratings
1/22 Kasper Schmeichel 9 out of 10

Made a superb early save from Nasri which set the tone for Leicester's historic performance. Became the hero of the hour when he saved N'Zonzi's late penalty. Undoubtedly the man of the tie given his equally impressive performance in the first-leg.

AFP/Getty Images

2/22 Danny Simpson 7/10

His distribution left a lot to be desired – just under half of his 18 passes ended up being intercepted – but he made two crucial interceptions and linked up nicely with Mahrez.

Getty Images

3/22 Wes Morgan 7/10

Leicester's captain became the first ever Jamaican to score in the Champions League when he bundled in the opener. Made several crucial clearances and appears utterly transformed from the player that was struggling so desperately under Claudio Ranieri.

Getty Images

4/22 Robert Huth 7/10

Put in a tremendous shift alongside Morgan. Although the thought of the pair of them trying to keep the likes of Lionel Messi, Cristiano Ronaldo and Paulo Dybala is nothing short of terrifying.

Getty Images

5/22 Christian Fuchs 8/10

Fantastic. A real danger going forward, combining nicely with Albrighton, and he had two good chances to get on the score-sheet. Equally impressive at the back where he relentlessly pressed Vitolo, preventing the Spaniard from flourishing.

Getty Images

6/22 Wilfried N'Didi 7/10

Another valiant performance from N'Didi in the middle of the park. Got the better of Steven N'Zonzi and almost got the better of Vicente Iborra, too. Stayed in defensive positions and allowed Drinkwater to get forward.

Getty Images

7/22 Riyad Mahrez 7/10

Repeatedly cut inside from the right-wing where his passes in-between the Sevilla defence impressed. Assisted Morgan's goal, and should have assisted a counter-attacking goal for Islam Slimani, but took too long to pick his pass.

Getty Images

8/22 Danny Drinkwater 6/10

Missed a fine chance to score in the first-half but ultimately a good performance. His passing could have been better, though.

Getty Images

9/22 Marc Albrighton 8/10

A superb performance from the left-winger. Overlapped with Fuchs nicely down the left, so much so that Sampaoli was forced into an early double substitution. Scored a lovely second goal, bringing the ball under control and rifling a low shot past Sergio Rico.

AFP/Getty Images

10/22 Shinji Okazaki 7/10

Did what he usually does. Ran hard, pressed high and never allowed Sevilla's defence the opportunity to build their attacks from the back.

Getty Images

11/22 Jamie Vardy 7/10

Back to his industrious, tenacious, relentless best. Didn't get on the scoresheet but kept creating opportunities for himself. Did well not to react to Samir Nasri's provocations in the second-half, too.

Getty Images

12/22 Sergio Rico 6/10

There was little he could have done to keep out Wes Morgan's header from close range. And Rami should be blamed for Leicester's second, not Rico.

AFP/Getty Images

13/22 Nicolás Pareja 5/10

Not a particularly good night for the Argentinian. Made several important clearances but his distribution left an awful lot to be desired. Too often passed the ball straight to a Leicester player.

Getty Images

14/22 Gabriel Mercado 5/10

Sevilla struggled down the right, with Albrighton and Fuchs both causing a number of problems, and Sampaoli responded at half-time by hauling off his largely ineffective right-back.

AFP/Getty Images

15/22 Adil Rami 6/10

Had been one of Sevilla's better players up until the second goal, which he was at fault for. His headed clearance didn't have enough on it and was directed straight at the feet of Albrighton, who promptly lashed a low shot past Rico.

Getty Images

16/22 Sergio Escudero 6/10

Didn't look as threatening as he in the first-leg in Andalusia. Was incredibly unlucky not to level the score in the second-half, though, with an unconventional, dipping strike which rattled the underside of the crossbar.

AFP/Getty Images

17/22 Steven N'Zonzi 4/10

Typically good in the air, playing in the heart of Sevilla's midfield alongside Iborra. But his passing left a lot to be desired and he looked uncomfortable in possession whenever pressed. Missed a late penalty, his low effort struck nervously and far from the corner.

AFP/Getty Images

18/22 Vicente Iborra 6/10

Calmer and more composed in possession than N'Zonzi. Won a number of crunching tackles and stopped a mazy run from Albrighton early in the second-half with a well-timed challenge.

Getty Images

19/22 Pablo Sarabia 5/10

Posed little threat to Fuchs down the right. Struggled alongside Mercado playing behind him, and was also withdrawn by Sampaoli in a bold double substitution at the break.

Getty Images

20/22 Samir Nasri 5/10

The good: His repeated running in behind Leicester's defence and his range of passing. The bad: Stupidly picking up a second yellow late in the second-half for an altercation with Jamie Vardy before attempting to get the English forward sent off. The ugly: An incandescent Martin O'Neill slamming the Nasri on BT Sport for being overweight.

AFP/Getty Images

21/22 Vitolo 5/10

It tells you everything about the winger's all-action performance that he made the highest number of tackles of any Sevilla player (5). Will have been disappointed not to offer more going forward, however.

AFP/Getty Images

22/22 Wissam Ben Yedder 5/10

Looked dangerous in flashes but was ultimately on the ball too few times to truly threaten. On the occasions he did shoot, he failed to test Schmeichel. Missed a sitter of a rebound in the second-half.

AFP/Getty Images
So, by the time that the second leg kicked off, all had changed. Leicester had that cup momentum. There should have been no broader logic to think they could win. Sevilla, after all, had the better team, the superior pedigree, the far more successful manager. A fair conclusion from all of that would have been that, if Sevilla just played their normal game, they would go through.
But they were no longer able to, and this was no longer a "normal" game. It was a rarefied and unique European night where Leicester were suddenly performing to an intensity that Sevilla didn't expect.
The exact same happened in 1982 with Villa against Dynamo Kyiv, Anderlecht and Bayern Munich and then in 2012 with Chelsea against Napoli, Barcelona and - yes - Bayern again.
The logic had been upended again, and Leicester's tie with Sevilla was the ultimate proof and case study that you can never really bank on anything in a knock-out competition, even one as economically conditioned to such an extreme degree as the Champions League.
Indeed, the nature of the event itself helped upend that logic. Fully charged, Leicester became a fully functioning team again, and were once more doing all the simple aspects of the game with an enviable intensity. It is a potent combination, and one Sevilla were not prepared for.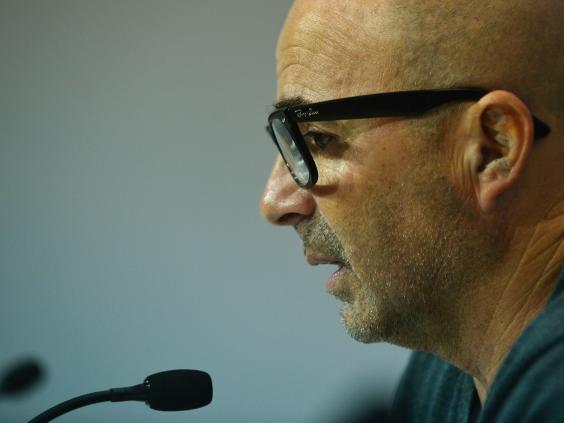 The question now is whether better sides, and those that demand even better rates of possession, will play into Leicester's feet in the same way. Perhaps this was one big reason behind Shakespeare's assertion that they didn't care who they got in the quarter-finals, because the bigger the better.
What price he really follow Barton and Di Matteo, and Leicester end up in a final against Bayern Munich? It only takes two good performances and two games where luck goes your way, and that is far from an impossible return across a mere four games, when everything is also electrified.
Sure, we should still not get ahead of ourselves. Logic still suggests that, against sides with superior individual quality than Sevilla, someone like Cristiano Ronaldo or Leo Messi will just bludgeon their way through Leicester with brilliance.
Leicester, however, already got further than anyone expected - and certainly further than anyone expected with 70 minutes of the first leg gone.
It's a knock-out competition. It can never be ruled out.
Reuse content