It is one of the biggest puzzles in the entire annals of the European Cup and Champions League, but one Carlo Ancelotti and Thomas Tuchel must now somehow work out a solution to.
They must find a way to go through to the next round having lost a first leg at home.
If that initially sounds elementary, the entire history of the competition emphatically argues it is anything but. It has actually only happened six times in 61 years and eight months, and was achieved by the following teams:
1955-56 first round: AC Milan come back from 4-3 defeat to Saarbrucken to win 4-1 in the second leg and 7-5 on aggregate
1968-69 quarter-finals: Ajax come back from 3-1 defeat to Benfica to win the second leg 3-1, draw 4-4 on aggregate and then win a play-off 3-0
1979-80 quarter-finals: Nottingham Forest come back from 1-0 defeat to Dynamo Berlin to win 3-1 in the second leg and 3-2 on aggregate
1993-94 first round: Steaua Bucharest come back from 2-1 defeat to Croatia Zagreb to win the second leg 3-2 and go through 4-4 on away goals
1995-96 semi-finals: Ajax come back from 1-0 defeat to Panathinaikos with a resounding 3-0 to win 3-1 on aggregate
2010-11 last 16: Internazionale come back from 1-0 defeat to Bayern Munich to win 3-2 away and then go through 3-3 in away goals.
Bayern Munich vs Real Madrid - player ratings
Bayern Munich vs Real Madrid - player ratings
1/22 Manuel Neuer - 8 out of 10

Made one of the saves of the season when he denied Benzema in the first-half with a fingertip stop. Made several more world-class stops in the second-half and was desperately unfortunate to concede two goals. His performance deserved better.

Bongarts/Getty

2/22 Philipp Lahm - 7 out of 10

As good as ever. Solid at the back and impressed going forward, too, working well with Robben and Mueller.

AFP/Getty

3/22 Javi Martinez - 5 out of 10

A relatively solid performance but picked up two completely unnecessary bookings and will now miss the second-leg.

AFP/Getty

4/22 Jerome Boateng - 6 out of 10

Was guilty of ball-watching as Ronaldo lashed home his goal. Otherwise solid.

Bongarts/Getty

5/22 David Alaba - 6 out of 10

He may be one of the best defenders in the world, but he is having a poor season. Didn't make a single tackle, interception or clearance for over an hour.

AFP/Getty

6/22 Thiago Alcantara - 7 out of 10

Classy in possession and set up Bayern's opening goal, curling an inch-perfect corner onto the forehead of Vidal.

AFP/Getty

7/22 Xabi Alonso - 6 out of 10

Masterful in possession as ever and whipped a couple of dangerous crosses into the box.

Bongarts/Getty

8/22 Arjen Robben - 7 out of 10

33-years-old and yet still as dangerous as ever. Was electric down the right-wing and unlucky not to score.

Bongarts/Getty

9/22 Arturo Vidal - 8 out of 10

An eventful night for Vidal, who scored the opener before missing a penalty. But dominated the midfield throughout.

AFP/Getty

10/22 Franck Ribery - 6 out of 10

Impressed in the first-half before fading somewhat in the second. Withdrawn for Douglas Costa.

AFP/Getty

11/22 Thomas Mueller - 6 out of 10

Played the target man role in the absence of Robert Lewandowski and was largely kept quiet.

Bongarts/Getty

12/22 Keylor Navas - 6 out of 10

Stubbornly refused to come off his line for the corner which led to Bayern Munich's goal and paid the price.

AFP/Getty

13/22 Dani Carvajal - 6 out of 10

Looked shaky in the opening exchanges but improved and assisted Ronaldo's goal in the second-half. Very unfortunate to concede a penalty.

AFP/Getty

14/22 Nacho Fernandez - 6 out of 10

A big night for the defender in only his second European appearance of the season. Made a number of important clearances early on.

AFP/Getty

15/22 Sergio Ramos - 6 out of 10

Repeatedly brought the ball out from defence and almost scored with a curling free-kick.

AFP/Getty

16/22 Marcelo - 6 out of 10

Exceptionally wasteful in possession although a constant attacking outlet down the left and almost scored late on.

AFP/Getty

17/22 Luka Modric - 7 out of 10

One of Madrid's busiest players and played a key role in the second goal.

Bongarts/Getty

18/22 Casemiro - 7 out of 10

Picked up a knock early on but battled back superbly. No player on the pitch made more than his eight tackles.

AFP/Getty

19/22 Toni Kross - 7 out of 10

No Real Madrid player touched the ball more than Kroos, who also boasted incredible 97% pass accuracy. A huge performance.

Bongarts/Getty

20/22 Gareth Bale - 6 out of 10

A quiet night from the Welshman. Saw a header from pointblank range saved by Neuer before being withdrawn early on into the second-half for Asensio.

Bongarts/Getty

21/22 Karim Benzema - 6 out of 10

Not the Frenchman's best performance in a Madrid shirt. Like Bale, was denied by Neuer with a header from pointblank range.

Bongarts/Getty

22/22 Cristiano Ronaldo - 8 out of 10

A quiet first-half but came to live in the second. Scored a superb cushioned volley to level the scores and won the match with a second close-range finish.

AFP/Getty
Put another way, there have been 309 ties in all that time when the away team has won the first leg, but a mere 1.9% of this have been overturned. That is a remarkably low percentage and means that, going by history alone, Bayern Munich and Borussia Dortmund have a minimal chance of eliminating Real Madrid and AS Monaco respectively.
But why has this been the case? Why shouldn't it be just as easy for one of those teams to just go and win away, as the opposition did to them, especially when the teams are as genuinely evenly matched as this? That is specifically the case for Bayern, since allowances can obviously be made for Dortmund given the traumatic nature of their first leg. Had a few borderline moments in the Allianz Arena gone another way - like Arturo Vidal's penalty at 1-0 - then we could be talking about Real having to overturn a 2-0 or 3-0 deficit, rather than looking to hold a 2-1 lead.
Some mismatches from draws - and the fact seeded and therefore notionally superior sides get to play the second leg at home - are obviously one explanation, but it is also something we have seen time and time again between big clubs of similar quality who would usually have no problem about the challenge of going to a rival's ground and really going for the win. 
Among the more notable recent examples are Barcelona winning 2-0 at Real Madrid in 2010-11, Manchester United winning 1-0 at Chelsea in the same season, United winning 3-2 at AC Milan in 2009-10 and Liverpool winning 1-0 at the Bernabeu in 2008-09.
It remains difficult not to put some of this down to the persevering psychological aura of the away-goal rule. Monaco and Real don't just have the advantage of their respective 3-2 and 2-1 leads, after all, but also the double advantage of those strikes. That of course means Bayern and Dortmund don't just have to win on the road, but start off knowing they have to win by two.
That's a tall order for anyone, but particularly so when it's at the home of a real power, who themselves have a psychological aura about them.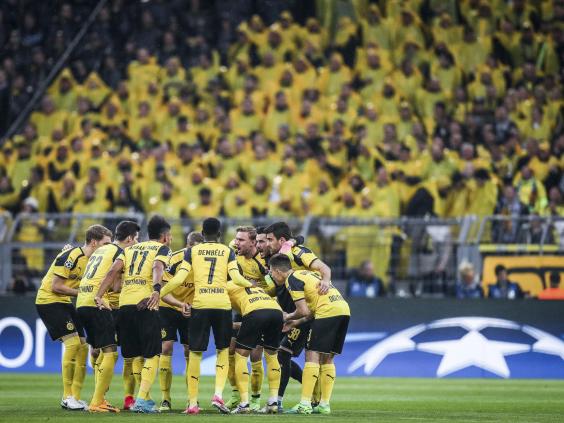 That's why it feels like these ties are going to be played in the mind as much as on the pitch. Bayern for example must forget the fact that they need to win by two, or that they need to do it on the Bernabeu pitch, and just treat the second like they did the start of the first: like they are the better team.
But is this perhaps when this remarkable trend will finally start to transform? We are after all now well into an era where the elite European clubs are far more familiar with each other, play each other more often, and are more evenly matched to the point that home advantage doesn't statistically matter as much as it did even 15 years, and certainly not as much in the 1960s when the away-goal was first brought in. Indeed, it was introduced precisely because teams were often so unfamiliar with the stadiums they were playing in or teams they were facing that their natural instinct was to start tentatively to just hold their ground. Uefa, in response, tried to encourage those same teams to come out and attack on the road.
There is of course no need for that kind of caution these days, and certainly not for Bayern or Dortmund. They have nothing to lose, and even the risk of conceding doesn't hold the same weight, since they would not be away goals.
Reuse content